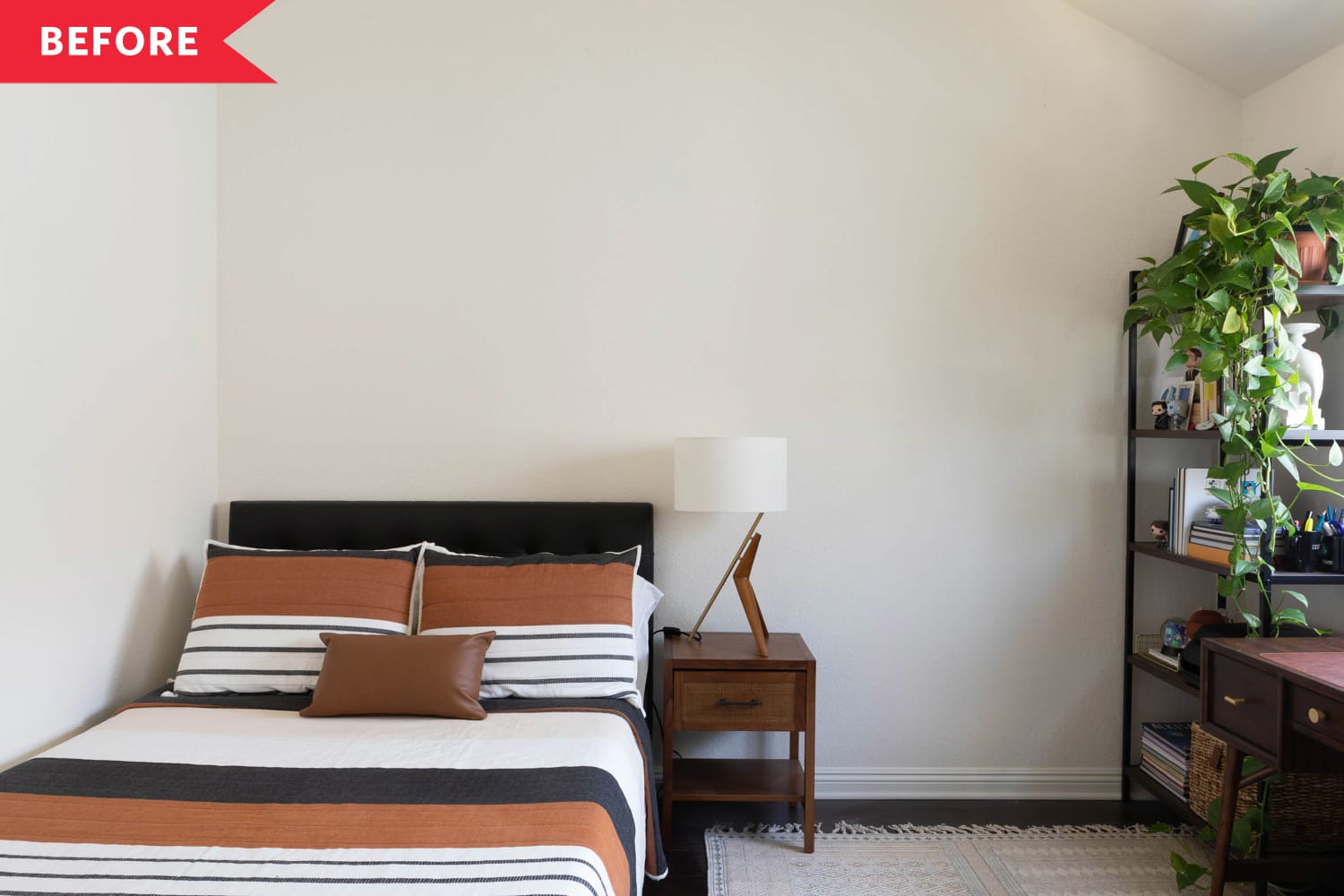 If you've ever visited a friend's newly decorated home and thought, Here's what I would've done..., then you've come to the right place. When game artist Emil wanted to add some colorful energy to his home office/guest room, he agreed to let the Apartment Therapy community choose the new hues. And you crushed it.
Emil's Pasadena home has a low-key eclectic style that both matches the pace of SoCal life and honors his artistic roots. But while the rest of his home is vibrant and colorful, his home office was uninspiring. He wanted to liven it up with color and a dynamic design.
We knew Benjamin Moore paints would do the trick. They're easy to apply and formulated to last, with high-quality coverage and rich colors — whichever of their more than 3,500 shades you choose. That means that with just a couple of cans of paint, Emil will be soaking up inspiration for years to come. Designer and visual artist Sara Weissler selected two complementary color combos, then we asked our 3.1 million Instagram followers how many walls to paint and which colors to use.
Now, we're excited to show you how it all turned out!
Readers voted for a single accent wall featuring two subdued and serene greens: Benjamin Moore Thornton Sage 464 and Dreamcatcher 640. This duo — from Benjamin Moore's timeless Classic Color Collection — evokes the relaxed vibe of Emil's home while adding a subtle spark of visual interest. (Already inspired? Order samples online.) The room's unique angled wall was a natural place to incorporate this energy. We love how the new geometric design plays up the wall's sharp lines — and most importantly, Emil does too!
"It's amazing how color can change an entire room. I especially love the dual-tone treatment. The diagonal line balances the line of the vaulted ceiling perfectly," he says. "And being able to work in a more colorful environment just feels so much more inspirational."
Sara couldn't agree more. "Emil's guest room walls have some interesting structural angles. Painting shapes with two different colors makes the angles seem more purposeful and playful," she says. "And Thornton Sage and Dreamcatcher are soothing, cool hues that reflect Emil's Southern Californian roots. They also create a nice balance with the warm wood furniture and allow the rust color in the bedding to pop."
Because high-quality paint like Benjamin Moore has such exceptional coverage, it only took a little effort to make this big impact. With such an easy application, Emil was able to transform his space's look and feel for next to nothing. Now, his home office is more reflective of his aesthetic — and his creative work has an infusion of inspiration.