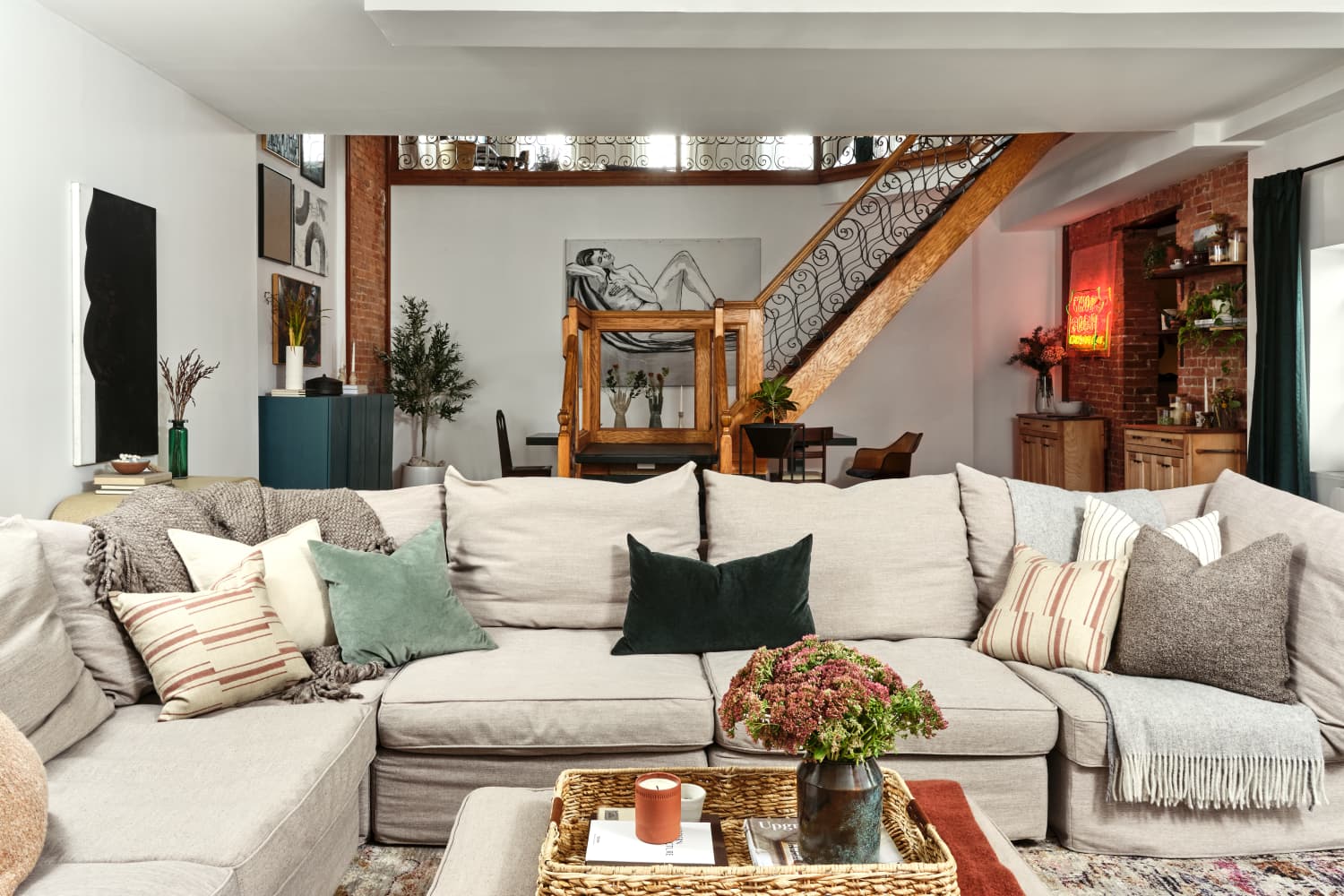 We independently select these products—if you buy from one of our links, we may earn a commission.
Name: Alyse Eisenberg, Aaron Dean Eisenberg, and our pup, River (Black Lab/Shepherd Mix rescued during Covid from Social Tees)
Location: Gowanus — Brooklyn, New York
Size: 1,800 square feet
Type of Home: It is a two-story duplex, loft-style apartment with three large rooms and a small kitchen/bathroom. It's on the third and fourth floor of the building.
Years lived in: 2 years, renting
Alyse Eisenberg, interior designer and owner of Studio Alyse, knows a gem when she sees one, so when she received a Zillow alert for an 1800-square-foot two-story loft in Brooklyn, she knew it was go time.
"It was a huge blank canvas," said Eisenberg. "You entered through a small, unassuming kitchen, which gave way to a double-height, brick-filled dining room and ornate open staircase. This was the big 'ah-ha' moment." On top of that, the upstairs bedroom boasts a magical city skyline view through arched windows.
"As an interior designer, the open floor plan and high ceilings were a dream challenge," said Eisenberg. "The main goal for the space was to curate a feeling of warmth and creativity." She and her husband, actor Aaron Dean Eisenberg, did this by creating flexible zones in the space that could change with their needs. They also took an intentional, sustainable approach to decorating the space. "I scavenged Brooklyn stoops, finding the large female figure painting seen in the dining room, and carried it 25 minutes through Park Slope," says Eisenberg. "We found items at scrap yards, vintage stores, and second-hand stores." They even turned the dining room into a makeshift art studio and hand-painted many pieces during their 2020 quarantine time.
"Most of the pieces seen throughout are a progression of pieces made in the past year," said Eisenberg. "As the space began to come together, the once-barren white box became our cozy oasis."
Apartment Therapy Survey:
My Style: I usually opt for a more neutral palette that is heavy in texture and pattern. My goal when designing is to create a space that is comfortable and warm. My husband, Aaron, loves color, so we have found a balance of our styles that creates a more eclectic, laid-back aesthetic.
Inspiration: We wanted a space that felt inspiring and creatively freeing. Because the space was so large, we took the opportunity to add larger furniture pieces and artwork throughout. We were inspired by artist lofts, art galleries, and friends' spaces.
Favorite Element: The bedroom's focal point is an arched window that has a sunset view of the city skyline. It's by far my favorite element in the loft. When the sun starts to set, there's an orange glow that illuminates the bedroom, creating the warmest and coziest space.
Biggest Challenge: When we moved into this space, all the furniture we owned from our previous one-bedroom (barely 400 square foot) Chelsea apartment could fit easily in one corner of our new living room. We'd never seen an apartment with this much open space. The challenge was to create a feeling of home and warmth, in a large white box, with a tight budget. Because we were renting, we didn't want to spend too much on a space that might not be our forever home. We sourced many items from second-hand stores, craigslist, scrap yards, and even the street! We were also able to find a few key pieces from the set sale for HBO's "The Deuce," which my husband was an actor on. We wanted the space to feel conducive to artistic creativity and work productivity, without losing a true sense of home.
Proudest DIY: In essence, the whole apartment was a large DIY project. The lack of segregated rooms and storage led us to create functional components that allowed the loft to work with our lifestyle. I hung linen curtains with copper piping in our bedroom to create two rooms. We added additional storage in the form of IKEA cabinets throughout. The cabinets shown in my office were a raw wood that I painted to add a pop of color to the space. As creatives, we chose to use the white walls as gallery walls and painted artwork. Most of the pieces seen throughout the home were painted by me or my husband, framed, and hung. This was a labor of love, and created a very personal feel to the loft.
The gallery wall of photos by the balcony are filled with friends and loved ones, with simple IKEA frames. After nailing into the grout of a brick wall, this was one of the more challenging DIYs I tackled. I also painted our kitchen cabinets and stairs. The kitchen had the traditional orange oak cabinets and rotting (yes, rotting) laminate countertops. I asked the management company if we could paint the cabinets white and replace the laminate with butcher block and they said yes! After that, I tackled the main staircase that leads from the living room/dining room to the office and bedroom upstairs. The previous tenants painted the stairs a bright blue "painters' tape" color that was such a focal point as soon as you entered. I chose to use a black paint to soften the stairs. It took me much longer than anticipated, but I was so proud once they were completed. Adjacent to the stairs, Aaron and I hung LED outdoor string lights in the double-height space because there was no light source when we moved in. This created a warm glow, almost like having an outdoor patio above our dining table to make up for the fact we had no outdoor space. By adding plants throughout, we were able to bring in a sense of the outdoors! Finally, in our bedroom I installed a mirror into a vintage "Now Showing" sign to create a perfectly dramatic vanity mirror.
Biggest Indulgence: Our biggest splurge was also the largest piece of furniture we bought — the modular sofa for the living room. It was a floor model we found walking through Chelsea. It's a six-piece sectional with an ottoman. As soon as you sit into it you almost melt instantly. It was the perfect piece for creating a large movie room vibe, and gave the flexibility to split it up if needed. We've hosted many game nights and movie nights with friends, and we all have a place to easily spread out on. For our purposes, it was 100% worth it! When we had a NYE party to celebrate the end of 2019, we hosted around 65 friends comfortably. It was an amazing send-off before the world as we knew it changed.
Is there something unique about your home or the way you use it? We love the flexibility and interchangeability of the loft. We've been able to transform each of the rooms into what we need at any given time. The dining room has transformed into an art studio, and back to a dining room many times. The lofted space has become a functional home office, a spare bedroom, and a happy hour lounge all in one. We used Poppin's white board dividers to brainstorm for projects, and to create privacy for our guests. Our 20' x 20' bedroom has been split in two rooms with a curtain and copper pipping to create a yoga/fitness space separate from the bedroom. I wasn't keen on the idea of waking up and seeing a treadmill, so I created a DIY removable wall. The linen curtains can open and shut to let more light in, so it became a very flexible room. Overall, we curated a space that works for us and could evolve and grow with our changing needs.
What are your favorite products you have bought for your home and why? I love all the vintage pieces we were able to source for this apartment. Giving furniture a second life is really rewarding, and it's also more sustainable. In my design practice, we work with local artists and makers for all of our projects. Some of my favorite finds include: the vintage neon sign from a 1970s Chinese restaurant, my wooden desk that can be folded up and tucked away, and the metal writers desk in our home office.
My favorite workroom, Stitchroom, was having a pillow sample sale around the time we moved in, so I bought pillows that added the color Aaron was hoping for, and the one-of-a-kind look I love! We also splurged on a great sound system and lighting set up, which made a huge difference in the space. We purchased a Sonos sound system and Hues LED lights, which allows us to create any mood or vibe. There were nights where the whole apartment would glow purple, or red, just for fun!
Please describe any helpful, inspiring, brilliant, or just plain useful small space maximizing and/or organizing tips you have: The apartment has no closets in the space, so we had to get creative in order to add storage for clothing, cleaning supplies, and other household items. I used IKEA to customize our bedroom storage using the PAX systems. I absolutely love this feature on their website because I was able to plan exactly where each pair of shoes, suitcases, and vacuum would live. I also used IKEA IVAR cabinets in my office. As an interior designer, I have many samples and books that I like to keep concealed. I used the Ivar cabinets, painted them with a Sherwin Williams paint, and added oak legs, from Etsy, to raise them above the baseboard heaters. The cabinets in the living room are also BESTA IKEA cabinets that I custom designed to fit the span of the wall creating a bit of balance between the brick and large TV.
The kitchen is the smallest room in the apartment with very limited cabinet space. We decided to carry the storage out into the dining room area. We chose open shelving to display our plates, bowls, and glasses. We also found rolling butcher blocks online that could house additional appliances that we weren't using every day. These were great because we could move them as we needed!
Finally, what's your absolute best home secret or decorating advice? If you have time, I always suggest living in your space for a month before making any large decorating decisions. I find that this allows you to really understand what you need and how the space will function for you. When we first moved in, we both were in awe of our empty shell, but we came to realize the furniture pieces we'd need for functionality. With this in mind, we were able to curate inspiration boards and dive deeper into the design process.
OFFICE LOUNGE/SPARE BEDROOM AREA
This house tour's responses were edited for length and clarity.