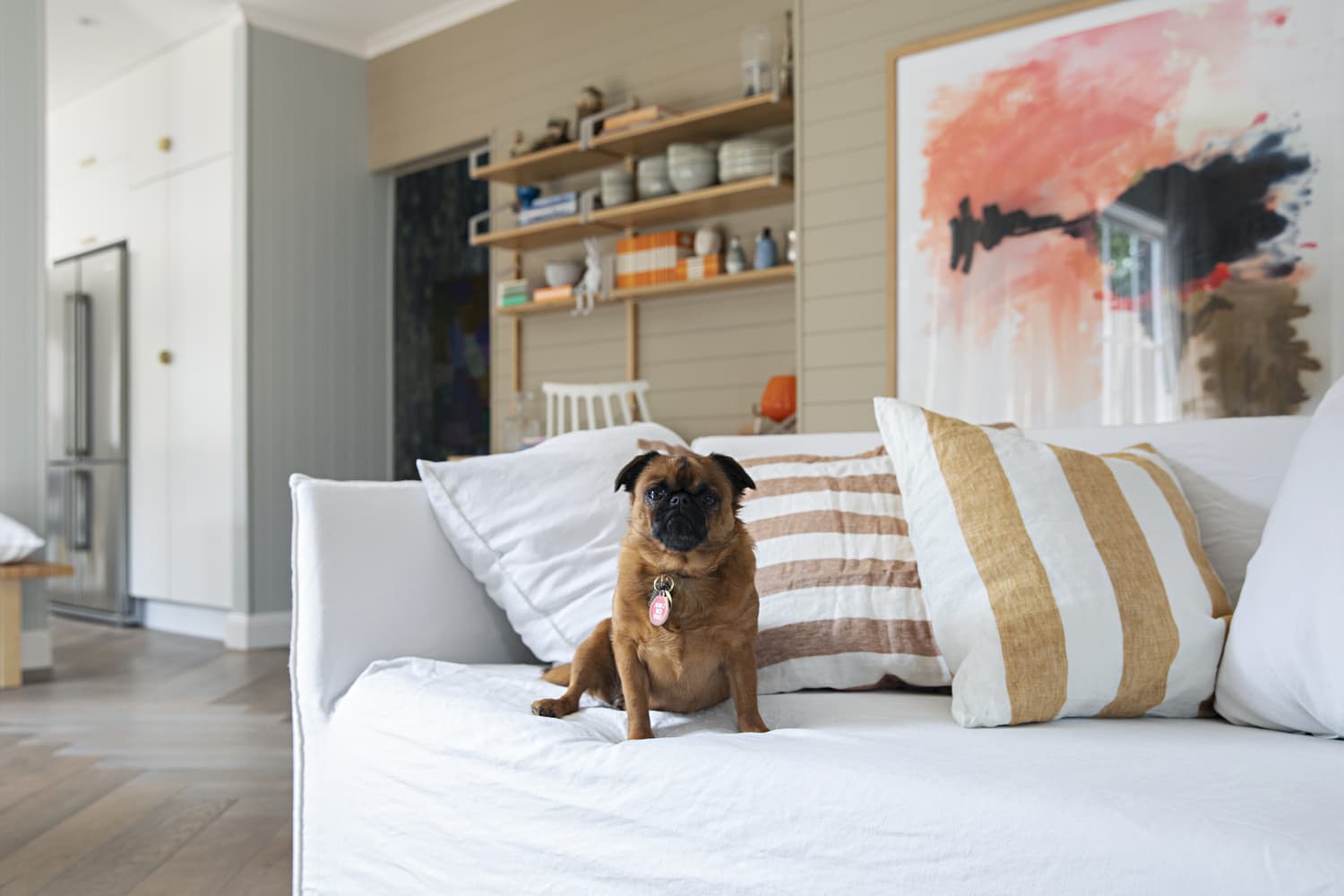 We independently select these products—if you buy from one of our links, we may earn a commission.
Having a new dog or puppy is full of fun, excitement, and worry. A new pet is a big responsibility, and it can feel daunting to leave your dog home alone and not know what they are doing when you're away.
Whether you're running errands, planning a return to the office either full- or part-time, or going out more frequently than you have in recent months, puppy cams (or WiFi-enabled video cameras) can help you check in on your dog when you aren't home. They can also be an important tool to utilize when training your dog, as it they provide you with valuable information about what your dog is doing and if they are displaying any kind of anxiety-related behaviors such as excessive barking, chewing, or other destructive behaviors. This technology doesn't replace hiring a dog walker or asking a friend to check in on your dog if you're gone for longer than six hours at a time, but it's a helpful tool nonetheless.
How to use a puppy cam to help you train your dog:
Installing a one-way video camera in your home isn't going to train your dog for you, but it can be extremely beneficial if you have a young puppy, a new rescue, or a dog who has ongoing anxiety or behavior issues. You can more easily track certain times of day or reasons why your dog is getting anxious, such as when the mail gets delivered or right after you leave the house, and communicate this to a dog trainer if you need help and support. (If your neighbors are complaining about barking, the puppy cam will also help you confirm what's going on with your dog, or if you have difficult neighbors.)
Where to place your puppy cam:
When setting up the puppy cam, you'll want to think about where your dog spends most of their time, including their favorite sleeping locations. If you have a large home, you may want to consider installing multiple puppy cams in the rooms where your dog spends most of their time.
It's worth keeping in mind that any device including WiFi-connected cameras can be a security risk. Ensure that your WiFi network is password-protected with a strong password. You'll also have to create a password protected log-in when you set up the puppy cam via your app, so make sure to use a different, equally secure password for that as well. If you're very concerned about the possibility of someone hacking the camera, you may want to avoid settings that enable the camera to store video footage in a digital cloud. You can also get in the habit of covering the camera's lens when you're home — just make sure you move the cover before you leave the house when you want to use it.
The best puppy cam features to look for:
There are a wide range of puppy cam options on the market, with options that will fit into almost all budgets. Typically, you hook them up to your home's WiFi, and then access the feed through an app on your smartphone. Puppy cams provide live video feeds so you can see your dog in real time, and many feature microphones and speakers so you can talk with your dog. Typically, puppy cam feeds are viewable via a password-protected app on your smartphone.
One of the primary features of the more expensive puppy cams is the ability to toss treats to your dog via the app. As a dog trainer, I would encourage pet owners to be thoughtful about when and how they utilize this feature, especially if you have other pets in the home. Dispensing treats remotely could encourage resource guarding or selective aggression issues — even between pets who usually get along well! — as they try to compete for the treats. If you are going to use the treat feature, it may be best to do so if you only have one dog, or if they are in an area of the house that is separated from other pets for some reason, such as recovering from an injury or medical issue.
Which puppy cam is right for you?