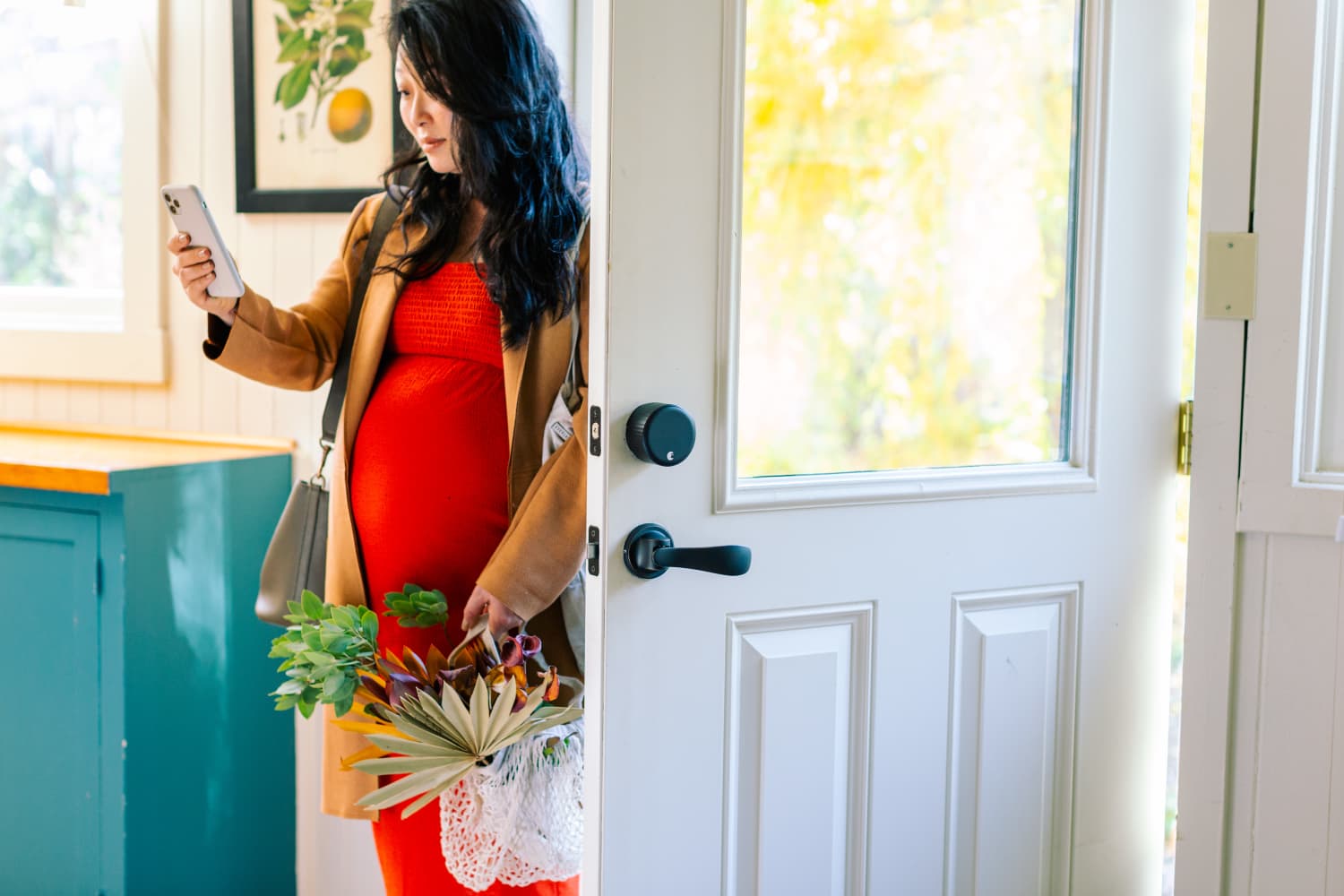 If you've ever locked yourself out of your home or felt the terror of learning too late that your pet sitter doesn't have the right keys, you've probably wished your front door was just a bit, well, smarter. We can turn on lights with our voices, so we should be able to make getting in and out of our own homes more convenient too.
Whether you're a homeowner or renter, the August Home smart lock can up your entryway's IQ in minutes. August is an expert in all things entrances, with locks and accessories designed for security, style, and convenience. Here are three ways their #1 August Wi-Fi Smart Lock can make your life easier and your home safer.
1. It's Incredibly Convenient
This is the easiest upgrade you'll make to your home. The August smart lock fits over your existing deadbolt on the inside of your door, so it works for both renters and homeowners. (And yes, you can still use your key if you want.) Combined with the August smartphone app, this smart lock becomes a super intuitive personal assistant.
Arms full of groceries? The Auto-Unlock feature knows when you've arrived and unlocks the door as you approach. Need to let in houseguests, repair professionals, or dog walkers? You can give out an unlimited number of virtual keys — and program them to expire at the day and time of your choosing. You can also add a battery-powered August keypad and create custom entry codes, no wiring necessary.
The August smart lock is basically your home's bouncer. Their locks require two-factor verification, so users have to confirm their identity with an email address or phone number. If you lose your phone, you can visit them online to quickly and easily disable your app and all virtual keys on any associated devices. August smart alerts let you know ASAP if anything changes with the status of your door, and you can also set specific alerts to be notified when someone comes or goes. Plus, with August's cutting-edge encryption, you can rest assured that your data is safe.
3. It's Instant Peace of Mind
We've all been miles from home and wondered whether we locked the door. With August, the answer is always yes. Only August locks have DoorSense, a clever sensor that lets you know when your door is unlocked or ajar. The Auto-Lock feature automatically secures your front door once it's closed or after a specified amount of time, for up to 30 minutes. You can control your lock from anywhere with the app — if, say, your in-laws get into town early or the kids forgot to lock up on their way out (again). With the app's real-time activity feed, you know exactly who's coming in and out.