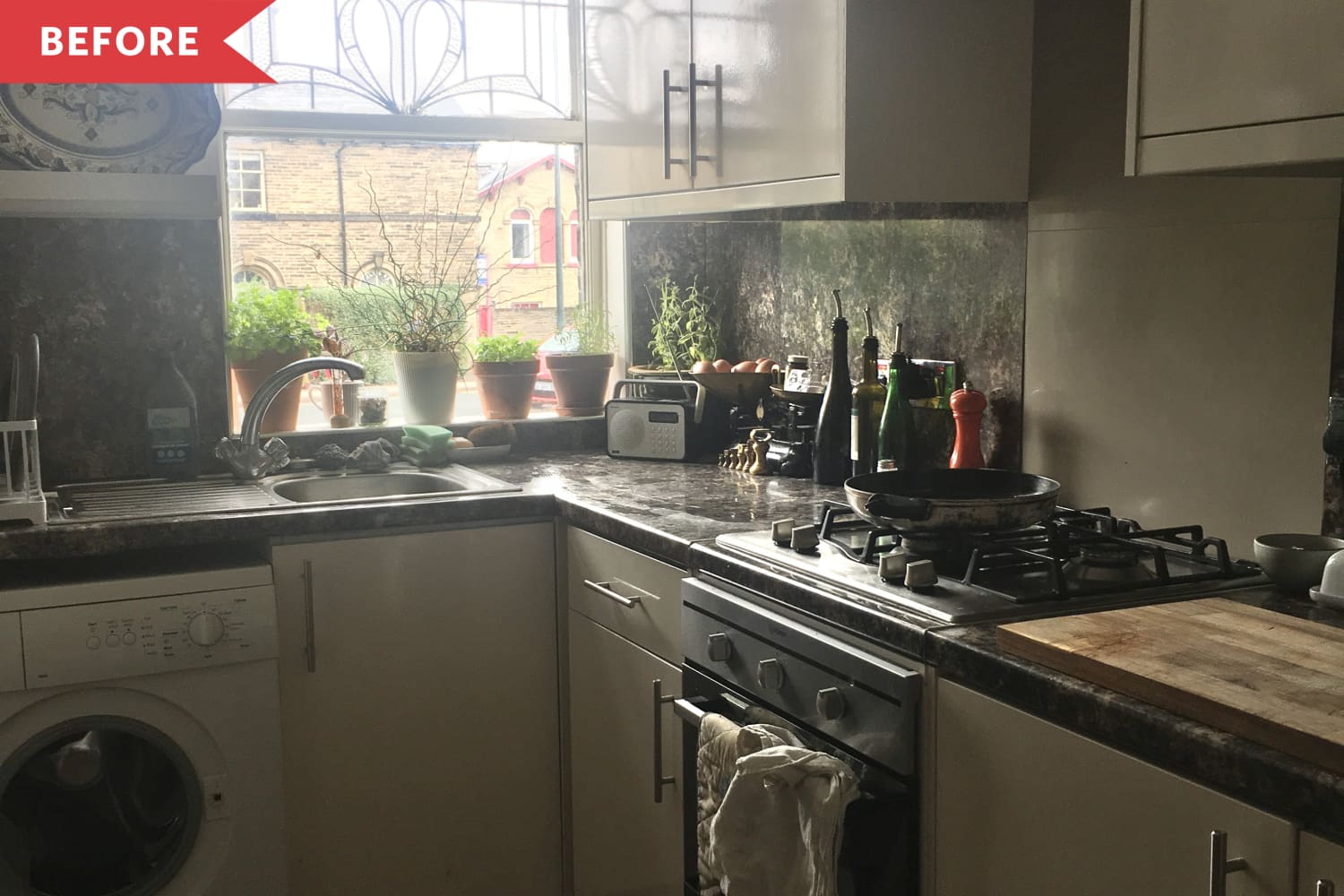 Working in tight quarters can be tricky. Especially with a house that dates back to the late 1800s where no walls are straight or level. However, there are plenty of ways to find space and organization in your tiny kitchen all while making it look fab.
Take it from Ceilan Hunter-Green and her partner Harry Jelley, whose 140-year-old kitchen was the definition of "cramped." While it may have had some vintage charm at one point, the kitchen when they moved in was filled with later additions like a plastic drop ceiling and dark faux-granite counters and backsplashes. There were other head-scratching features, too, like a sink that was built up over the sash window so that it couldn't open.
"We lived with it for almost a year while we saved to renovate," Ceilan says. "It was uncomfortable to use together — if one person was doing the dishes, the other person couldn't put them away because the drawers and cupboards were in such a counterintuitive setup. We both tried to spend as little time in there as possible."
The couple wanted to make the most out of the kitchen's original size, let in more natural light, and raise the ceilings to their original height — meaning the reno would be a total gut job. Ceilan and Harry started with demo, taking out the entire old kitchen, including cabinets, counters, flooring, and more. They installed underfloor heating before adding in new floor tiles, both of which were totally new skills to them. "After installation you have to wait weeks before switching it on, and we were convinced we'd broken it somehow and it wouldn't work," Ceilan says. "But it does! We live in the north of England, and it can stay chilly for most of the year, so that was such a lovely addition."
The new green cabinets they installed came from IKEA, which kept costs low; to help the small kitchen feel bigger, the couple swapped upper cabinets for open shelving. They also rearranged the layout to make it more practical for them, then added new wood countertops and a subway tile backsplash with a cool chevron pattern and jagged edges — a unique twist on the classic.
Ceilan and Harry brought in a pro plasterer to help spiff up the walls, plus a gas installer and electrician to manage the new appliances and lighting. But the rest of the work was done by Ceilan and Harry themselves, with an assist from Harry's dad. Between the tradesmen, new appliances and materials, the upgrade rang in at around £5000 (about $7,000).
Ceilan's advice for a major renovation like this one? Put in your research time, but then just get started. "Once you've lived in the space for enough time to get a feel for it, determined your budget, and gathered your materials, just dive in and don't look back," Ceilan says. The strategy has worked out well for her: "I love how the space flows, how light the room is, and I love the underfloor heating," she says.