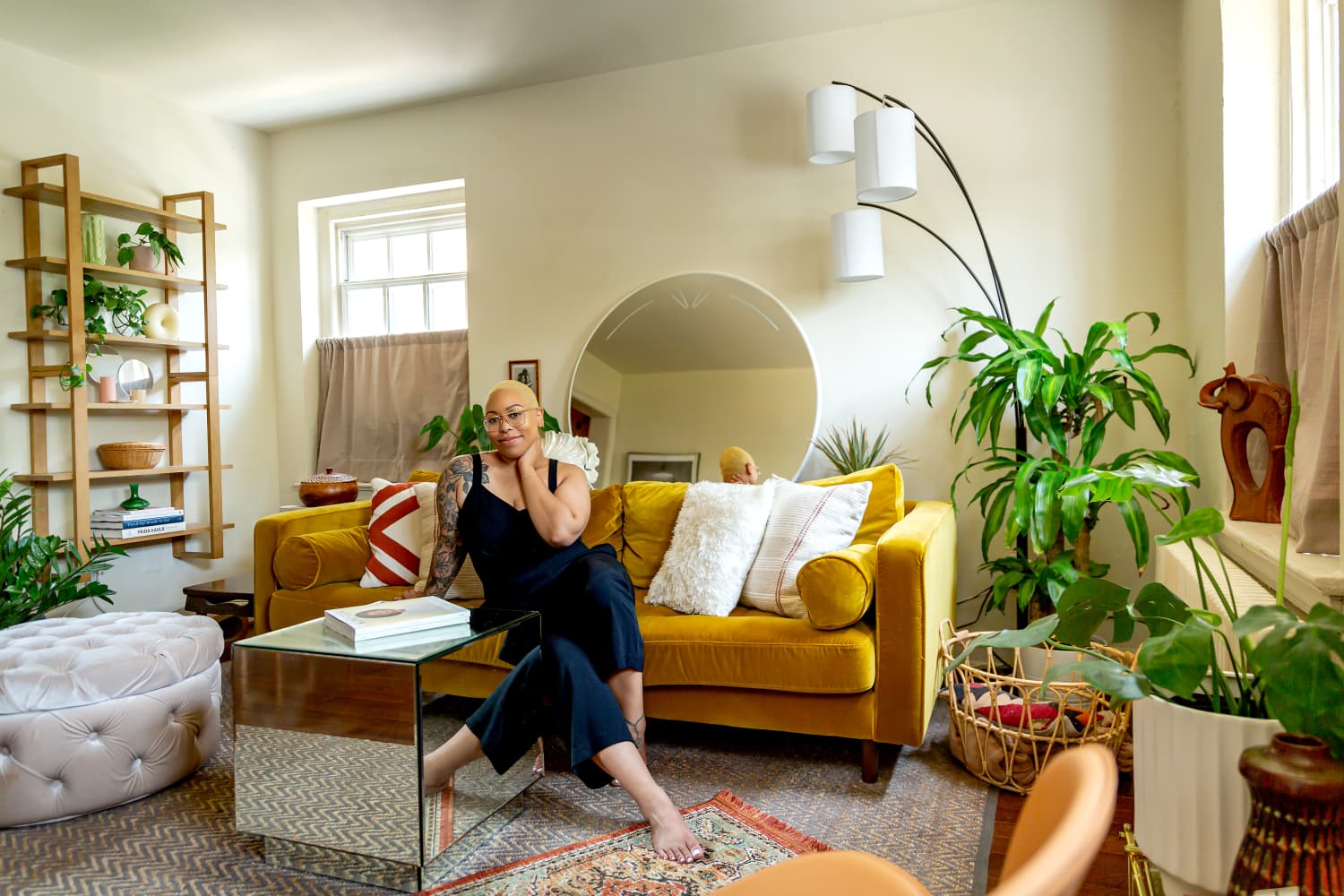 We independently select these products—if you buy from one of our links, we may earn a commission.
Name: Symphony J. and Cashmere
Location: Washington, DC
Size: 650 square feet
Type of Home: Apartment
Time lived in: 10 months, renting
Mixing high and low design, D.C. based artist and content creator, Symphony J. of Sable Muse, incorporates stylish secondhand gems with vintage memorabilia and her growing collection of art to create a lux bohemian oasis at home. Symphony and her cat, Cashmere, moved into this rental apartment during quarantine, and she wasn't able to really search for furnishings in physical stores, so she leaned on eBay, Etsy, and Depop to find stylish and affordable secondhand pieces online.
"I actually found my place on Craigslist. After seeing the hardwood floors and covered back porch, I was sold. What I love about the space is how all of these different colors, textures, and styles somehow came together to create something cohesive and unique," explains Symphony.
Her apartment doubles as her studio space, and it's apparent that the unique artifacts she's collected inform her own art practice and decor choices at the same time. From vintage hip hop posters to fine art prints to her own powerful artworks, Symphony is an expert at mixing elements that bring into being a sensual and inviting space for her to live and create.
"My apartment is truly a representation of who I am, my interests, and my passions. There's a story behind so many of the pieces here, whether they're hand-me-downs or thrift store finds," Symphony says. "This unit is older and missing small luxuries like a dishwasher or in-unit washer and dryer. While I miss those things, I love the character that this place has. This is my first time living alone and having full control over decorating a space. It feels like home."
Apartment Therapy Survey:
My Style: I would describe my style as bougie Black bohemian.
Inspiration: As an artist, I find inspiration everywhere. I see my apartment as my studio, so it needs to keep me motivated and feeling creative. I collect vintage memorabilia and that really informs both my art practice and my decor.
Favorite Element: The Broyhill Brasilia-style dresser was originally my granddad's. My mom used it in her bedroom as a teenager, and now it's mine. It reminds me of my childhood home and it's the focal point of the bedroom.
Biggest Challenge: I moved during quarantine and wasn't able to do much shopping in-store. I wanted to thrift and hit up flea markets, but that just wasn't a possibility. I really utilized eBay, Etsy, and Depop to find affordable secondhand pieces online. It took some effort, but totally paid off.
Proudest DIY: The porch was originally a dull, dark blue shade. I decided to paint it white from floor to ceiling to open it up and make it feel larger. White serves as a perfect backdrop for the furniture and plants. Painting the door pink was a last minute decision that added some color back to the space.
Biggest Indulgence: My couch! Absolutely worth it. I spend the majority of my day in the living room now that I work from home. I'm happy that I opted for this mustard color rather than playing it safe. It's surprisingly versatile and super comfortable.
Is there something unique about your home or the way you use it? My dining room doubles as my studio. I store my art supplies and scanner in the cabinets. The collage wall was one of my first projects when I moved in. It's been a great way to display some of my favorite images and put my old magazines to good use.
What are your favorite products you have bought for your home and why? My vanity! It makes getting ready feel luxurious. I love sitting here and listening to a podcast while I do my makeup.
Please describe any helpful, inspiring, brilliant, or just plain useful small space maximizing and/or organizing tips you have: Utilize both open and hidden storage. My coffee table opens on one side so it's basically a storage cube for chargers, remotes, games, etc. The top comes off my ottoman, so I use it to hide my throw blankets and pillows. I love hidden storage for the less-cute everyday essentials, and shelves for the curated clutter.
What's your absolute best home secret or decorating advice? My best piece of decorating advice is to source from everywhere. Mix high and low. Buy secondhand and repurpose whenever possible. There was no plan when I was decorating, I just knew I wanted to showcase my art collection and all of the cool things I've collected. If you stay true to your personal style, the rest will come together.
This house tour's responses were edited for length and clarity.