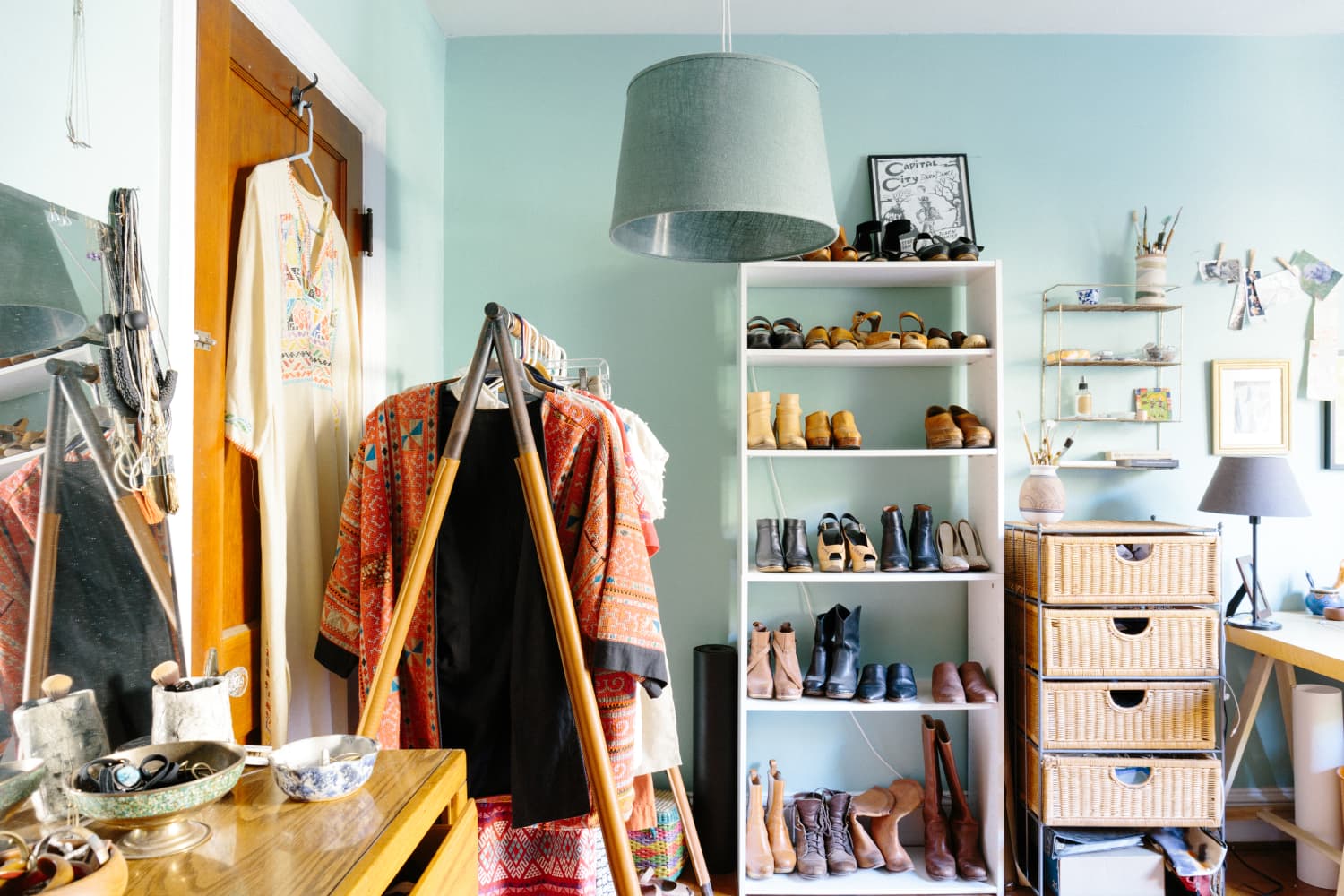 We independently select these products—if you buy from one of our links, we may earn a commission.
The dog days of summer are solidly here, but back-to-school season is coming right up. I don't know about you, but for me, back-to-school season always meant getting organized and lots of new shoe purchases to accommodate the many sports, activities, and days spent in the classroom. You don't have to be a parent to agree that a lot of shoe racks are cheap, unsturdy slabs of particleboard that tend to be gigantic eyesores. Plus, shoe racks are usually placed in the very first room you walk into in your home — like an entryway or foyer — which means it'd be extra nice if they were a little more visually appealing.
But! There are some racks or similar items that can organize and disguise your shoes in style. Check out these seven models that really have sole — err — soul and, frankly, should secure a top spot on your end-of-summer list of design upgrades.
Wayfair Gavin Shoe Storage Cabinet
When in doubt, simply find a piece of furniture that hides your shoe collection altogether. This armoire accomplishes just that, boasting six shelving spaces that comfortably fit 18 pairs of shoes. The graphic, two-tone finish makes a total design statement, and depending on the size of your collection, you can score a similar look for fewer pairs at Wayfair as well.
Buy: Gavin Shoe Storage Cabinet, $160.00 $107.09 from Wayfair
Open Spaces Entryway Rack
It's no surprise Open Space's entryway rack touts a five-star rating with nearly 400 reviews. The ultra-sturdy, ultra-modern metal tiered rack can be purchased in five soothing shades to match nearly any color palette. Thanks to the handled bar design, it's also easy to move from spot to spot, if you like to play with your room layouts frequently.
Buy: Entryway Rack, $174.00 from Open Spaces
VASAGLE Shoe Storage Organizer
This tiered organizer with mesh shelves looks more like an entryway table than a shoe rack and has a slight industrial design look. Top it with a small lamp, jewelry tray, or letter box to really make it a part of your living space. You won't even notice the shoes beneath it, which is a good thing when those three-year-old sneakers that should have been discarded months ago are still making an appearance (or is that just me?).
Buy: VASAGLE Shoe Storage Organizer, $83.99 from Amazon
Wayfair ClosetMaid Stackable Shoe Rack
If you're a self-described organizational zealot, then this shoe rack might be the best one for you. Stackable with clean lines and perfectly-shaped rectangular slots, you'll probably end up color-coding your shoes as well, to which I say, "Touché!"
Buy: ClosetMaid Stackable Organizers Shoe Rack, $141.99 $109.22 from Wayfair
Astoryou Shoe Rack Storage Organizer
Sometimes simplicity's the answer to many of life's problems. In this case, Astoryou's impressive organizer, which also adjusts to fit knee-high boots, is a perfect addition to any home with contemporary decor. It's no-frills, not ugly in the slightest, and gets the job done, which is all you can ask for really when it comes to a shoe organizer.
Buy: Astoryou Shoe Rack Storage Organizer, $31.99 from Amazon
West Elm Mid-Century Shoe Rack
Okay, so this wooden beauty isn't going to win any points in the space-saving department (it probably holds no more than a few pairs), but it sure is pretty, and it can help you fake a little mudroom setup in a small entry. Its materials are also sustainably sourced, making it a much easier sell if a significant other is reluctant to make the purchase. This one's built to last, and I can't see those clean, mid-century lines going out of style anytime soon.
Buy: Mid-Century Shoe Rack, $220.00 from West Elm
Crate & Barrel Yukon Entryway Bench with Shelf
Let's end with a splurge! Nothing says "I'm going to ignore this mess" more than sitting on top of it. If you're going to be sitting though, then sit in style with this acacia wood bench that's oh-so-stunningly rustic and a fantastic addition to any room where you'd want to store shoes. I also love the exposed butterfly joints and darker wood shelf below; these elements offer a contrast to the gray graining that will match literally any design aesthetic. This piece comes in a natural wood finish, too.
Buy: Yukon Entryway Bench, $799.00 from Crate & Barrel