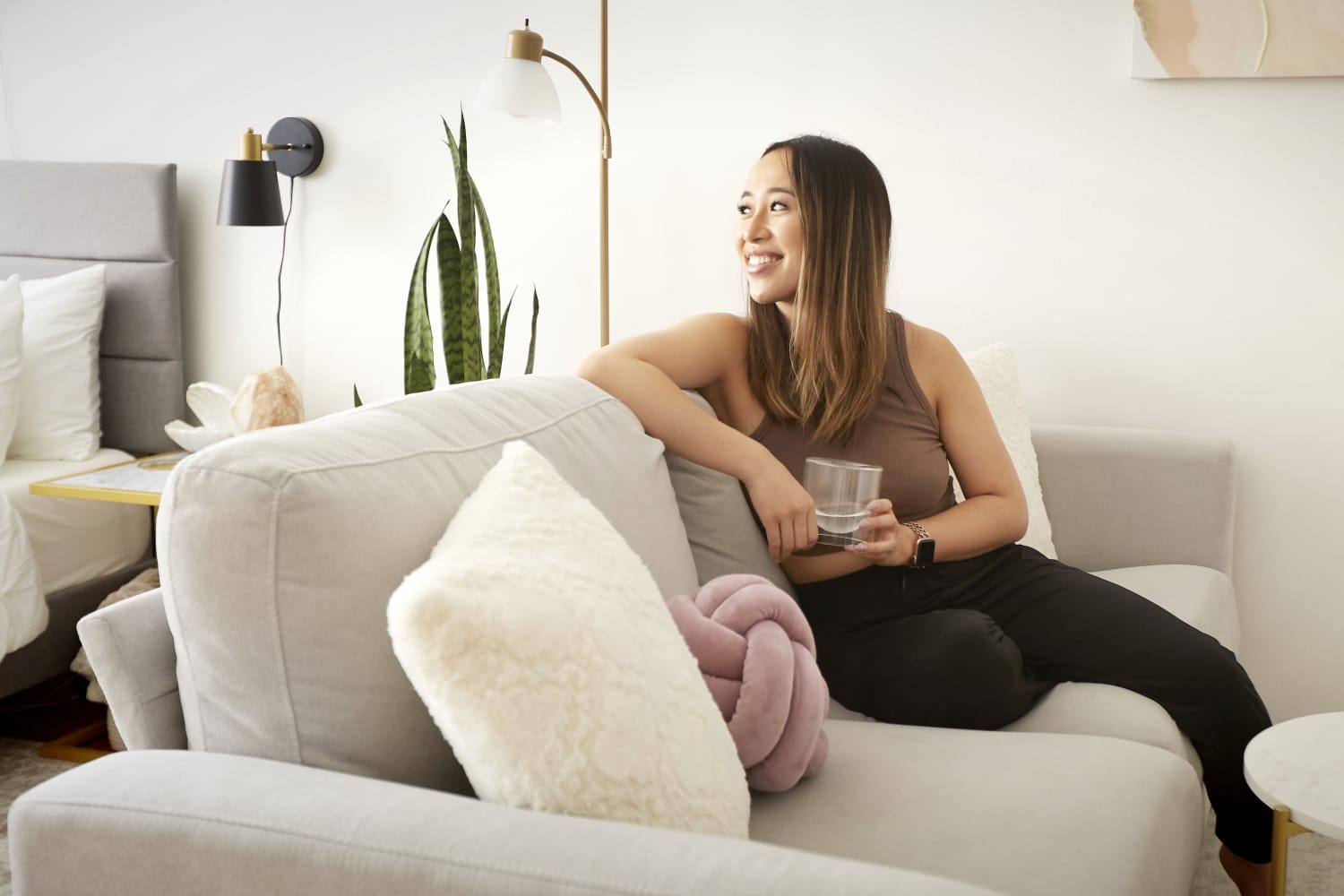 We independently select these products—if you buy from one of our links, we may earn a commission.
Name: Geneve Lau
Location: Hell's Kitchen — New York City, New York
Size: 350 square feet
Type of Home: Studio apartment
Time lived in: 3 months, renting
Since I discovered Apartment Therapy about three years ago, I have obsessively read every article about New York City apartments. It was my dream to someday be able to move to the city. Ironically enough, the first time I visited New York City when I was 16… I hated it. I told myself I would never go back and now six years later, it's where I call home.
I love the concept of studio apartments: having everything in one room, but with each area designated as its own space: for sleeping, lounging, working, and eating. I was looking at studios all around Manhattan, and this was the last one I found (on TikTok — surprisingly enough — via @thenycagent!) I couldn't be happier with it as my first "big girl apartment." One of the biggest concerns for me when I was apartment hunting was natural light, and this space does not lack in that! I was also pleasantly surprised that my unit doesn't face the street, and is high enough that my view is unobstructed, so it stays generally quiet throughout the day while I work from home (with the exception of the occasional siren).
I carried over a lot of pieces from the last place I lived, a student apartment on campus at Boston University. Even though they aren't new items, by putting them in different areas, they feel totally new! The round mirror that was a focal point in my bedroom is now hung above my dining table, and completely opens up the space.
Apartment Therapy Survey:
My Style: Serene, minimal, eclectic, neutral, accented, glam with boho touches
Inspiration: I've followed Chelsey Brown from City Chic Decor for a while, most of the seashell-esque decor pieces are a nod to her style. I also watched a lot of Alexandra Gater's studio apartment makeovers on YouTube, through which I discovered Autumn Hachey Design. I recently started following Lashes and Lemons on Instagram after watching one of her TikToks, and was pleasantly surprised to find out she was also a BU alum! Carrie Carrollo's one of my biggest style crushes, and I actually unintentionally bought the same dining chairs as her. Lastly, my friend Danielle Tullo, with her incredible apartment transformation that I followed along on Instagram, and of course, Apartment Therapy!
Favorite Element: I love the amount of sunlight that my apartment gets. That was one of the non-negotiables when I was apartment hunting. I knew I would be working from home for a while, so I wanted to make sure that I still got natural light throughout the day when I'm working inside. I'm also a big plant mom — I bought all my plants in September of last year when I moved back on campus in college and moved them with me from Boston to New York. They survived the move well and are absolutely thriving, thanks to all that sun!
Biggest Challenge: Not sacrificing functional spaces for the size. For example, as much as I really wanted to have a long glass and marble coffee table, it wouldn't have worked without making the space feel extremely cluttered. I ended up getting a smaller, two-tier side table and using it as my coffee table, so that I can still get the storage I needed without taking up a lot of room! I was only able to fit two dining chairs and a small bistro table, but I knew I wanted an actual place to sit down for meals rather than eating at the couch.
Proudest DIY: Not really a DIY, but my proudest Facebook Marketplace find. The vintage Art Deco lamp was something I found when I was mindlessly scrolling through one day, it was $10, and I found out later that similar pieces were selling online ranging from $100-$1,000! Although I don't actually use it as a lamp, it's a statement piece that I know I'll keep with me for years to come.
Biggest Indulgence: Surprisingly, the couch. I got it practically brand new from Facebook Marketplace, but no one tells you that if you don't know anyone in the city with a large, oversized van to borrow, you're going to have to pay for a Dolly or TaskRabbit to move it. The couch was $120 but I paid almost $160 just to move it.
Is there something unique about your home or the way you use it? If you live in a studio apartment, try using a dresser as your TV stand! As much as a media console is more "aesthetically pleasing" to look at, you're able to save space and not be scrambling for storage. I picked this one out because I liked that it had a cabinet as well for things I wanted to stand upright rather than toss inside a drawer.
What are your favorite products you have bought for your home and why? My bar cart was an unexpected Facebook Marketplace find (are we seeing a pattern here?). I knew I wanted to upgrade to what I called a "big girl bar cart" when I moved into my first apartment, and this one matched all my gold barware perfectly. It was only $20 and worth the tedious lugging all the way back on the subway from the Lower East Side.
The desk chair's shape is so unique and makes me actually excited to sit at the desk and do work. It's also surprisingly very comfortable!
The laptop riser/stand – Because it's so much cuter than the conventional ones I see people use, and it has seriously changed the way I work. I can't believe I went without one for so long!
The white armchair – This was actually purchased when I was still living in my dorm apartment at BU, but it fits perfectly in this corner by the window now. It's great for a more laid-back place to do work and I get to soak in all the sunshine, and it's always the first place my guests go to sit when they come to visit!
Please describe any helpful, inspiring, brilliant, or just plain useful small space maximizing and/or organizing tips you have: These bins from Amazon have been the biggest lifesaver to helping me organize my storage in my closet. Also, HANG EVERYTHING! This is the biggest life hack to living in a studio. I use these hooks by my entryway for coats, bags, and umbrellas. I use these magnetic strips to hang my knives and save counter space. If you don't have a lot of outlets, these outlet extenders are a game changer. And they're not as clunky as some of the others I've seen! Lastly, if you don't have room for a coffee table, I found this on TikTok — it's a tray table that clips onto sofa or chair arms so you can set your drink down somewhere. I use it for the armchair by the window, but seriously a game changer.
Finally, what's your absolute best home secret or decorating advice? Plan how you're going to lay your furniture out on a copy of the floor plan if you can. I didn't use any fancy software, just Preview on Mac. For example, I knew my couch would fit perfectly because it was exactly half the width of my apartment. Also, a tip I learned once is that pushing the furniture against all the walls of a small space makes it appear smaller, try pulling it a few inches off the wall or using furniture to divide a studio (like a couch) into separate spaces!
This house tour's responses were edited for length and clarity.