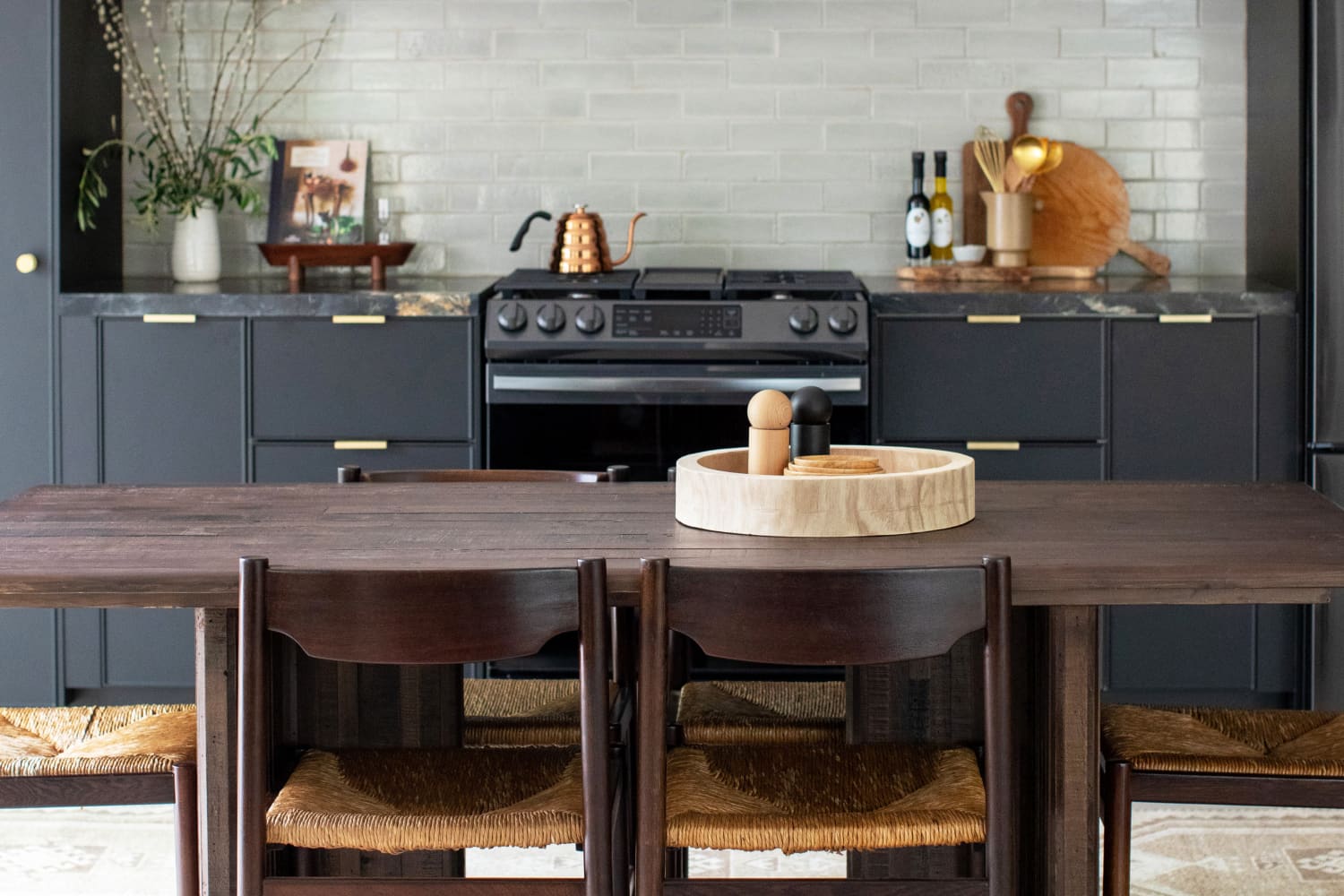 We independently select these products—if you buy from one of our links, we may earn a commission.
For designer Anne Sage, simplicity is the name of the game. When faced with designing an entire kitchen in just one weekend for a client, she chose pre-assembled BOXI cabinetry, streamlining the layout of the room and relying on luxe finishes like a matte black cabinet color and warm gray tile. Another big decision Sage made? Forgoing a kitchen island, opting instead to fake the look with a stylish dining table instead.
It was certainly a bold move. Kitchen islands have become synonymous with modern homes — and dream cook spaces — in the same way open floorplans have, and many homeowners consider them a must when house hunting or renovating. For Sage though, swapping out an island for an expansive dining room table made her clients' 500-square-foot space function as a multi-purpose room without losing out on the much-needed prep space islands often supply.
"We explored several layout options in this kitchen, including just a large island and a combo of a small island and small dining table," Sage explains. "The family even toyed with the idea of eschewing a dining table altogether and just eating at an island, but we realized that for large gatherings like holidays, that just wouldn't suffice. That left us with the choice of a large dining table that acted as both a prep surface and eating/gathering zone."
Often seen in old European kitchens or English sculleries, the table-as-island hybrid can be a handy hack for homeowners looking to save a bit of money and diversify the furniture in their kitchen, especially when working with a small footprint. Sure, it doesn't boast additional storage opportunities in the same way a true kitchen island does. What you do get, though? Warmth and a two-for-one piece that's perhaps more comfortable for eating than island seating — not to mention better for entertaining large groups — especially if you don't have a dedicated dining area. Moreover, kitchen islands can be pricy because of the bells and whistles they come with, even if you don't go super custom. A dining table can cost a pretty penny, too, but on the whole, they're cheaper than islands.
For her clients, Sage opted for a custom table when all the vintage pieces she found felt too folksy against BOXI's sleek Peppercorn cabinetry in the kitchen. "We had a piece constructed from reclaimed wood with an espresso stain so it had a warm and inviting feel with a more contemporary silhouette," explains Sage. "It looks right at home in the kitchen, especially with the addition of wood open shelves in the same finish."
This clever kitchen design trick works equally as well in even smaller spaces, too. Case in point: Vintage curator Leah Fournier relied on an oval wooden table to bridge the prep-and-dine gap in the kitchen of her Illinois townhouse shown above, while TikTok influencers and designers Josh & Matt turned to a marble pedestal table and some acrylic blue chairs to gussy up their functional-yet-fun Melbourne kitchen as seen below. Rectangular tables might fit more people, but when you're especially short on space, a round or oval table is where it's at.
Like with most things, a few tricks can help you pull off this design decision with finesse. First, make sure you opt for a sturdy table design that can hold up to daily prep work and dining, even if it's vintage. Second, the more your table looks like your cabinetry — or ties into an element already in your kitchen (like the open shelving in Sage's project, for example) — the more this layout trick will read as an "island" visually.
The same spatial rules for placing a kitchen island within a kitchen should guide your selection of a dining table for this spot as well. You want a walkway buffer of at least 36 to 42 inches around all sides of the table, just like you would with an island. Likewise, keep height in mind: look for a table that's high enough so that you're not completely hunching over when using it to prep or cook on but not so high that you and your guests feel uncomfortable or awkward eating at it. The average kitchen island is about 36 inches tall, while dining tables range from 28 to 30 inches. If you can, find a style at the upper end of that range, boasting an extra inch or two in height, and try it on for size in a showroom before bringing it home to your space.