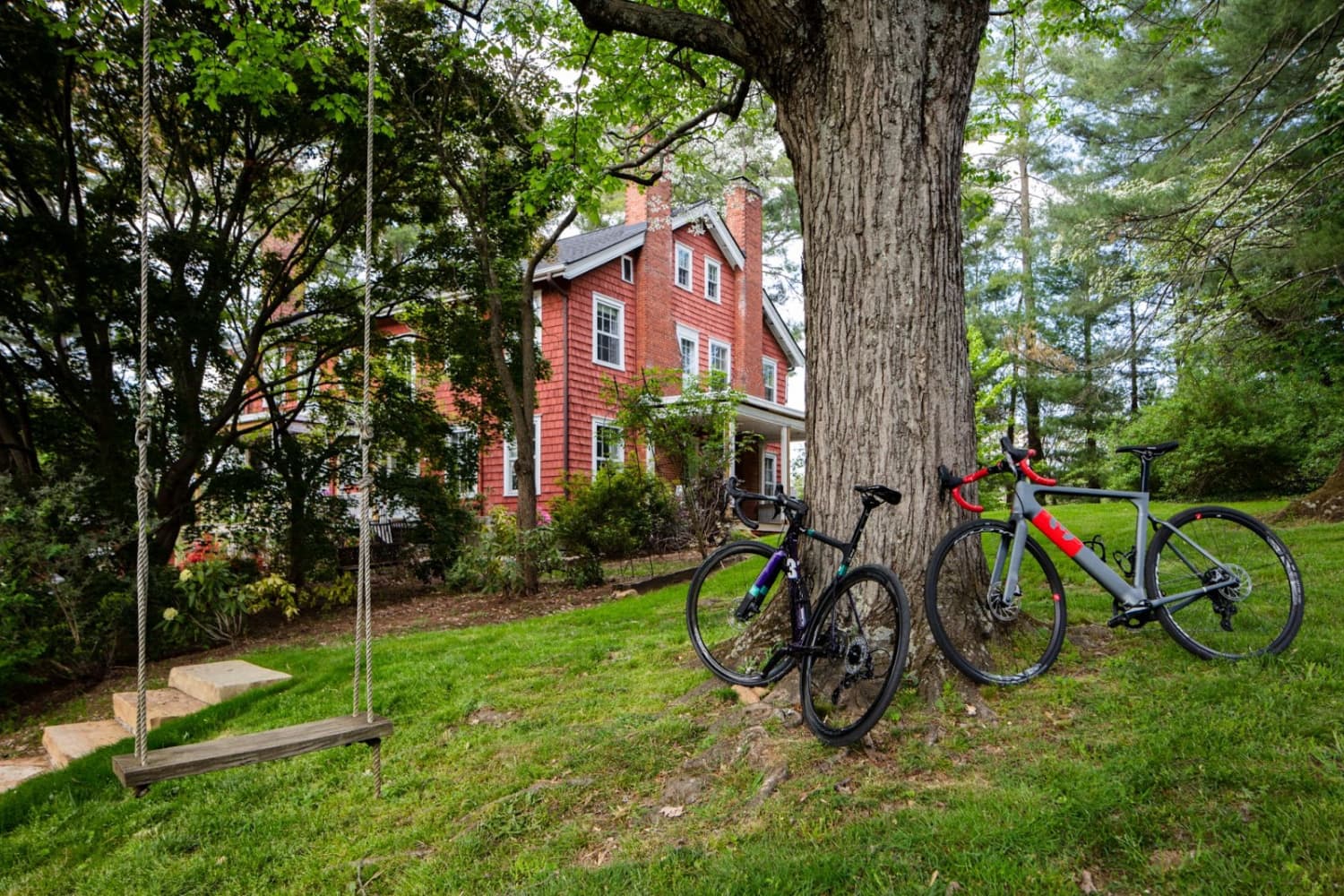 Fall lovers, this one's for you! If you're starting to think about your Autumn vacation, one hotel is offering a unique experience for the new season, giving guests a unique opportunity to view North Carolina's dramatic displays of fall foliage from two wheels.
The Applewood Manor is a boutique hotel located in the Montford Area Historic District of Asheville, North Carolina. Sitting on a knoll surrounded by just over an acre of giant wild cherries, apple trees, oaks, pines, maples, and a variety of flora, the hotel is the perfect escape for nature lovers in the Southeast, and beyond.
As hotel owner (and former ormer elite amateur competitive cyclist) Stephen Collins knows, its stunning location makes it the ideal place for keen cyclists. Collins has curated customized bike routes along the nearby world-renowned Blue Ridge Parkway, the perfect ride for recreational cyclists and higher. With biking a huge focus when it comes to the hotel's guest experiences, these routes are available year-round, but they've also introduced a new and exciting route just in time for sweater weather.
Allowing guests to marvel at the kaleidoscope of colors that engulf NC in the Autumn time, the "Peep and Pedal" biking experience will take participants on the ultimate autumnal adventure, taking in the sights of fall foliage and the regional wildlife.
"Peep and Pedal" is a two-day experience, consisting of two different route: Tour of Town Mountain to Blue Ridge Parkway (20 to 25 miles) on day one, and to the town of Marshall (40 to 45 miles) on day two.
No bike? No problem! Guests will use the property's fleet of 3T racing bikes, or those who want to bring their own will receive a discount.
Participants will also receive a ride nutrition pack from Torq USA and even have access to an on-ride support vehicle, as needed. Additionally, guests will enjoy a box lunch prepared by Applewood Manor on their ride, and will be able to cool down with a post-ride tasting of charcuterie and local craft beer. Because what's more Asheville than craft beer?
The "Peep and Pedal" experience costs $295 per person or $195 if using your own bike, and is available from Oct. 1 through Nov. 14.
After undergoing a $1.5 million redesign, The Applewood Manor reopened its doors in May 2021, welcoming guests back to the meticulously curated boutique B&B that boasts six luxuriously decorated rooms including $20k Duxiana beds, and timeless art and furnishings that are reminiscent of the hotel's rich history.
Nightly rates start at $295, with a two-night minimum stay.