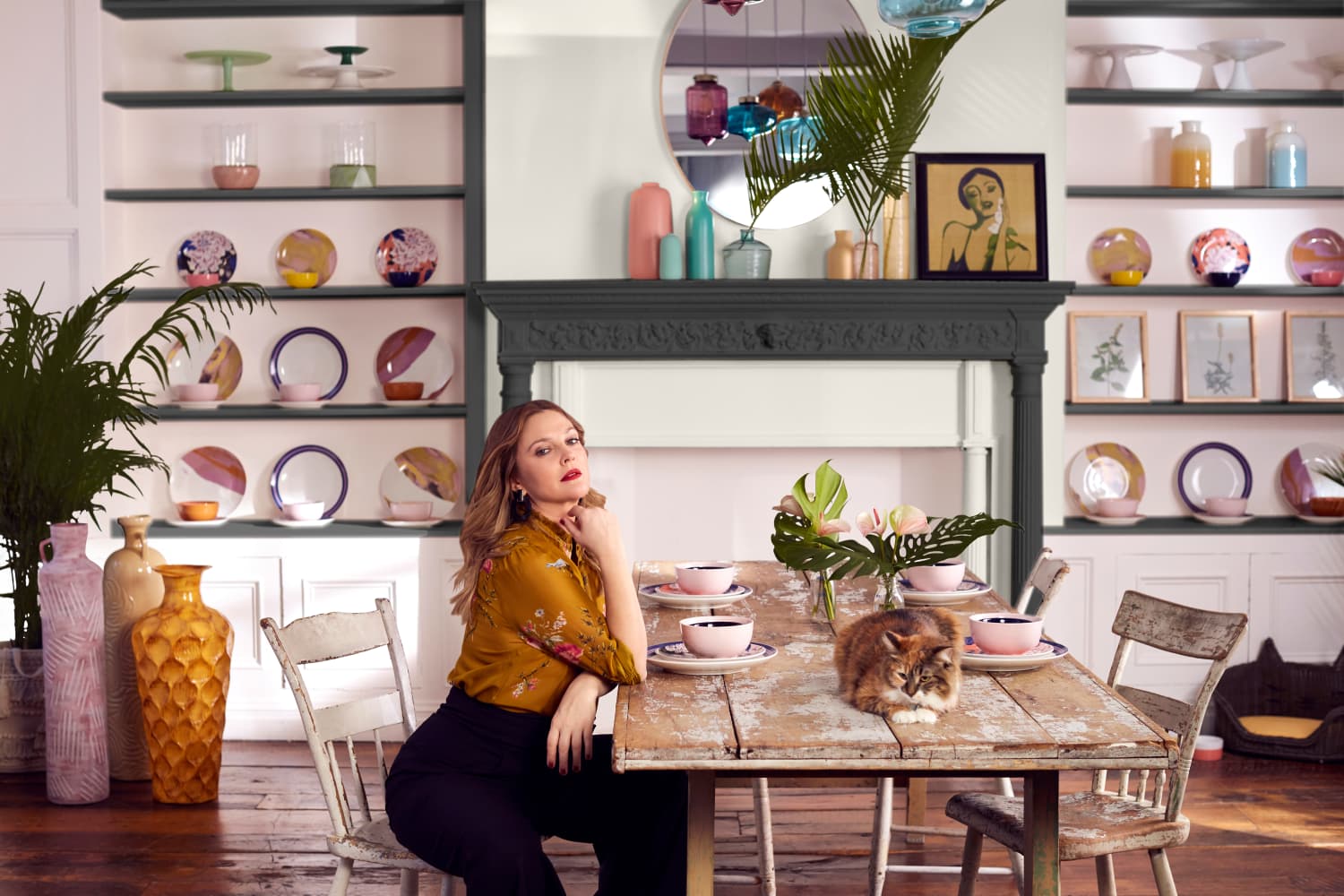 We independently select these products—if you buy from one of our links, we may earn a commission.
Drew Barrymore's Flower Home line launched exclusively on Walmart.com back in 2019, and since its release, the range has been taking the home interior world by storm, thanks to its eclectic and fun design. Now, the brand has announced a new and exciting addition to the range, a curated collection of indoor paints comprised of 27 unique colors for interior decorating needs.
From rich hues to soft subtle neutrals– the color palette is a reflection of Drew's personal style and can easily be incorporated into any room in the home.
"Flower Home Paint is a curated collection of my favorite interior paint colors so you can find the perfect shade to suit your style, space, and mood. I'm so excited to share them with you!" said Barrymore.
Specially formulated to provide a mildew-resistant coating, Flower Home Paint is perfect for any interior wall, whether that be a bedroom, bathroom, or kitchen.
The range was thoughtfully curated to directly complement Drew's FLOWER Home collection, which offers a unique assortment of eclectic home furnishings, including furniture, curtains, textiles, wall art, wallpaper, and now paint.
"The Drew Barrymore Flower Home line and Flower wallpaper have both been so well received that it only made sense to expand into paints, " said Ana Arguello, Vice President of Merchandising, Walmart U.S. "The color options perfectly coordinate with the other Flower Home collection items, but can also be used separately to complement any room in your home,"
At $39 per gallon, and the unique formula meaning the product is both a paint and a primer, it's the ultimate interior style steal. What's more, the quick-drying paint is low odor, and provides excellent stain and scrub resistance backed by a lifetime warranty.
Whether you're into soft neutrals like shades White Daisy and Toasted Almond, or you want to add a pop of bold color to your space with bright hues such as Lemon Yellow and Island Green, Barrymore's Flower Home Paint has been designed with every style and aesthetic in mind.
"Color is everything! The right shade of paint can take a wall from blah to bold or a room from feeling like an afterthought to completely amazing," Barrymore said.
Don't know where to start? "Have some fun!" explains Barrymore. "Play with paint and paper. I designed FLOWER Home Paints to work beautifully with our Flower Home Wallpapers. It's so much fun to mix and match colors and patterns to bring a room to life."