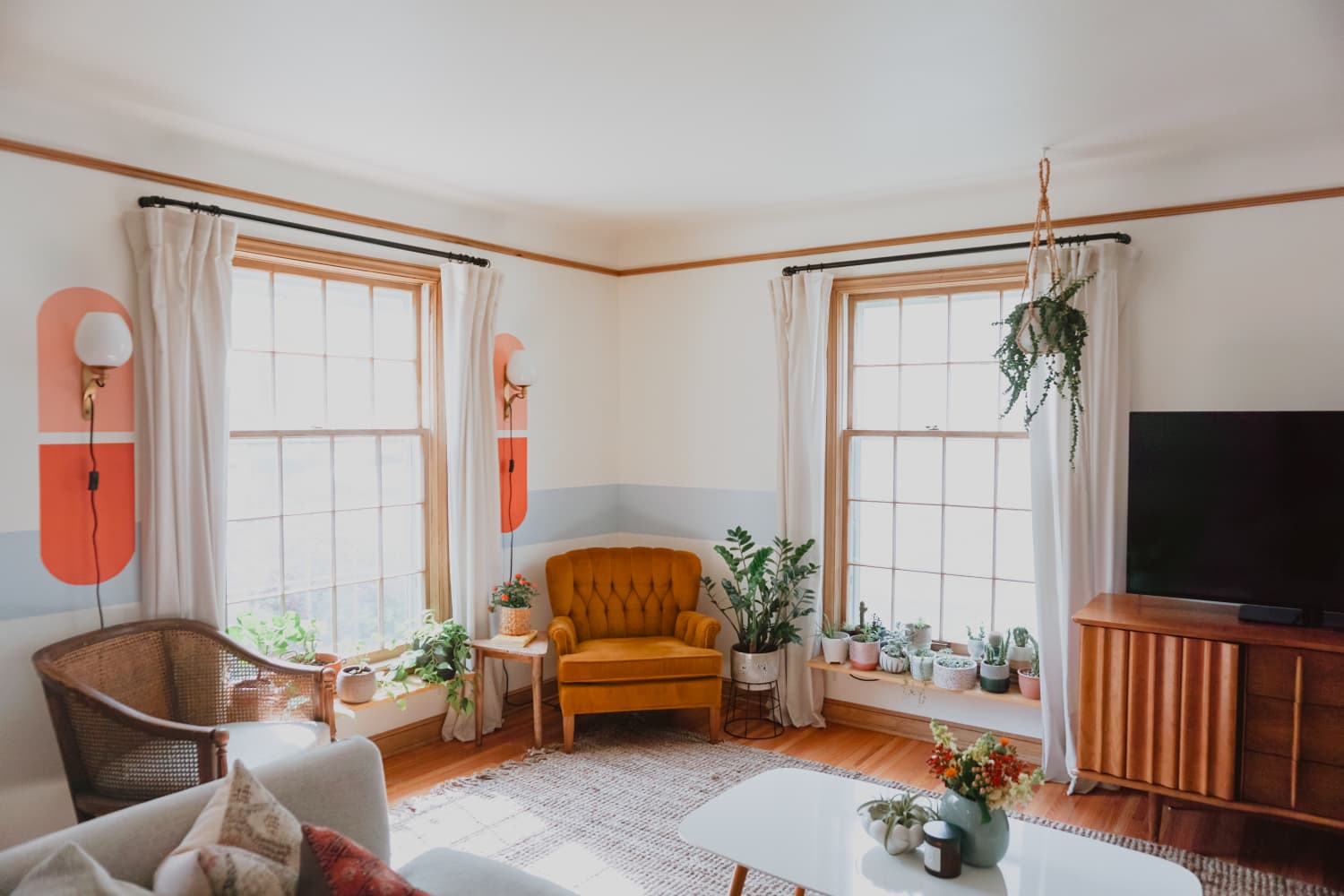 We independently select these products—if you buy from one of our links, we may earn a commission.
I truly hope some home design trends, like carpeted bathrooms, never see the light of day again. Others tend to evolve over the years, returning better than ever down the road (I'm looking at you, appliance garages). You probably already know wallpaper has returned in a big way: What was once considered an eyesore is now a covetable interior design addition, with the ability to transform rooms and transcend design styles using bold patterns, saturated hues, and, at times, delicate hand-painted details. Wallpaper isn't the only accent on the up-and-up though. As it turns out, wallpaper's quirky cousin is riding its coattails back to relevance: wallpaper borders.
I know, I know — you probably cringed reading that. I kind of cringed writing it. If you're picturing a dated '90s wallpaper border that was once in the bathroom at your parent's house or even your dentist's office, you're forgiven. Wallpaper borders have earned themselves a bad reputation, with their often clashing color palettes and overly cutesy patterns. Here's the good news: Wallpaper borders are certainly working on themselves (aren't we all?) and — dare I say — maybe earning the right to be relevant again?
For starters, they're less expensive and labor-intensive than hanging traditional wallpaper (even the peel-and-stick kind), making them a totally accessible way to freshen up your room if you only have an afternoon or a few hundred bucks. Plus, they can be a great way to dip your toes into pattern or color without committing to pasting paper all over your walls. If you've been longing to install wallpaper in a full bath but worry about the humidity, a border (coupled with tile and paint) may be a good compromise.
Consider this trend's resurgence in its infancy; the pickings out there right now are sort of slim. You'll find a lot of Disney characters (which are great for kids) and some retro flora motifs that don't quite feel modern enough. However, wallpaper titans like Cole & Son and Schumacher are coming out with cool graphic patterns (I also love this one from Fiona Howard), while Etsy vendors are trying their hand at everything from charming scallops to solid stripes.
Abstract designs might be the way to go — there's something about simple shapes that always feels modern, particularly in an of-the-moment colorway. This time around, borders aren't just reserved for the very tops of walls. You can use borders to create stripes or bands from the top to the bottom of a room's walls, and I'm also seeing borders coming up from the baseboards, which feels like a totally fresh place for installation. Brands and makers also appear to be playing with scale as well, making slightly larger, wider designs.
If you want to try your hand at a wallpaper border but can't find something you like out in the market just yet, you have a few other options. For starters, you could mimic the look with paint, like interior stylist Emma Jane Palin did in the guest bedroom of her home shown just above. I love the warm rust and goldenrod color combo, and the two different band shapes come together nicely to create a border that reads as one and plays off of the geometric bedspread. This brand of border feels like an extension of the wall mural trend that's been so big as of late, but it's cheaper and easier to execute. Of course, if you're going for straight lines, you'll want to use painter's tape to guide you.
Another take: Combine trim or wall paneling and a band of regular wallpaper cut to mimic the look of a border, as shown in this entryway. It definitely takes a bit more work to install, thanks to the addition of trim. This could be a great option for more traditional homes though, where a floating wallpaper border might look out of place.
Ultimately, I'll be waiting to see how the wallpaper border trend evolves before I dive in, but I'm optimistic that it can be fresh and cool — or, at the very least — better than it was in the '90s. Thank goodness for that!