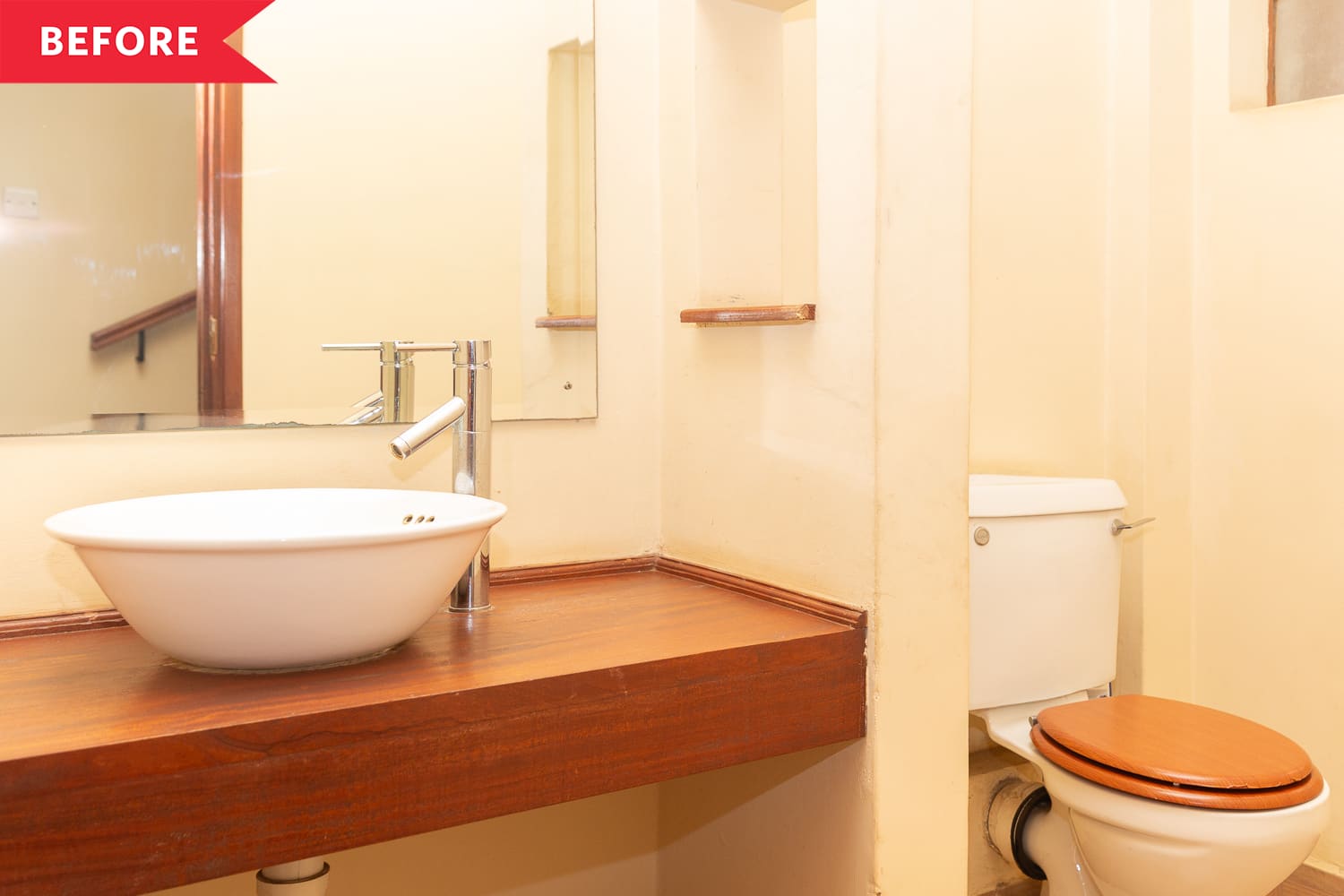 Like many others, Ash Appleton fell in love with the awesome location of her two-bedroom apartment in Nairobi, Kenya — but not so much the inside. "The interiors were done very cheaply, by the developer, and hadn't aged well," Ash says of the space.
A prime example: the bathroom, not updated since the apartment was built in 2008. "It was basically a dated, shabby sea of magnolia, uninspiring woodwork, and ugly sanitary ware," Ash says.
It all looked even worse in comparison with the adjacent living area, which Ash had already decorated in a bold and vibrant palette. "There was a disconnect between the two spaces," Ash says. And most importantly: the space "wasn't a joy to use, especially for guests."
Ash wanted to give the space a bold hit of color and make it fit in with the rest of her apartment. But first, she wanted to re-tool the area. "The room was generously sized but it wasn't working as hard as it could," she says. Having a contractor re-arrange the bathroom so that it could include both a vanity and a laundry area took advantage of the ample square footage and freed up space for a future kitchen expansion into the old laundry area.
In addition to the new layout, Ash had a new toilet and sink installed by a plumber. And instead of the old ho-hum wood finishes, Ash hired a carpenter to craft sleek MDF cabinetry, which was then painted in a sunny yellow.
That wasn't the only color Ash incorporated, though: She also had a handyman tile the new vanity area (now located across from the toilet, rather than next to it) with mosaic tile in shades of green. The walls around it were professionally painted a fresh turquoise to match.
The far side of the bathroom features an accent wall with a full-scale photo mural custom-printed from one of Ash's own travel shots. Getting it printed to fit the wall perfectly was a challenge that Ash hadn't expected. "Going forward, I probably won't use bespoke, photographic wallpaper murals on an entire wall," she says. "I would consider framing this type of mural within a painted border, which would make it cheaper and easier to install."
Overall, though, Ash is happy with how the room came out. "The scheme is inspired by Lamu, which is on the northern coast of Kenya, and one of my all-time favorite places," she says. And, with its upbeat color palette, custom photography, and other artful touches, the new bathroom is completely different from the boring all-white space Ash started with. "The room now has the feel-good vibe I wanted," she says.
Inspired? Submit your own project here.