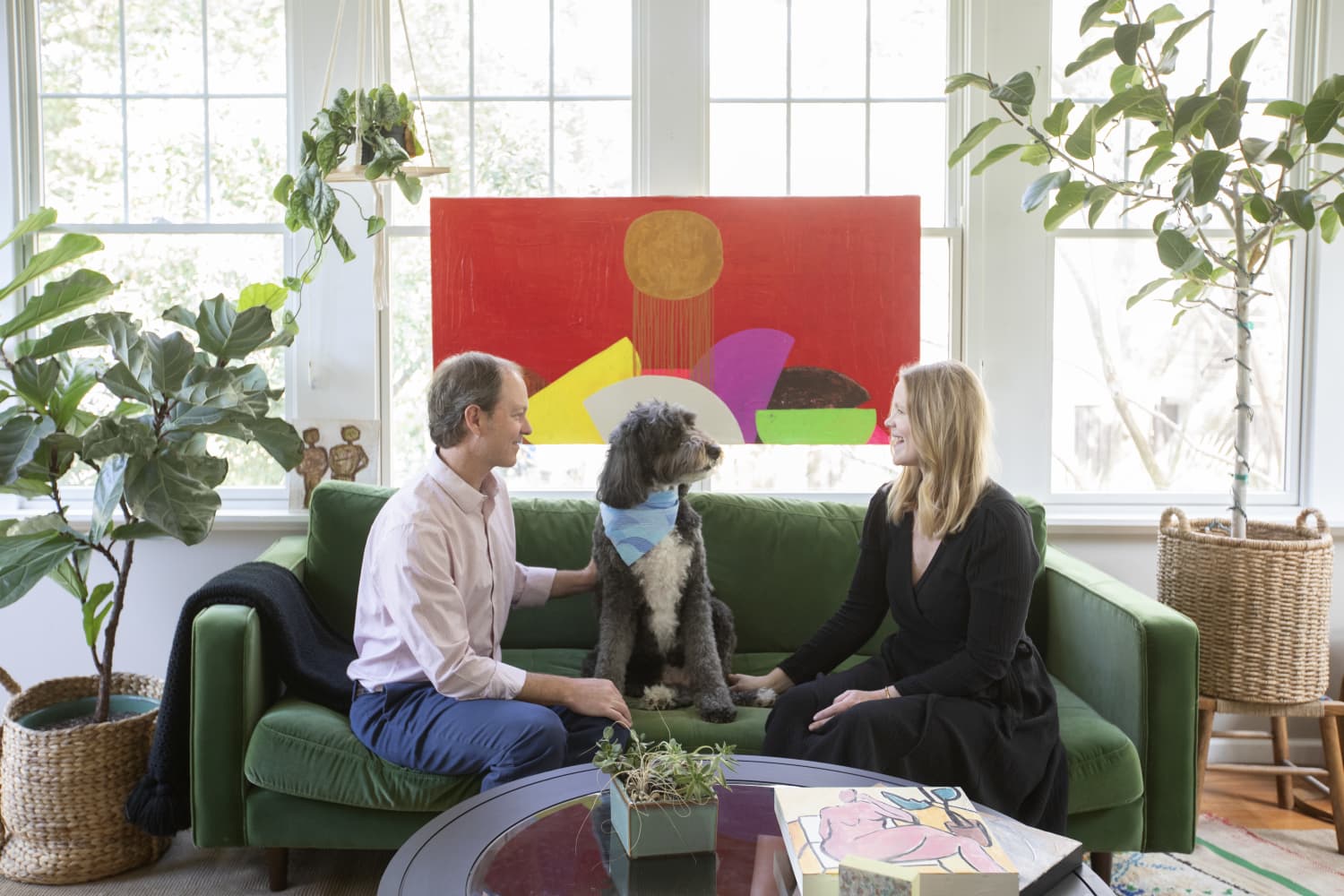 We independently select these products—if you buy from one of our links, we may earn a commission.
Name: Laura Dargan, Timothy Dargan, and our Bernadoodle Hazel
Location: Charleston, South Carolina
Size: 2200 sqft
Years lived in: 3 years, owned
Timothy and I have built a creative haven. We live near the beach in Charleston, South Carolina, so a lot of our life revolves around coastal living. We enjoy taking our bernadoodle, Hazel, to the neighborhood dock every morning. It's her favorite thing to do — to sprint down the quarter-mile long dock, through the marsh, and take in the sunrise.
Our home has taken on a sea-meets-bohemian-city vibe, which pretty accurately portrays our lifestyle. When we're not playing on the water we're attending gallery events or enjoying our beautiful hometown of Charleston. I am an artist, lover of travel, and a creature of comfort. These elements of my life have joined forces to create our art-filled, cozy, coastal home.
As an artist I love supporting other artists. It's endlessly inspiring to be surrounded by the work of other creatives, so in every nook and cranny we have made space to display our eclectic collection. The big gallery wall in the living room is an ode to our favorite artists. You'll find realism, abstract, sculpture, metal art — everything on that wall.
What makes this house so special is the neighborhood. There's a community dock that is perfect for sunrise and sunset viewing. Neighbors who congregate in our front yard in the afternoon so the dogs can play. Food trucks that come by on Sundays for early dinner. Countless happy hours at each other's houses. It's the sense of community that makes our house really feel like a home.
Apartment Therapy Survey:
My Style: I would describe my style as eclectic contemporary with a touch of traditional. Always changing and never finished!
Inspiration: A lot of my inspiration comes from the art that I have collected. It sets the tone for the space.
Favorite Element: The sun porch is my favorite room of the house. The natural light is amazing and paired with the plants and green palette in the decor it feels like you're in a tree house!
Biggest Challenge: There were a few corners in the house that were dead space. Not really large enough to incorporate furniture in a substantial way but just large enough to where something was necessary. It was challenging to fill these spaces in a functional, cozy way. Just like everything else in the house, I really wanted to live in the space before making a decision on what to do and really get a sense for what would work best. Will we want to sit in this space, will this corner be purely decorative, etc…? Over time, these spaces kind of developed on their own.
Proudest DIY: At the beginning of the pandemic, we found a piano on the side of the road that was still in good shape. We (somewhat reluctantly) took it in thinking there was no better time to learn how to play the piano! Unfortunately, it was kind of an eyesore in the house and a little out of place. I almost got rid of it but instead I gave it a makeover. I painted it in a funky way and now it's an art piece! Still trying to learn how to play though.
Biggest Indulgence: Artwork. And yes, worth every penny.
Is there something unique about your home or the way you use it? We turned our dining room into my art studio and it's the first room you see when you walk in the door.
What are your favorite products you have bought for your home and why? The rugs that I have collected might be my favorite product purchases. Rugs are functional but I also consider them to be a piece of art that ties the room together.
Please describe any helpful, inspiring, brilliant, or just plain useful small space maximizing and/or organizing tips you have: Rethink how you use furniture! When I turned our dining room into my art studio I had to get creative with my storage space. I turned an antique pine cabinet that used to store glassware and serveware and various other kitchen items into paint and art supply storage. I created space in the kitchen cabinets for the glassware and didn't to need buy another piece of furniture for the studio!
Finally, what's your absolute best home secret or decorating advice? Stick with what you love and use things in your decor that show off your personality. I've always thought that found or collected objects scattered throughout a home really add personality to the decor. Whether it's a small painting from a trip or an interesting piece of driftwood from your local beach that reminds you of the best beach day, objects like these give the home a personal touch.
This house tour's responses were edited for length and clarity.