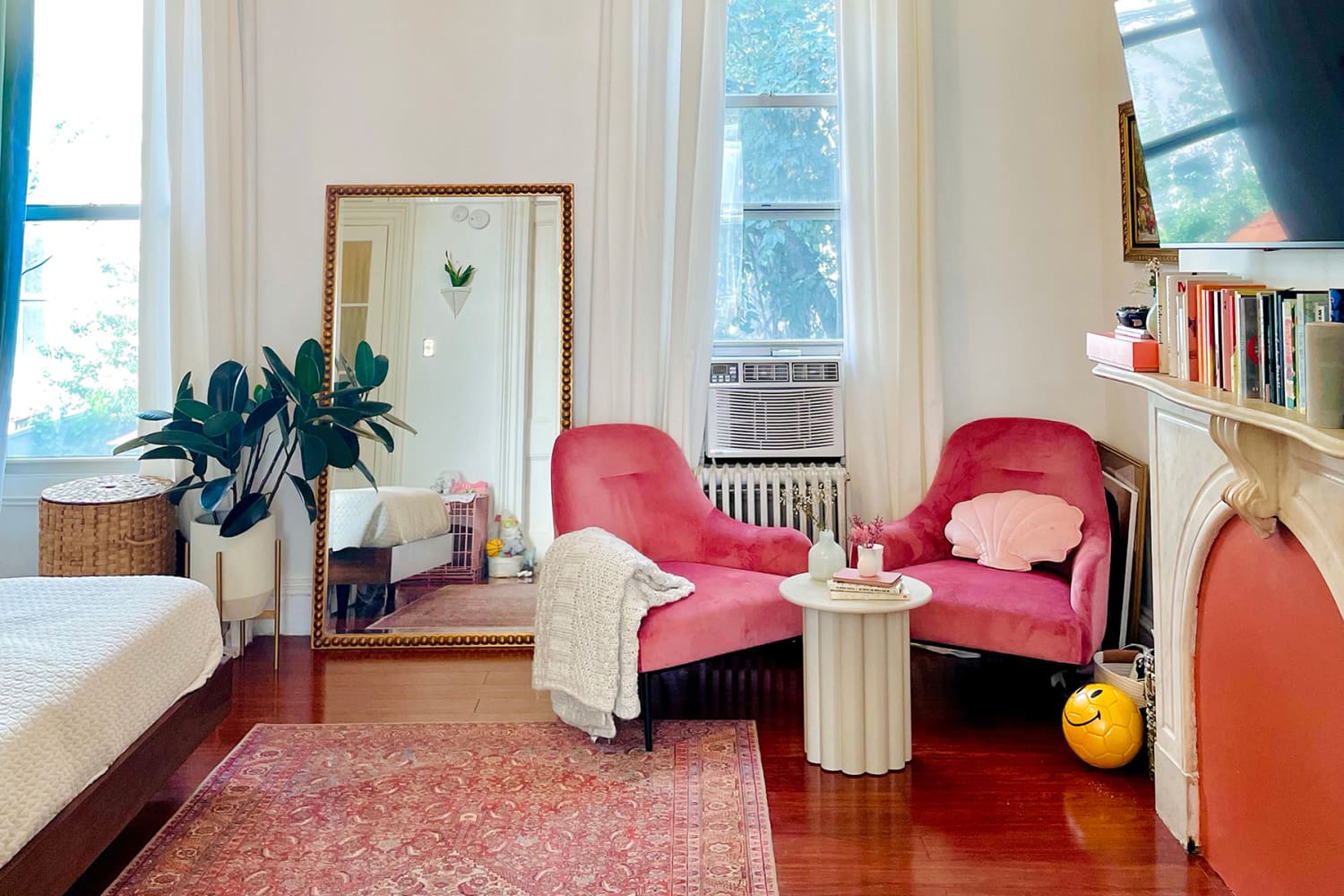 We independently select these products—if you buy from one of our links, we may earn a commission.
Name: Ellis Adin, boyfriend, John, and puppy Margot
Location: Clinton Hill — Brooklyn, NYC
Type of home: Apartment
Size: 500 square feet
Years lived in: 1 year, renting
Tell us a little (or a lot) about your home and the people who live there: John and I met right before the pandemic, and were soon forced into lockdown when New York City was struck with COVID. Early on, we knew we'd quarantine together as other friends and roommates fled the city. After half a year of spending every day together between our two apartments, I found this gorgeous spot in Clinton Hill and knew we needed a new space to call home. From the start, I was captivated by the high ceilings, moldings, and fireplaces. It needed some work, but we saw the potential and could not wait to move in. Decorating the apartment became a therapeutic activity to keep us busy during the pandemic. We were both busy working from home, and looked forward to those pockets of time where we could truly make the place our own. This included creating our own art to hang on the walls as well. Once we were happy with the outcome, we welcomed a little Frenchie puppy into the family.
I'm a graduate student working towards becoming a therapist, and John is an art director! Our style is definitely a combination of both our interests and careers. For me, I knew I wanted my home to have a calming, nurturing feel filled with textures, light, and color. Pink has always been a very energizing and comforting color to me, which is definitely reflected throughout our home. John is inspired by street art and skate culture, and comes from a super musical family! When we first moved in together, I was worried how our two styles would blend, but we both love the outcome. Some of our favorite pieces are the mounted skateboard and guitar (both functional and artistic) and piles of art books stacked throughout the apartment.
Describe your home's style in 5 words or less: Inviting, bright, personal, eclectic, pink
What is your favorite room and why? Technically we live in one very large room, but we definitely have a favorite corner! I would say the record stand/bar cart area is the heart of our home. During the pandemic, pouring a drink and blasting our favorite albums was a touch of normalcy and joy. Our record collection is an amalgamation of our individual favorites and family heirlooms passed down to us, which makes the corner feel even more special and intimate. The tabletops and walls are sprinkled with items from family, vintage shops, travel, and even things we've made ourselves! It's a really special area that reminds us of the people and places we love.
What's the last thing you bought (or found!) for your home? Fresh flowers, shoutout to our neighborhood gem Bella Rosa!
Any advice for creating a home you love? Only buy what you love and don't be afraid to mix and match styles.
This submission's responses and photos were edited for length/size and clarity.