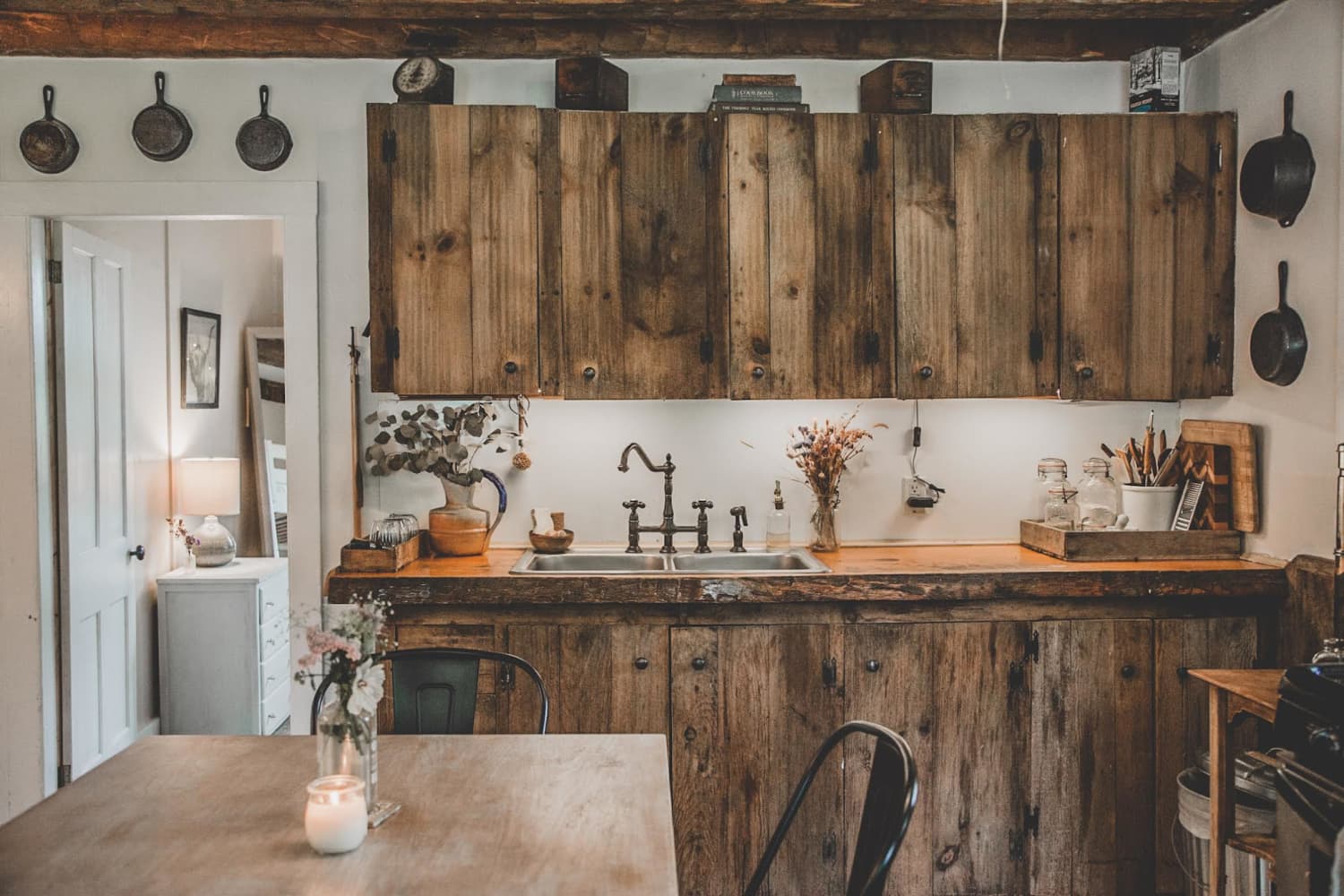 The best Airbnb rentals serve up just the right amount of home envy. They're aspirationally gorgeous and incredibly efficient. They're clean, yes — and we've already rounded up the best cleaning tips from Airbnb hosts — but they're also well-organized. You know, so guests don't have to deal with an avalanche of pot lids when they go to make breakfast that first morning, or waste precious time hunting around for a cutting board.
Figuring we could all learn from well-reviewed Airbnb hosts, we asked a few of them to share their best organizing tips. Steal these for your own kitchen and you just might feel like you're on vacation.
Put your cookware on display.
Pots, pans, and skillets can hog a lot of precious cabinet space. But the Airbnb hosts who get gold design stars invest in hardworking cookware that looks gorgeous, too. This is a key tactic for E.V. Hamilton, who manages two different Airbnb properties in rural Vermont. "We mostly use cast iron or old enameled pots and pans. They are all hung on the walls of the kitchen, which looks nice and makes for less cluttered cabinets," she says.
The prettiest glassware and pottery is often the most prone to breakage. Taylor and Matt Hildreth, the owners of an A-frame rental in Crosby, Minnesota, keep glass Champagne flutes stored in cupboards. But the wine glasses for daily use are displayed front-and-center — and they're made of plastic. Families with small children (or clumsy partners) can employ this tactic, as well: Store the special items in less-accessible places, and let your sturdy glassware, plates, and bowls do the heavy lifting for everyday meals.
Use Mason jars to store flatware.
Drawers are fine for flatware storage, but why waste that real estate? In Vermont, Hamilton stores forks, knives, and spoons right on the counter in pretty glass jars. The flatware becomes part of the decor (and easy to access), while the drawer can be devoted to storage for functional, less attractive items. Bonus points for a hodgepodge of different vintage silverware styles.
Think "shallow storage" when it comes to shelves.
How often have you discovered old cans and packages of dried beans you forgot you'd ever purchased? Hamilton tries to "think like a shopkeeper," when setting up her kitchen: "Anything deeper than two rows of cans will get lost in the void. The visible items are what you'll end up using." Even if you don't have shallow shelves, try to resist the urge to overfill them.
Set up an appliance cabinet.
If you're trying to save counter space, you can keep your sometimes-used appliances (think: toaster oven, rice cooker, Instant Pot) in a pantry or large cupboard. The trick is to store them all together, so you're not wandering around the kitchen, looking through cabinets. In the Minnesota A-frame, Hildreth has plans to label the shelves in the appliance cupboard, so guests always know exactly where that toaster oven lives. This could help the other people in your home when it comes time to put things back.
Create specific storage zones.
Here's a little more advice from Hamilton's organizational playbook: Create zones or areas of similar items. Coffee, tea, and sweetners can all live together, while dry goods, such as beans, can be grouped in a different place. Using trays or shallow containers is helpful for corralling all of the like materials.
Organize items in wooden crates and boxes.
Thrift shops, farms and CSAs, and fruit orchards are great places to find real-deal vintage crates. Hamilton uses them to gather and keep items all in one place. They look so much nicer than plastic bins, and are more sustainable, too. Another positive: Wooden crates tend to look just the right amount of perfectly-imperfect — meaning you don't need to meticulously organize the items they hold.
Invest in only the essentials.
This is, hands-down, the number-one takeaway from chic vacation rental kitchens: It's worth investing in higher quality for the items used most frequently. If something is well-made and nice-looking, guests are more likely to take good care of them, and enjoy seeing them on display, Hildreth notes. And, as Hamilton says, after pruning down the kitchen to only the essentials (one spatula that's great versus a dozen so-so ones), you automatically declutter your space.