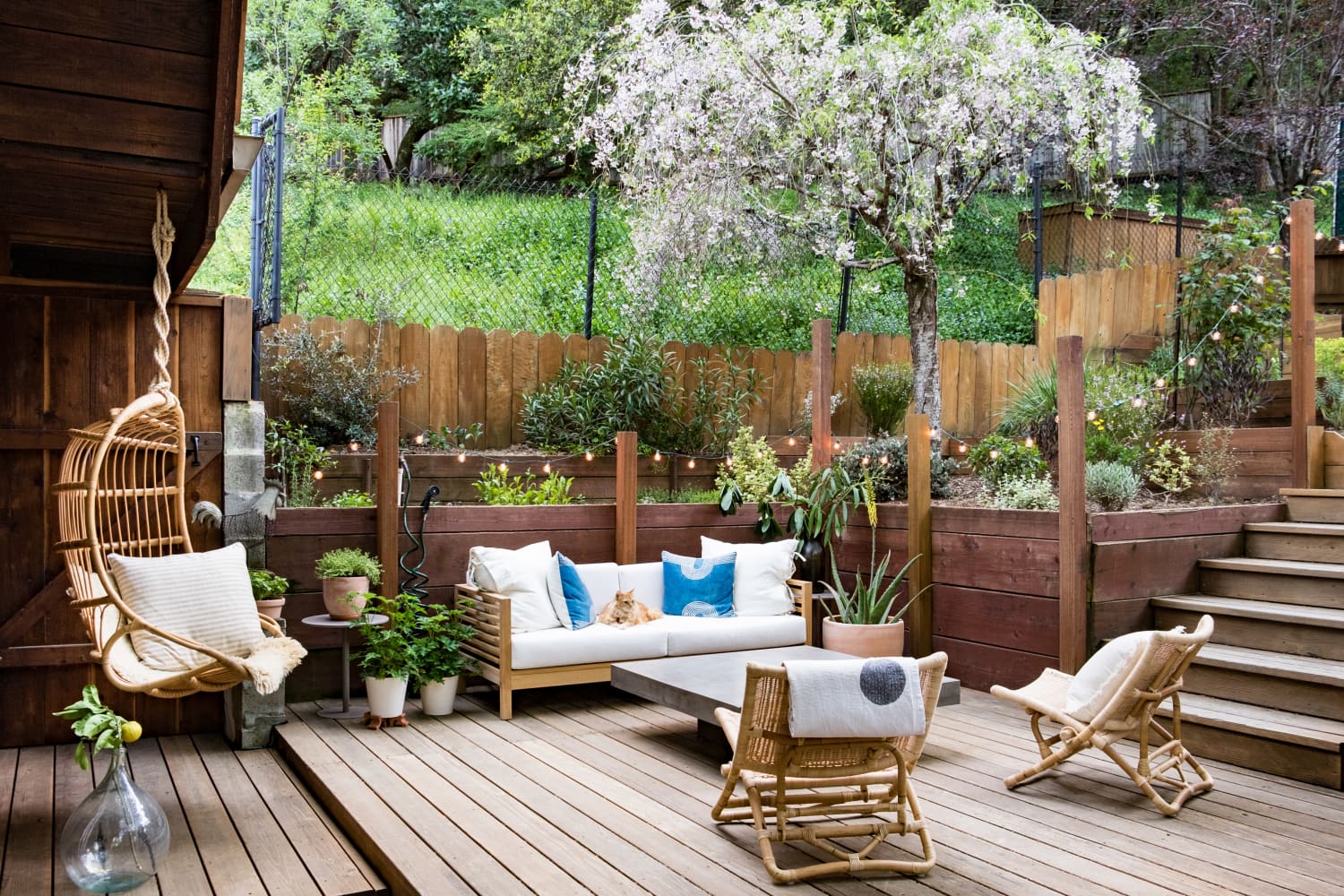 We independently select these products—if you buy from one of our links, we may earn a commission.
Summer's not over yet, and while you may be sticking close to home this year, that doesn't mean you have to sacrifice vacation fun. Enter: these summer staycation essentials. From charming patio upgrades and cheeky ways to cool down, to retro-inspired goodies so cute they pretty much beg for an Instagram post, these picks are a great way to upgrade your at-home staycation experience and transform your very own backyard into the stylish boutique hotel of your dreams.
1. Otherland Freshwater Pearl Candle
Set the scene (or should we say scent the scene) with this chic candle from Otherland. As part of the brand's aptly titled "Beach Club Collection," the flame boasts notes of sea crystal, saltwater, and crushed shells. A bit abstract? Sure, but you can bet it smells like a delicious, luxurious five-star vacation… for a steal.
Buy: Freshwater Pearl Candle, $36.00 from Otherland
2. Ambers Textiles Jungle Pattern Sling Chair
Lounge in style with this classic sling chair, which has been reimagined in a modern, graphic jungle print. There are actually hundreds of fabrics you can choose from to customize your chair, so coordinating it with your backyard's vibe or dream destination (may we suggest the lemon print to evoke coastal Capri?) is just one click away.
Buy: Ambers Textiles Jungle Pattern Sling Chair, $149.00 from Society6
3. The Holiday Beach Umbrella
Do your best Palm Springs impression at home with this charming beach umbrella, which features retro-inspired fringe around its edges. While it's no excuse for skipping sunscreen (seriously, don't skip sunscreen!), this umbrella will make for an effortlessly cool place to chill in the shade, especially when teamed up with a small bistro set or a favorite grassy spot in your yard.
Buy: The Holiday Beach Umbrella in Santorini Blue, $179.00 from Business & Pleasure
4. Little Playmate Cooler
5. Hang Tight Sunglasses Holder
Make sure your sunnies are in sight at all times with these adorable (and practical!) sunglass straps. They come in a set of three playful patterns, so you can even pass out the extras to any "resort guests" who happen to swing by.
Buy: Hang Tight Sunglass Holders, $12.00 $7.99 from Packed Party
6. The Barnacle Pro Speaker
No backyard staycation is complete without some tunes. Whether you're jamming to a Yacht Rock playlist on Spotify or just want to listen to Olivia Rodrigo's album on repeat (hey, you do you!), this bite-sized speaker from Speaqua will make it happen. It's 100 percent waterproof (phew!) and boasts an eight hour battery life, so you won't have to abandon your lawn chair for a recharge.
Buy: The Barnacle Pro Speaker, $65.00 from Speaqua
7. Summer Leaves Picnic Mat
Picnicking three feet from your porch — or all the way in Central Park — will be a cinch with this compact mat. The design is waterproof, can be wiped clean, and boasts a bit of padding so your butt won't go totally numb while you enjoy that Insta-worthy charcuterie board you spent hours putting together. It's a bit expensive, but you'll have it forever.
Buy: Summer Leaves Picnic Mat, $99.00 from Kollab
8. Mylle Modern Inflatable Pool
No pool? No problem. Inflatable pools totally became cool during the pandemic, and there are now tons of styles out there with a decidedly adult spin. This version from Mylle has a modern windowpane check pattern and is big enough to fit two adults — or just you and your pups. We won't judge.
Buy: Mylle Modern Inflatable Pool, $100.00 from the MoMA Design Store
9. Everdure CUBE Portable Grill
Good news: You can still get in on the grilling game, even if your "backyard" is a 3-foot wide patio. This compact portable grill from Everdure uses charcoal and will have you flipping burgers in no time, thanks to its sleek stainless steel grates and bamboo prep tray. Pull it out next time a BBQ craving hits or pack it up for a close to home camping adventure.
Buy: Everdure CUBE Portable Charcoal Grill, $199.00 from Food52
Nothing screams "vacay vibes" more than an afternoon spent reading (or napping… or staring at the clouds) while swaying in a hammock. If that sounds up your alley (and why wouldn't it?), then you'll love this citrus-hued hammock from Yellowleaf. Hand-woven using super soft, weather-resistant materials, it'll form right to your body and have you catching some afternoon zzzz's in no time.
Buy: Signature Hammock, $199.00 from Yellowleaf Hammocks
11. Unicorn Waves Beach Towel
New motto: Life is too short for boring beach towels. Upgrade your sandy sprawl with this rainbow stripe style from Dock & Bay. It's quick-dry (three times faster than normal towels, in fact) and won't collect sand, even when wet. Get one and say bye-bye to that soggy, waterlogged smell!
Buy: Unicorn Waves Beach Towel, $27.00 from Dock & Bay