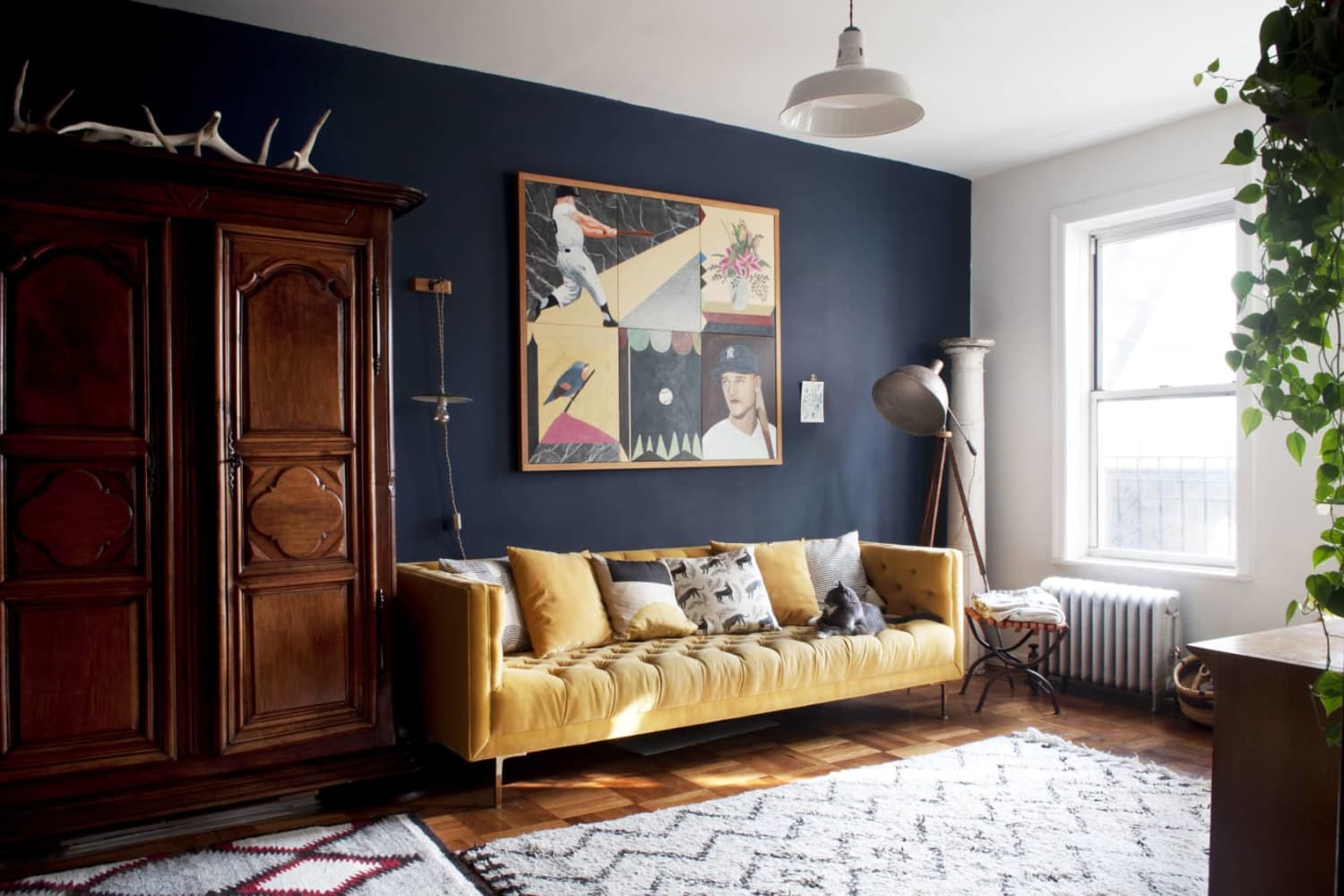 Like a lot of people, I look forward to summer for many reasons: more daylight, fresh produce, the grand total of maybe a week's worth of perfect 74 degree temperatures —you get my drift. While most people had to go without some of summer's perks last year, this year it's possible to make up for it safely. One of the things I'm so happy is back in action? Flea markets.
To me, flea markets are synonymous with summer and early fall; there's nothing I love more than treasure-hunting my way through rows and rows of merchandise, finding lots of things I need and even more that I probably don't. From Round Top in Texas to Brimfield in Massachusetts (and all the markets big and small in between), flea markets are having a total renaissance this year. Another bonus: With so many delays affecting the design industry, buying something secondhand is a great way to furnish or update your home right now.
Still, I recognize flea market hunting may be intimidating. With so many vendors and so much stuff, where do you even start? How are you supposed to know if you actually have a good deal on your hands? Fun fact: I bought a "vintage French pitcher" once that I was convinced was a one-of-a-kind antique, only to see it on the West Elm website days later. It's happened to all of us, but to help it happen less to you, I've tapped some of my favorite vintage pros to share their flea market tips. Happy hunting!
Do your research ahead of time
One of the key ways to make a flea market visit a grand ol' success is to put in a little work ahead of time (the fun kind… I promise). Before you hit the fields or pavement, prep a list of everything you're on the hunt for, as well as must-have info like dimensions. "Flea markets can be overwhelming for beginners, so I think it's nice to have a list on hand to help drive your search," says Eddie Ross, a design curator, prop stylist, and vintage expert. He recommends shoppers make note of items they really want (like the perfect pair of nightstands you've been hunting down forever) versus things that would be nice-to-haves (like a style of picture frame you like to collect). "Personally, I have a really hard time passing up great little chairs," says Ross. "I feel like you can put little chairs everywhere, so I'll always buy one up if I see them out."
It can also be helpful to know the "going rate" of a piece you're looking for. If a 19th century sideboard is on your wishlist, check out mainstream vintage sides like 1stDibs, Charish, Etsy, and even eBay to see the average going rate.
It may seem counterintuitive, but purposely choosing a less-than-stellar day for your shopping can actually work out in your favor. "Don't get disheartened if the weather is bad — it could be a great shopping opportunity," says Natasha Francis, vintage expert, and owner of The Urban Vintage Affair. "Dealers are keen to make some profit towards the middle of the day; they just want the stuff gone so they don't have to pack it up in the rain." Competition in the form of other vintage hunters will also be less, so you're more likely to have your pick of the best-of-the-best instead of leftovers.
Think of flea market shopping as a marathon — not a sprint. The days are usually long, especially if you're hitting up one of the more popular markets, which can include several football fields' worth of goodies. You want to make sure you can hang for the whole day and easily collect any buys without breaking them. Rock your most comfy sneakers, clip on a fanny pack (seriously — it's much easier than holding a purse or backpack), and consider bringing along one of those foldable shopping carts to tote your wares. Don't forget snacks or drinks, either!
Another thing you can't forget? Cash. "Cash is king at flea markets," says Natalie Papier, a vintage expert and founder of Home EC, a vintage-focused interior design company. "It's a super helpful 'tool' to have when negotiating and will save you (and vendors) a ton on electronic processing fees or ATM service charges."
Like… really early. Hate to break it to you, but this is not a hobby that is going to grant you extra sleep. Flea markets are an early bird's game, and you'll want to plan to get there right at the start to score all the goodies vendors have to offer. "Some of the most serious pickers are there before things get busy, so make sure you are too!" says Papier. "The good stuff tends to go fast." Another perk of being an early bird: An early arrival time will likely score you a better parking spot, meaning you won't have to hoof it 20 minutes in a field with the potentially heavy goods you may buy.
Pull one over on all the other flea market patrons by starting your hunt in the back, not the front, of the field. "When I go to the Elephant's Trunk flea market — which I call my church — everyone starts off in the beginning in row one," explains Ross. "I like to walk all the way to the back then work my way to the front. For starters, it's less crowded that way, but by hitting up the dealers in the back, I have a better chance of getting something I like rather than battling it out alongside other people."
Another tip? Don't just breeze past a vendor and take what's in the front of their booth at face value. "I love to look towards the back of a stand, inside closed boxes or inside cases and underneath pieces," says Francis of her preferred method of scouring booths. "You never know what kind of gems you might find buried."
Don't judge a book by its cover
Flea market shopping takes a good bit of imagination. You have to be able to picture the potential of an item and what it could look like in your space or with a little TLC via new paint or stain. Sometimes the best finds are items that don't look prize-worthy at all upon first glance. "When flea market shopping — especially for furniture — you have to look past the way things look in a booth," says Ross. "Sometimes the fabric on a chair, sofa, or dining chair is so ugly, it can make your eyes bleed, and that can really distract you from the true beauty of what it can be. When shopping for furniture, focus on shape, size, and quality —practically everything else can be fixed."
While there are certainly some things you can look past with a given item, other aspects you shouldn't — namely, anything that indicates poor quality, major repairs, or excessive use. "You can't go wrong with good bones," says Papier. "Vintage furniture and decor pieces that are still in good solid quality are always a good bet. Steer clear of stinky upholstered pieces unless you intend to reupholster completely."
Feel free to pick up an item, test it out, and turn it around to look for signs of quality. "Most of the time, if you flip over a cushion or a chair, or look on the back of a piece, you can see a maker's mark," explains Ross. "Anything that's Made in America, in big furniture places like High Point (North Carolina) or Michigan, you know you're gonna get a good quality piece."
"Speak to dealers when researching shopping," adds Francis. "Most have a story to tell and love to speak about their products, so take the opportunity to have a conversation and learn more about what you are purchasing. A good back story could add value to an item."
Negotiate smartly and respectively
Ah, the dreaded haggle. If you're allergic to a confrontation of any kind like me, this is probably your least favorite part about flea market shopping. However, in order to get a deal, negotiating the purchase price of an item is often a necessary evil. "The whole game is for them to win and for you to win," explains Ross. "Dealers definitely build in some wiggle room, but the absolute worst thing you can do is walk in and insult somebody. If a piece is priced at $300 and you offer $125, they're just going to tell you to get out. The key is knowing what you want, how much you want to pay for it, how much the item is priced at traditionally and then being fair in your offer."
"I always assess the value of the piece to me," says design influencer and vintage-lover Joanna Hawley-McBride. "Is the piece something I absolutely love and have to have? And does the price feel appropriate for how much I want the item? I also factor in the shop itself — I'm OK with paying a little more if it helps to support a small business I love."
It's also a good idea to factor in any fixes you may need to make to an item such as reupholstery, resurfacing, or replacing hardware. If you need to sink $3,000 worth of work into a piece, it may not be the right pick for you unless it's super special and unique.