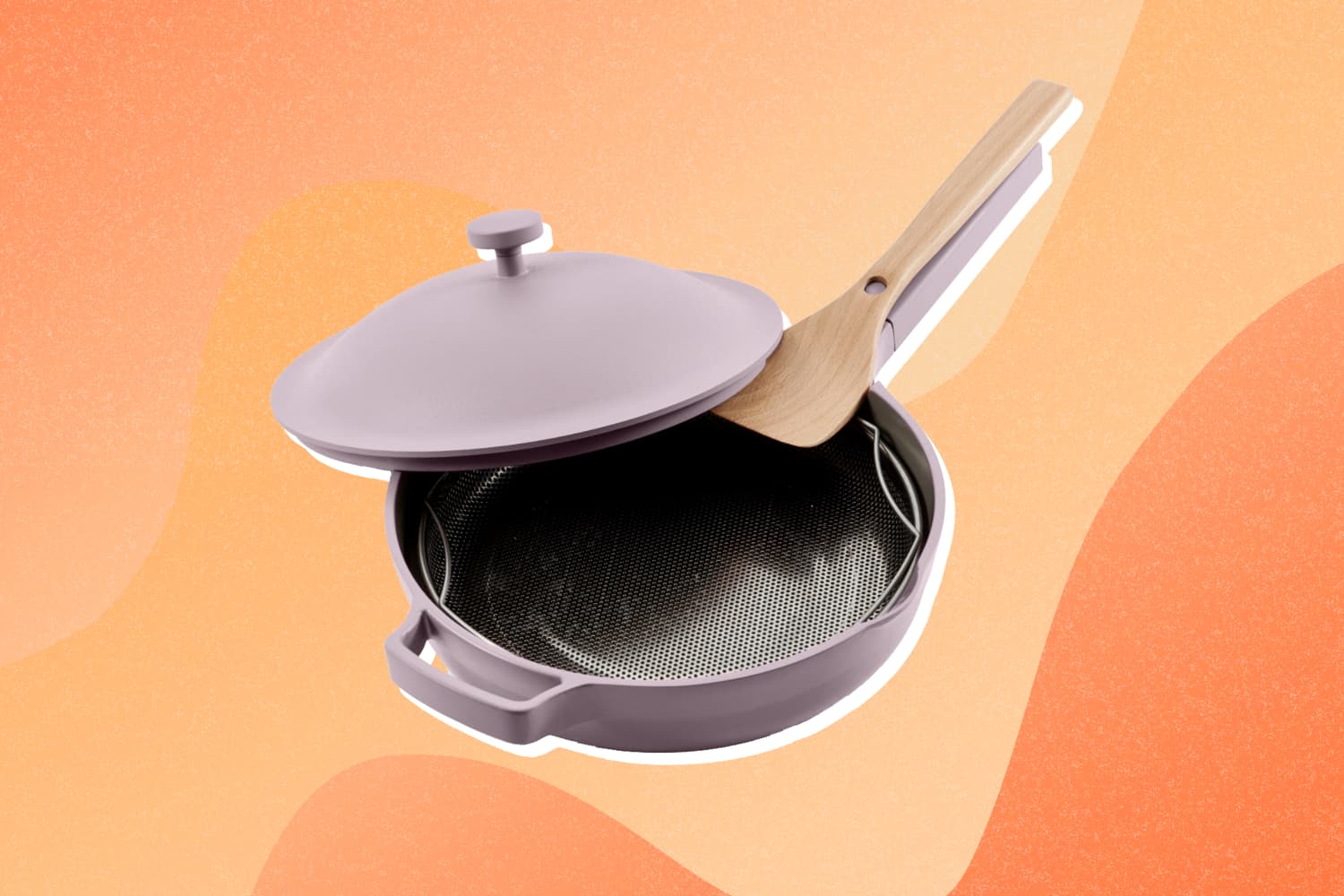 We independently select these products—if you buy from one of our links, we may earn a commission.
We've got great news for fans of high-quality cookware that's also super chic: One of our favorite DTC brands, Our Place, just restocked their famous Always Pan in one of its most popular colorways — Lavender! First introduced nearly a year ago, this lovely hue was selected by the brand's Instagram followers and sold out right away. Now, Lavender is back for a super limited run and we're sure it'll sell out quickly, so you'll want to get your hands on this dreamy pan ASAP.
If you're not familiar with the Always Pan, allow us to introduce you. This kitchen workhorse is a frying pan, saute pan, steamer, skillet, saucier, saucepan, non-stick pan, spatula, and spoon rest all in one. Yes, you read that right — it's eight pieces of cookware all in one. The 2.6-quart pan can function as an everyday skillet for frying up eggs; serve as a saucier for sauces and gravies, thanks to its almost 3-inch-deep sloped sides; and once you add the steamer basket, it can be used for steaming veggies and fish for an easy weeknight dinner.
Kitchn contributor Patty spent six months testing this "beautiful and well-designed pan" and is a huge fan of its versatility. When it comes to cleaning the pan, she says, "you just need to wipe it clean with a soft sponge and warm, soapy water." As an extra bonus, it can also go in the dishwasher along with the rest of your load. The ceramic nonstick surface makes the pan great for tricky dishes like crepes and dosas, and Patty notes that she's never had a single scrambled egg stick to it.
The Lavender colorway is perfect for those who want to make a statement in the kitchen. The enchanting shade goes with pretty much everything, and it's especially great for people who prefer a retro vibe for their cookware and appliances. Just think how gorgeous it will look displayed in your kitchen or at your next dinner party.
While we recommend getting your hands on this fan-favorite color before it inevitably sells out, the popular pan is also available in Steam, Spice, Sage, Blue Salt, Char, Terracotta, Heat, and Zest. But a warning: Our Place says that this may be the last time Lavender comes around, and with its waitlist currently in the thousands, we say it's time to get shopping!
Buy: Always Pan in Lavender, $145