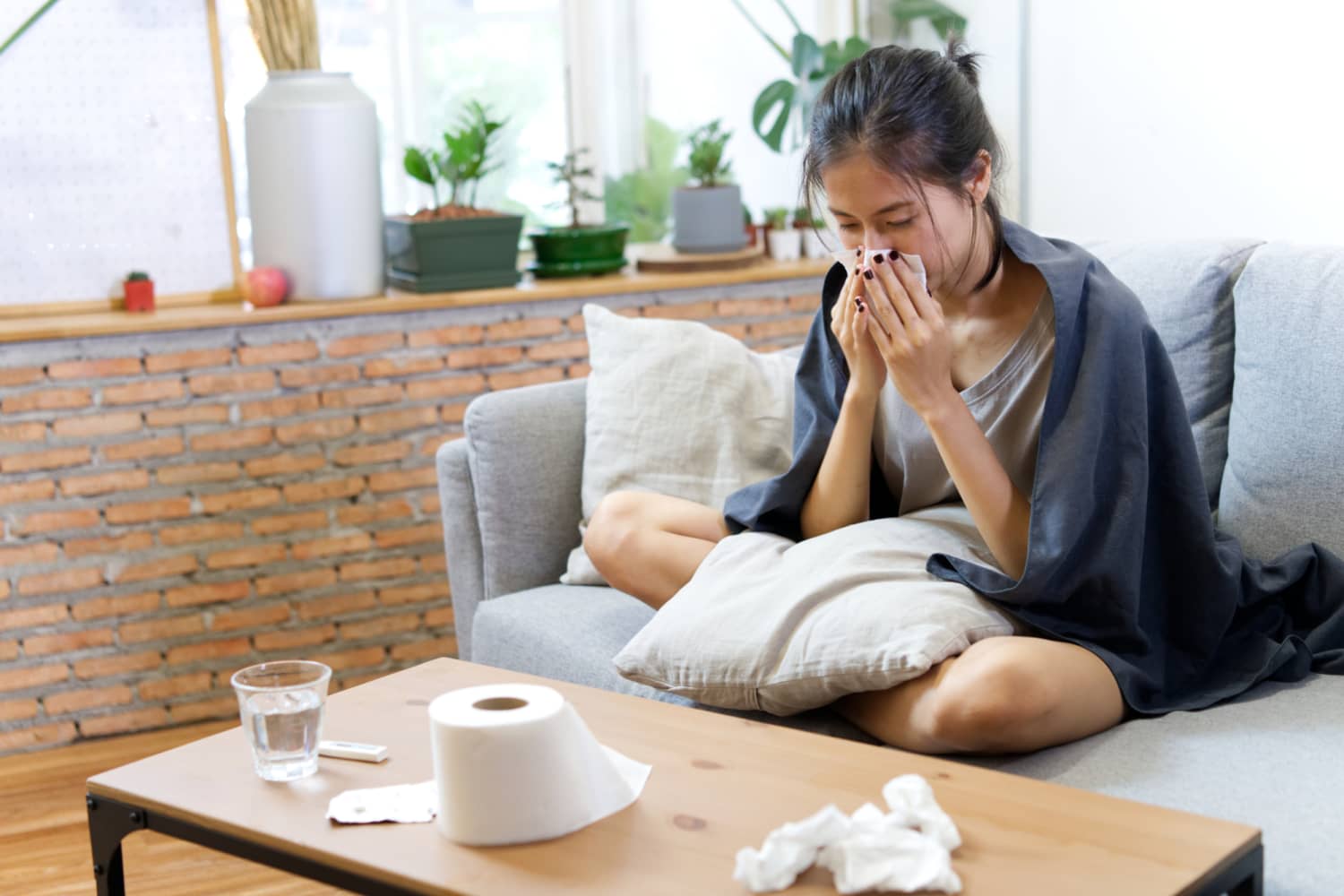 Getting sick on vacation: It's inconvenient, but it happens. Of course you didn't plan to feel that tickle in your throat when you were mapping out the rest of your trip! But dismissing your symptoms or blaming them on the food or staying up too late the night before can often make things worse — and put everyone else in your vacation crew at risk.
Even if you're only midway through your vacation, there are ways to manage how you're feeling — and perhaps even have a good time for the remainder of your getaway or road trip. Here are six tips on what to do if you get sick on vacation, according to experts.
Prep a just-in-case sick pack while you prep the rest of your luggage.
Few things are worse than getting caught off-guard by an illness, then needing to muster the energy to hunt for over-the-counter medications in a place that is unfamiliar to you. That's why experts recommend traveling with a few key comforts even if you feel 100 percent prior to your travels. (If you begin to feel sick before your vacation starts, you should definitely postpone and prioritize your health — that's what travel insurance is for!)
"Prior to your vacation, put together a first aid kit just in case anyone with you becomes ill," says Dr. Kristin Struble, a Phoenix-area physician. "Items such as Tylenol, Motrin, Benadryl, Afrin nasal spray, throat lozenges, Pedialyte packets, chamomile tea bags and honey packets are smart to have handy."
Keep your health and travel insurance info in the same place.
Sometimes medical emergencies are unavoidable and you need to see a doctor or get checked out by a physician at an urgent care clinic. "Be sure to have access to health insurance-related documentation that you might need while traveling," Dr. Susan O'Sullivan, the Director of Clinical Experience at LetsGetChecked, tells Apartment Therapy. The last thing you want to do is to worry about mounting medical expenses when you return home.
Dr. O'Sullivan also recommends doing some research beforehand. "Take note of the emergency services numbers and know where to find information about local clinics and pharmacies should you need them," she says. If you want to be prepared, invest in travel insurance. However, not all conditions are covered under insurance, so read the fine print to decide whether it meets your needs.
"If you need to make special arrangements to travel home, try to see what this will involve as soon as you can," Dr. O'Sullivan says. "Your travel insurance company may be able to provide some support with this too."
Bring some at-home remedies, too.
If you feel sick, keeping your body hydrated is a low-tech way to nourish yourself. "Drink plenty of fluids like water, coconut water, fresh squeezed orange juice or Pedialyte," says Dr. Struble. If you're craving something warm, chicken noodle soup, or bone or vegetable broth are also good options, and chamomile tea with honey and lemon can help soothe a sore throat. You can also try lozenges, steam showers or baths, or chest rubs like those from Wellements or Vicks Vapor Rub.
For stomach issues, like vomiting and diarrhea, Dr. Struble recommends extra hydration measures. "Drinking Pedialyte or consuming salty foods like crackers and broths [can] help you retain water," she says. For aches and pains, as well as fever, Tylenol and Motrin will help with some relief.
Dr. O'Sullivan also notes that "good nutrition will support your recovery," so try to fill up on nutrient-dense food if you have the appetite for doing so.
To avoid making a mild sickness worse, the key is to get adequate rest and relaxation. "Do not stress your body with unnecessary energy output," Dr. Struble says. Doing so can prolong your recovery if you don't allow your body to slow down.
Always practice good hygiene and safety measures.
It is always critical to practice good hygiene measures. Struble recommends continuing to hand wash or use hand sanitizer. If you're unable to wash your hands, "avoid touching your eyes, nose and mouth, disinfecting surfaces and always covering your nose and mouth with your elbow or a tissue when you cough or sneeze," she says.
If you're traveling alone, call a family member or friend to let them know you're feeling unwell, so they can advocate for you and gather any medical history should you need it. "Getting care when you are away from home can take longer than you are used to or there may be language barriers," Dr. O'Sullivan notes. "They also won't have your medical history on hand."
If you can, self-quarantine so you don't get others sick.
It's the last thing you expected to happen, but now that you're sick, you don't want to infect others. "If you are at risk of passing an infection to others, like COVID-19 for example, self isolate and try to stay away from others, especially the unvaccinated and medically vulnerable," Dr. O'Sullivan. "Follow the local notification guidelines and get tested if it is available to you."
Regardless of your vaccination status, it's a good idea to know what the COVID case rates look like in the place you are vacationing prior to heading out. If you see there's a spike in the area, consider postponing or rearranging your trip — and always take precautions such as social distancing and mask-wearing, regardless of the rate of spread. Write down the location and contact information of a testing site prior to your arrival, on the off-chance you'll need a test to either return home or manage symptoms.
Embrace alternate activities.
It can be a real bummer to miss out on the activities you planned during your vacation, but that doesn't mean you have to give up on pursuing alternate activities that might be equally satisfying. Get plenty of rest, and if you are up to it, see if you can have some books or supplies delivered to keep you occupied. It might be a good time to binge-watch that-just-released streaming series or listen to a few interesting audiobooks.
"This might help make your stay more comfortable and keep your mind off the fact you might be missing out on things," adds Dr. O'Sullivan.