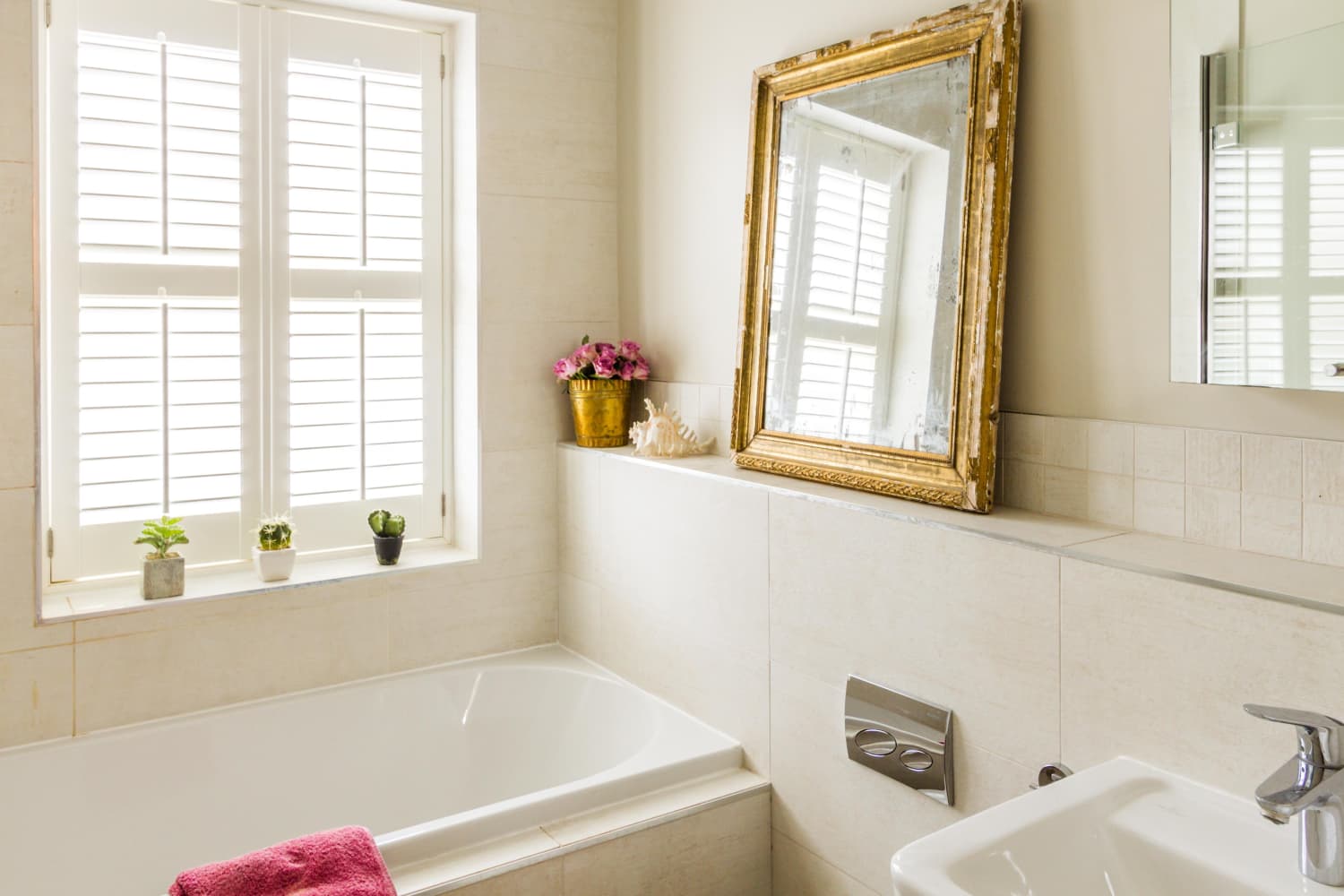 Last year, in an effort to break free from my all white walls, I painted my bathroom a deep shade of navy. I had admired this color in photos on Pinterest and actually used it in the entryway of a previous apartment. Dramatic and rich, the color looked beautiful in the abstract but was a disastrous choice for our bathroom.
Because our bathroom doesn't get great light, the dark paint made it seem even darker, especially during the day. However, something else was working against us, too. I learned the hard way that paints that lean blue or green can actually make you look a little sickly. I asked Nicole Gibbons, founder of Clare paint, what went wrong. She said if you want to go cool with your color, to "try soft shades of blue, which feel very serene." Bold colors like my deep navy, she says, are better reserved for bathrooms that aren't for everyday use (or at least not for getting ready and staring at yourself in).
I'm now just about ready to repaint my bathroom, but I am not going back to white. While you might think white's the most flattering color because it reflects light and does not cast any kind of hue onto your skin, a pale pink actually might be more universally flattering. In fact, pink has been used in bathrooms for decades, but not every shade is created equally. It's also hard to say whether homebuilders back in the day knew of pink's magic glow effect, particularly since shades tended to be a bit more saturated then.
Over and over again lately, designers have gushed about the flattering effects of light pink in particular. Textile designer Rebecca Atwood told me you can use pale pink to recreate the look of the light just before sunset, saying that "pink casts a rosy glow and feels warm." Los Angeles-based interior designer Peter Dunham described blush pink as giving a room "an almost candlelight-like color" during the daytime. Most convincing of all? When I emailed architect India Mahdavi about her all-pink, Instafamous restaurant Sketch in London, she wrote back, "Pink gives you the most wonderful complexion," and the effects seem to be present no matter your skin tone.
Meanwhile, Benjamin Moore color and design expert Andrea Magno told Architectural Digest that blush pinks like the company's Tissue Pink "…reflect beautifully on the skin, especially when paired with warm lighting," she said. "This makes it a go-to color for a powder room, dressing room, or primary bathroom, where we want to look in the mirror and feel great." Sunsets? Candlelight? Feeling great? Count me in.
To get my pink right, I'm painting over the dark blue with primer to make sure no blue remains to make me look pasty. I'm also avoiding anything too pink: Gibbons cautions that in spaces with limited natural light, you want to avoid colors that create too much of a cast, including deeper shades of pink. "If you're putting on makeup in a space with too much of a pinkish cast, when you get out into the real world in clean, natural light, your makeup could look totally different than you expected!" she warns. Now I just need to settle on the perfect pale pink hues to try, and I'm starting with these modern and sophisticated pink bathrooms as my inspiration. If you have a favorite pale pink for bathrooms, drop it in the comments below!