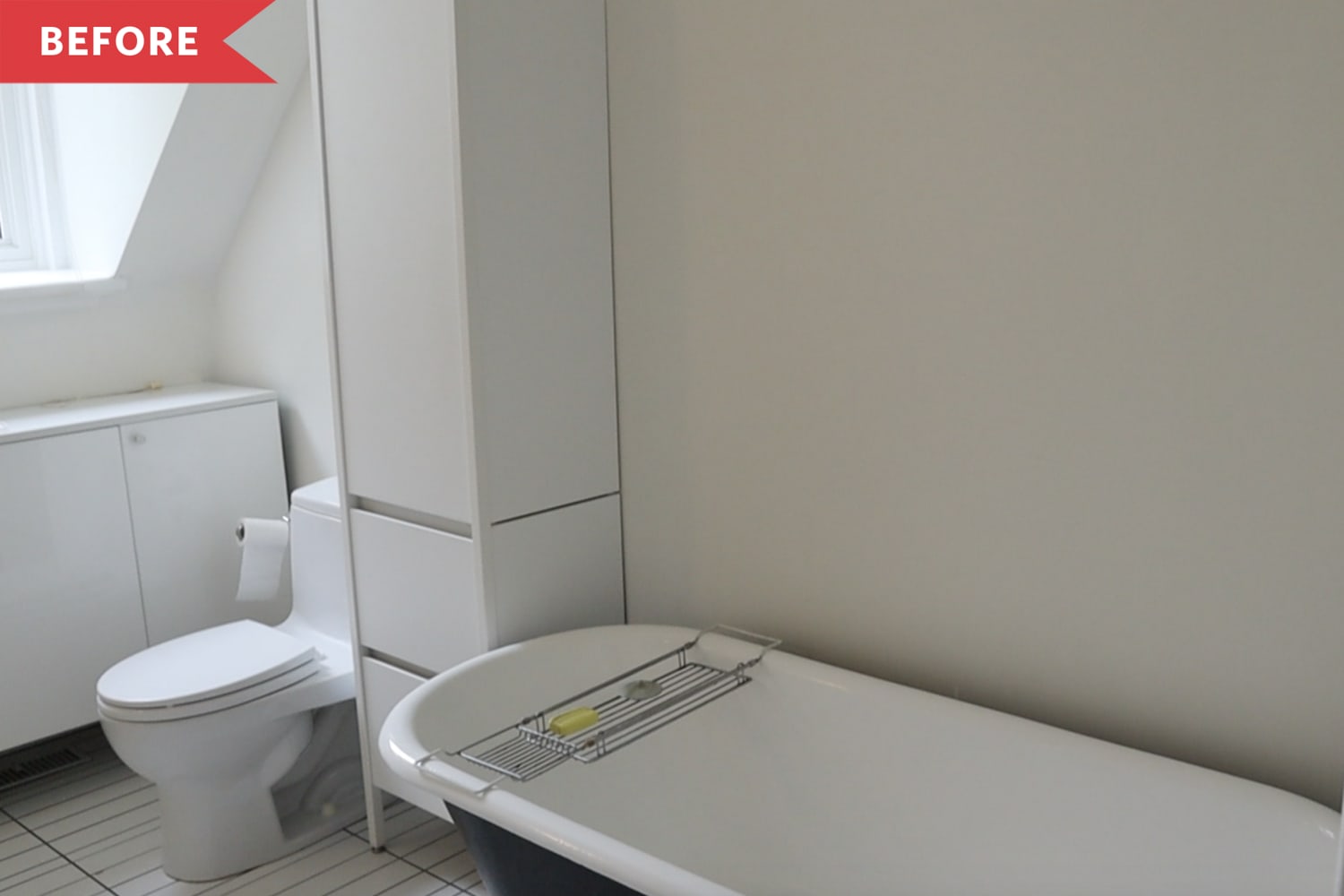 If there's a common rule about rental bathrooms, it's this: Two things can be true at once. When home decor YouTuber Alexandra Gater moved into her two-bedroom apartment in downtown Toronto just last month, the one space fit for a tub also had room for a conundrum. "My first thought when I saw this bathroom was, Ah! It's so large and there's a clawfoot tub—a renter's dream!," Alexandra says. "My next thought was, Oh no, how am I going to decorate around that floor tile?"
The black-and-white tiles didn't exactly fall into the fresh bohemian aesthetic Alexandra is known for, but she couldn't rip them out. Instead, she imagined a styling-centric reno that would tone down the utilitarian look of the bathroom with a cozier feel, thanks to details that had rich textures and warm finishes.
"The floor tiles are neutral enough that I knew I wouldn't have to cover them up right away," she says. "It was a challenge, but I wanted to find a way to work with them, instead of against them."
Surprisingly enough, Alexandra didn't paint this bathroom as part of the makeover, which is ordinarily the first step in her process. Instead, she embraced rental-friendly decorating strategies that can be used by anyone who needs their deposit back.
Alexandra centered her "new" bathroom's design around a Moroccan rug, which she cut down to a 2-foot-by-4-foot size that fits her bathroom perfectly. "I tried so many rugs in this space, and none of the colors were working with the black-and-white tiles," Alexandra says. "I wanted something that complemented the tiles, but still had a bold pop of color to anchor it all. Without it, the bathroom kind of just feels flat."
Alexandra also got permission from her landlord to swap the boring (and dim) light fixtures for new ones with a sleek, modern style. Their black color coordinates with the flooring, tub, and the mirror, making everything look a little more purposeful.
While the cabinets under the window were nice, their nickel knobs made them feel a little too industrial for Alexandra's taste. Replacing the shiny nickel knobs for more muted leather ones evokes a more natural, boho style. "It's the simple changes that upgraded this space," Alexandra says.
The final touches: a textured shower curtain, artwork, and tons of plants.
In less than two days, Alexandra gave herself a bathroom that felt more comfortable, welcoming, and stylish. And while not every rental bathroom might have this square footage — or, let's face it, a clawfoot tub — the takeaway Alexandra learned is universal. "Even if the bones of your space aren't your style, you can totally embrace them with a little out-of-the-box decorating," she says. Even better? You can do it all while still staying on your landlord's good side.
Inspired? Submit your own project here.