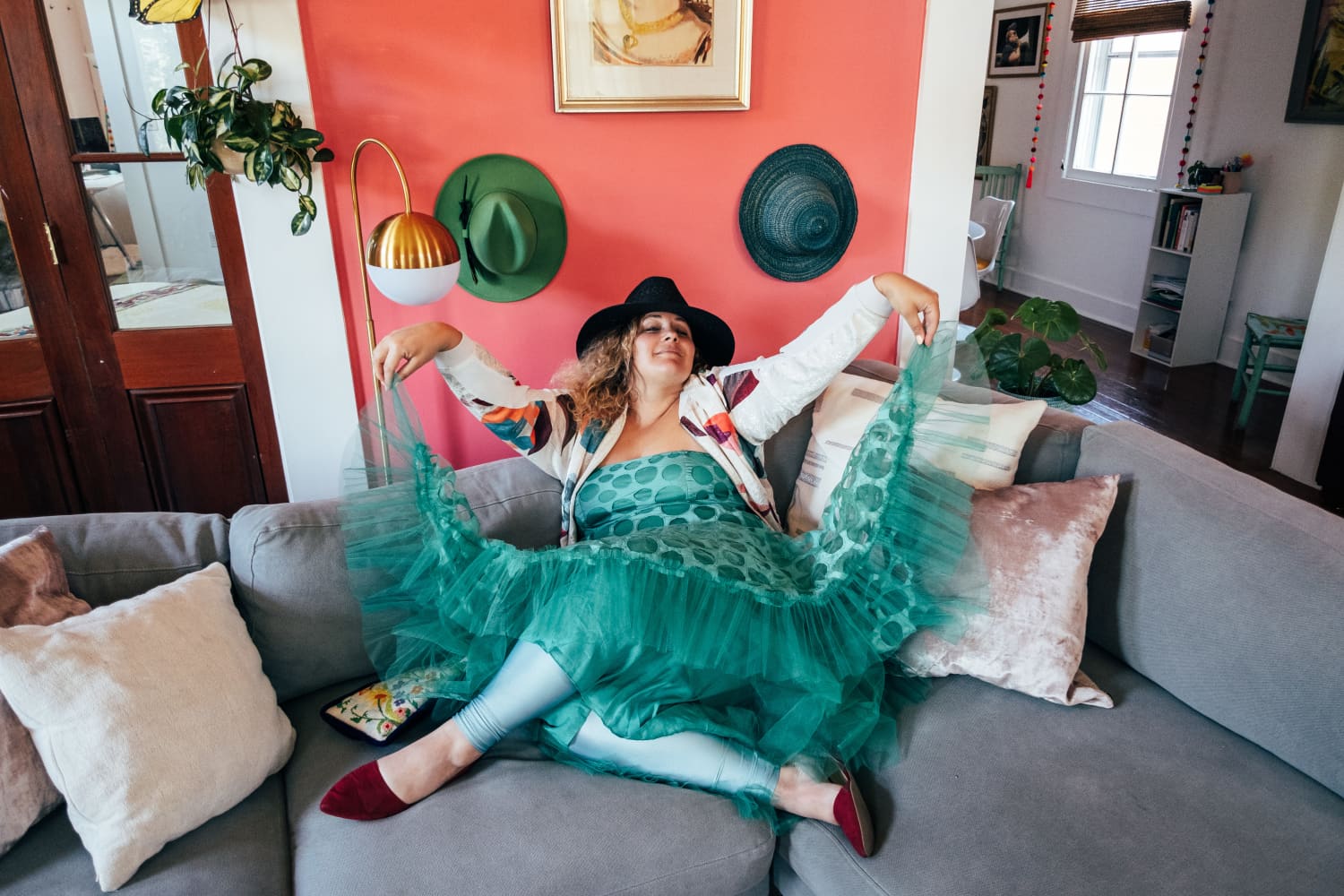 We independently select these products—if you buy from one of our links, we may earn a commission.
Name: Merissa Nathan Gerson
Location: Mid-City — New Orleans, United States
Size: 1991 square feet
Type of Home: This is a double shotgun converted into a single by the previous design savvy owners.
Years lived in: 1.5 years, owned
Nothing sparks writer's block quite like having to write about another writer — particularly when that wordsmith is a brilliant one. The New York Times's "Modern Love" piece "My Unlikely Pandemic Dream Partner" was my introduction to writer Merissa Nathan Gerson's talents. But her wisdom isn't contained just to the page. She's also a professor of Communications at Tulane University, speaker, spiritual consultant, and sex educator whose work concentrates on "grief and grieving, inherited trauma, sex and intimacy, and how these themes relate to religion, disability, and identity." And the one adjective that sticks in my mind when trying to describe her home — a double shotgun converted into a single in New Orleans' Mid-City neighborhood — is joyful.
"I found this house online and bought it sight unseen," explains Merissa. "I had been looking for houses for two years and this one was magic — the interiors were done tastefully and intelligently, and the house had so much green space, rare for a New Orleans double shotgun, I was sold immediately." A wall paint color called "Pink Explosion 1108" is splashed generously around the living room of Merissa's home, which I can only imagine energizes anyone lucky enough to see it in person. Other rooms are more subdued with their color palettes, and a welcoming front porch is what Southerners (and people who wish they lived in the South) dream about.
"As a pandemic station, which our houses became, and as a place I lived through the sickness and death and year of grieving after the death of my father, this home became my world," writes Merissa. "I did my Mardi Gras crafting on the all weather porch, had friends six feet apart on the front porch. I wrote my book in the office, and I make food, and watch too much TV, and love turning the edges and corners of this space."
Apartment Therapy Survey:
My Style: Boho chic. Really I am an estate sale rat, with moments of West Elm credit card weakness. I might love nothing more than estate sales in New Orleans. They uncover architectural secrets, historical stains, human complexities, and just so many beautiful objects with long complex histories. It looks like decor, but it is really anthropological exploration.
Inspiration: All the brilliant international women I have met over the years with their bright colors and fearless homes. Zackary Drucker. Bhanu Kapil. Micheline Klagsburn. Marilyn Stern. Lilly Rubin. Najma Batanjali. As well as pop art, anything rainbow, and homes that blur the line between outside and inside.
Favorite Element: My favorite part of my home is the front porch, shielded by pungent sweet olive trees, where I can see my neighbors and others passing by and still tuck myself away in the magic of the greenery. I have two vintage wicker egg shaped rocking chairs that are the most comfortable things thing side of the Mississippi.
My laundry room is also magical — with vintage tiled floors and floor-to-ceiling glass brick walls.
Also, my self-portrait in the kitchen. I made it when I was 19. I have toted it from move to move for over two decades mostly storing it in basements. My friend Jon Powell, an architect in New York, had it in his apartment for almost a decade. And now that it's in my home, with a space big enough to show it, it feels like an homage, in decoupage, to my younger wild activist stand-up self. I think she was cool.
Biggest Challenge: I moved here a week before my father was diagnosed with a brain illness that turned out to be terminal. I would say furnishing the space, which is large for one, was a tall order. I did it piecemeal, using a lot of vintage pieces I picked up along the years in New England. I was proud of myself for moving alone to the South with about two real friends in New Orleans, and I wasn't married, and wasn't dating anyone, and was 38 and had not had a wedding or a baby. I decided it was time for a registry. I used a Zola.com wedding site to make one and almost anything new in my apartment is from that registry. My community really outfitted this house and that meant coming home from hospital visits in DC where my father was dying to enormous packages — and also that I could visibly see the love and support of my friends and family in my lamps, or my towels, or the kitchen chairs. I am really glad I asked, and really grateful they were all so generous. I filled this house with care from others when I needed it most. It made it easier to be here alone.
Proudest DIY:I built my bathroom sink. I ordered the faucet and sink bowl online for really cheap and found the dresser they are attached to at Pelican vintage. It was a risk — oddly less expensive than a new one from Home Depot, and I love it.
Biggest Indulgence: I went to West Elm on a whim about 15 minutes before closing when I found out my dad was going to die. I took out a West Elm credit card and bought the sofa of my dreams. It was expensive, far out of my budget. And it has been my safe haven. I have cried on that sofa, loved people on that sofa, had guests sleep on that sofa, hosted birthday parties and mourning rituals on that sofa, and I was perched there for 11 weeks when I tore my knee up. That sofa was the smartest 15 minute impulse grieving buy of my adult life.
Is there something unique about your home or the way you use it? The closet in my office is not for coats or files. I use it, as all New Orleaneans told me I must, as my costume closet. It has my costumes from Mardi Gras of years past, and it has ripped clothes and fake flowers and tutus and anything I might need to collect to build my next Mardi Gras iteration. It is sacred space. Only the rare few get access.
What are your favorite products you have bought for your home and why? I have a lot of vintage wicker on my back all-weather porch. A rocker I got from an estate sale at a house where two elderly sisters once lived, a plant stand from another magic estate sale, and then my grandmother's old wicker furniture from her all-weather porch where I spent much of my childhood. The guest room also has wicker from many eras of my life, and many cities. Something about nostalgia and wicker…
Please describe any helpful, inspiring, brilliant, or just plain useful small space maximizing and/or organizing tips you have: I am pretty gung-ho about baskets and other places to leave organized messes. I feel like I learned it all from Marie Kondo, but also was doing this for years before she helped me realize it. Bowls, baskets, boxes inside of drawers — something about the basic act of organizing in these designated drop off points makes it both easier to not make a mess, but also makes everything feel like it's a ship, or a gnome's home — everything with its quiet and concise place.
What's your absolute best home secret or decorating advice? My grandmother, Pearl, was 103 when she died and was an art collector. She had incredible taste in design and decor (Café Pearl at the Rhode Island School of Design Museum is named after her). She always said to go slow, to let things layer, to learn a space before filling it with objects. I am much more impatient than she ever was, but it is true, that time layers a space and objects that are needed become known, discovered, and slowly, in the right time for the right budget, acquired.
This house tour's responses were edited for length and clarity.