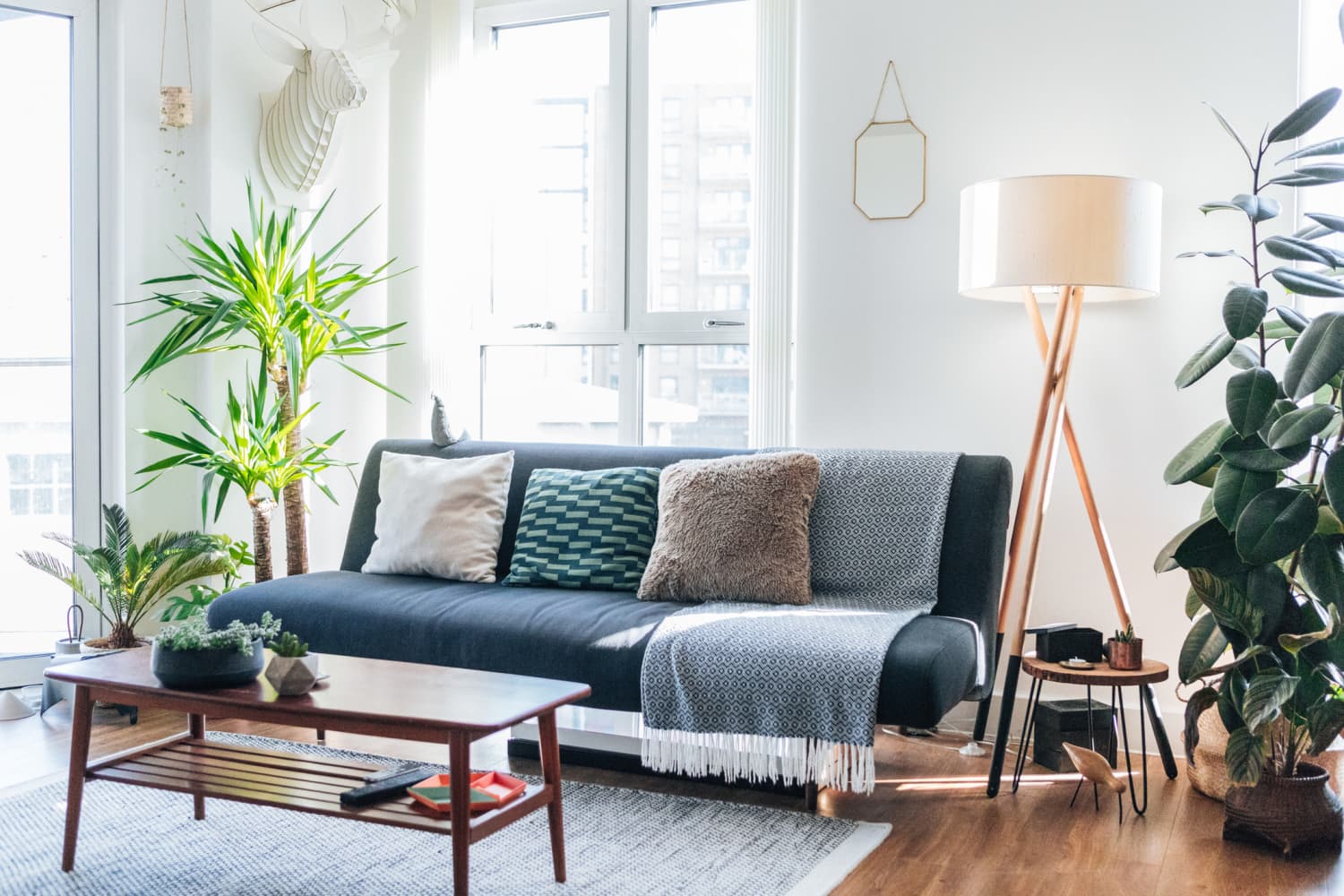 There's a lot to love about IKEA: inexpensive, easy-to-match furniture that can move from home to home with minimal effort. It can take a little wear and tear without it being a big deal, too, since your IKEA sofa, for example, didn't hurt your wallet too badly in the first place.
But if you've bought a couch from IKEA and want to spruce it up à la Restoration Hardware — or even if you've purchased a sofa secondhand and want to bring it up to modern style standards — it's easier than you might think. Follow these tips from real estate agents to make your sofa look more expensive than it actually is.
First things first: If you want to make a couch look better, give it a thorough clean, especially if it's a secondhand couch. That means vacuuming the cushions, wiping down the legs, and if the upholstery comes off, removing it and washing it carefully.
"Rent a steam cleaner, the kind that also has a vacuum to suction moisture back out, to give it a spa treatment and brighten things up," says Kate Ziegler, a Realtor with Arborview Realty in Boston. She also notes to check the fabric's needs — "don't toss sofa upholstery in the dryer!" she says.
The good thing about a basic couch is that you'll probably be able to find some easy swaps to make it look new — whether that means upholstery fabric or even the legs of the sofa.
"Swapping out sofa legs can be a quick update," Ziegler says. "Did your pet (or someone else's) gnaw on the wood? Double check the fastening hardware, then look for replacement legs in a style that feels more modern and less worn."
Moving around the couch cushions, if possible, can also be a boon to its appearance. Flip or rotate them to "give that dip from the popular seat a rest," Ziegler says. And if the fabric easily comes off, try completely reupholstering your sofa. You'll not only make it look more upscale, you'll also be able to bring in your own personality and flair.
Ziegler and Angela Deniston, a strategic real estate advisor at Real Estate Bees, both suggest bringing in some sofa accessories with different colors and textures to elevate your basic couch.
"You can make any simple or secondhand sofa look better with a little layering," Deniston says. "Just add a few oversized, overstuffed pillows with different prints, colors and textures to give it some depth and coziness. Think leather, linen, and fur. Also, try draping a lightweight neutral throw blanket over the arm of the sofa."
Ziegler says natural fibers are ideal in whatever you decide to pile on the couch; the fabrics will stand out better and look more chic. And if the color of your couch is a little dull, this is the time to bring in bright colors that showcase both your personality and style.