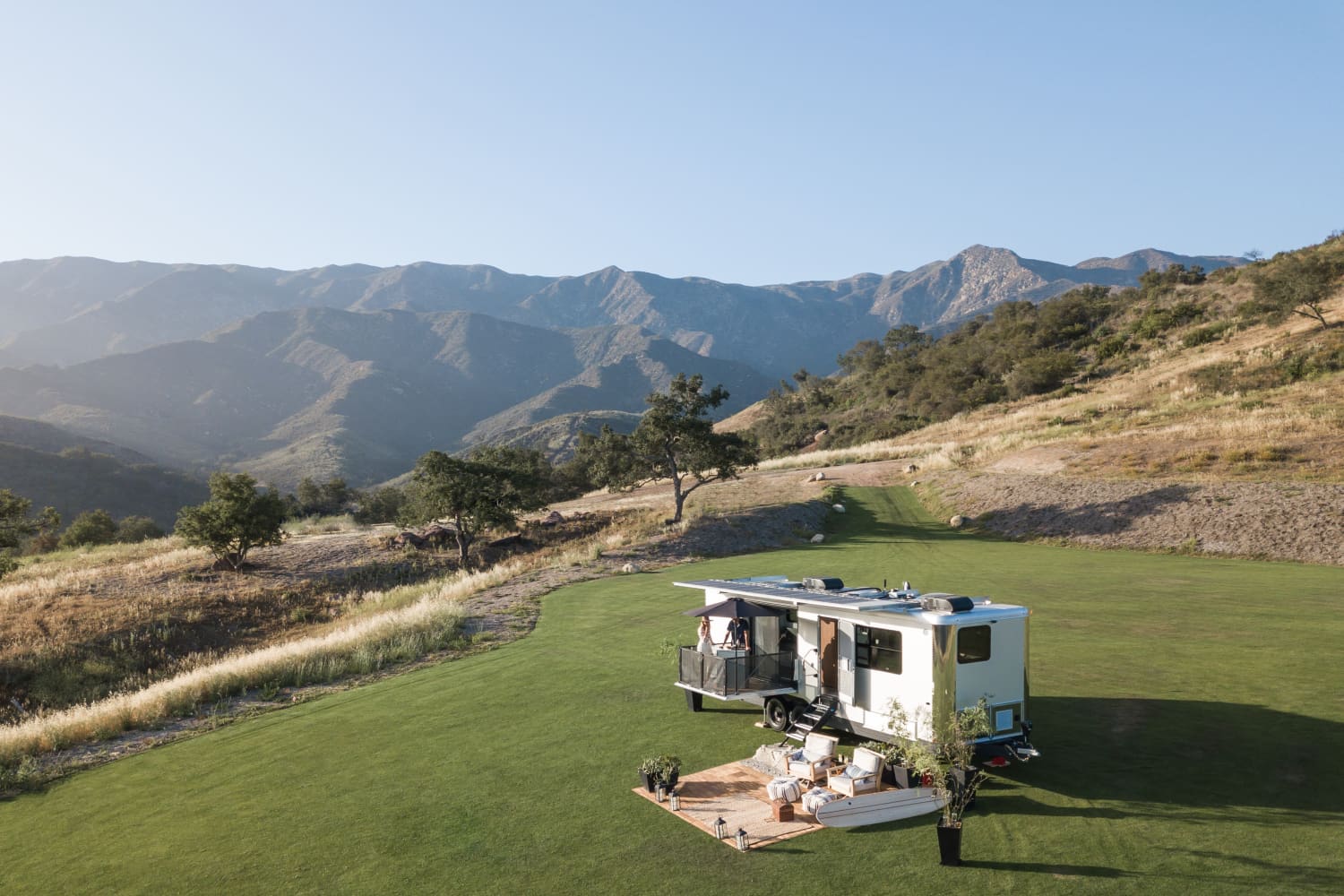 If you've always dreamed of getting away from it all and living off-grid for a little while, there's no need to scrimp on style.
Living Vehicle, a luxury travel trailer company founded in 2017 by husband and wife duo Matthew and Joanna Hofmann, was crafted on the couple's passion for freedom, and their decade of experience designing and living in mobile spaces. This week, the innovative company announced their 2022 model, which is more akin to a luxury residence than a trailer.
Allowing owners to live freely, something that's highly sought after due to the lockdowns and restrictions faced with throughout the ongoing coronavirus pandemic, the pair have created a trailer that does not need to be plugged in and beholden to campsites due to its thoughtful architecture, innovative design, and self-sufficient technology.
Featuring luxe furnishings, gourmet appliances, sustainable infrastructure, high-tech engineering, Living Vehicle has redefined the travel vehicle industry with its 2022 model.
The latest model has complete energy independence, with upgraded onboard energy-generating resources and enhanced solar panels by industry-leader SunPower, meaning the trailer features more solar power than most homes.
Utilizing the space, inside, you'll find a bedroom that converts to an office for the ultimate work from home setup. The Queen-sized bed folds up, offering 80' of desk space, and a vertical surface designed to mount high-end monitors and A/V equipment.
A sleek spa-style bathroom was designed with inspiration from real life, featuring a spacious 32" x 36" shower with a rainfall showerhead, walnut finishes, and natural, highly durable materials. Upgrades are available and owners can make the bathroom even more luxurious, with features such as hardwood back-wall panel in the shower, foldable teak and stainless-steel shower seat, electric toilet with bidet, and outdoor shower.
Worried about missing out on your TV binge-watch? The bedroom can be easily transformed into a media room with a 70" 4K HD "Private Home Theatre" and SONOS surround sound.
Finally, the 2022 LV is designed to blur the boundary between the indoors and nature outside, with oversized windows, skylights, and an 8' sliding glass door, as well as a fully integrated, self-supporting deck. Easy to raise and lower via the push of a button and rated at 1,500 lbs., the deck includes an integrated railing system that folds down and stores effortlessly on the surface during travel, making it the perfect spot for dining, exercising, or being at one with nature.
All 2022 LV models are fully customizable, with a suite of 20 option packages available for owners to pick and choose according to needs and tastes. Prices start from $249,000.