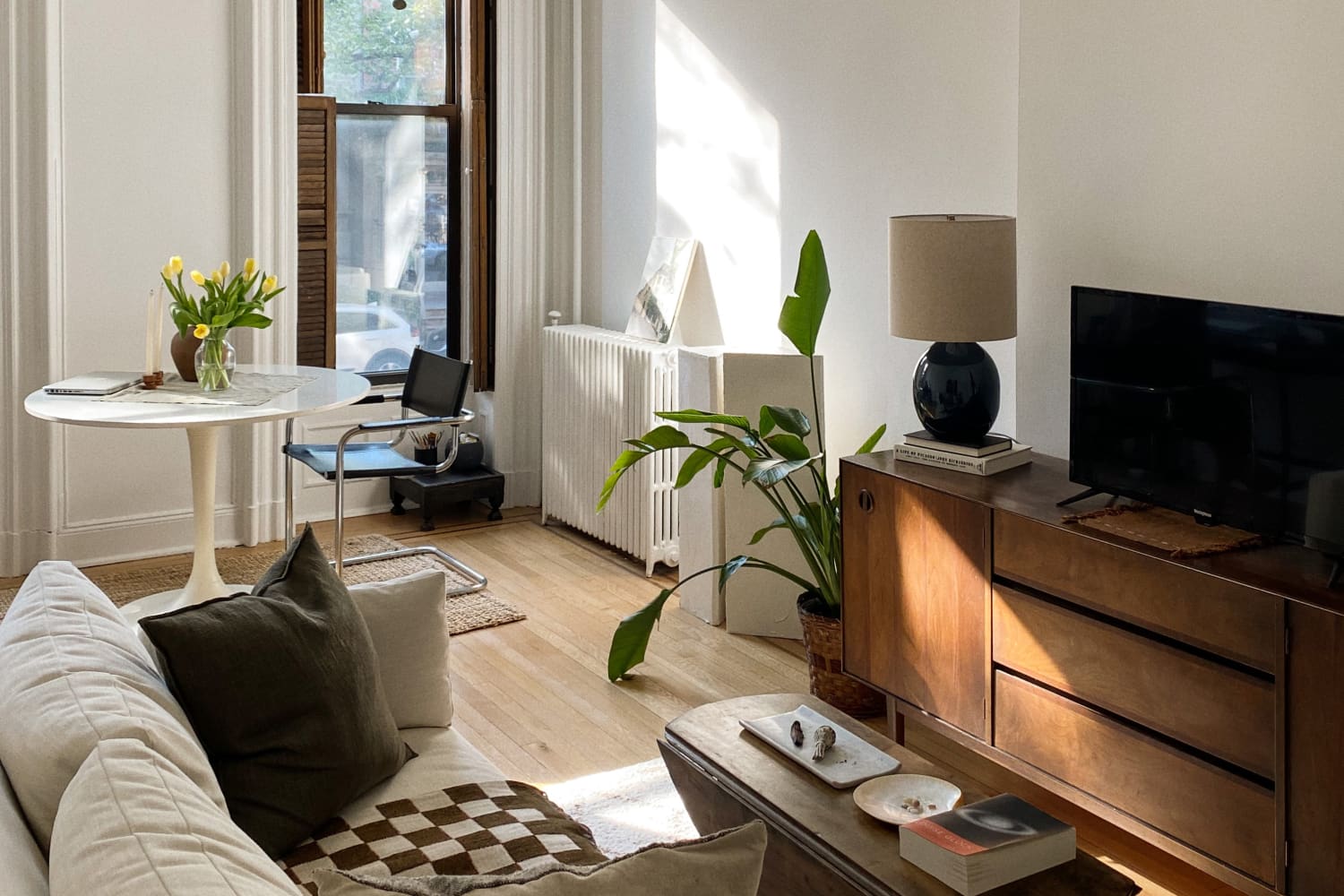 We independently select these products—if you buy from one of our links, we may earn a commission.
Name: Caitlin Koller
Location: Brooklyn, NYC
Type of home: Apartment
Size: 700 square feet
Time lived in: 8 months, renting
Tell us a little (or a lot) about your home and the people who live there: My parlor level apartment sits on a quintessential, brownstone-lined street in Brooklyn. Thirteen-foot ceilings give the space a lofty feel and highlight classic architectural details from the crown mouldings to the original wood shutters to the deco fireplace. The space is furnished with a mix of modern and vintage pieces, sourced from thrift stores, antique auctions, and vintage sites. My favorite activity when I'm home in Maine is scouring the local antique malls for inspiration and one-of-a-kind treasures. Both rooms are anchored with classic neutrals and accessorized with pops of color through lighting, vintage textiles, and found art pieces. I'm an avid reader, and stacks of books layer into the space as part of the decor and add a personal touch. I love to mix warm, natural materials such as wicker, dark wood, and jute with more modern leaning pieces incorporating black leather and chrome, or my prized LC1 cowhide lounge chair. My home is such an important part of my identity and this apartment has been my dream since moving to New York to study fashion in 2014. Now I work as a buyer for a popular furniture company!
The best compliment I can receive about my home is that it looks like me. When styling my home, I tend to trust whatever I'm drawn towards, and avoid decisions that feel too calculated. I love how a home can fall together through a slow curation of personal objects over time, and the mix tends to work because they're pieces that you love! I've always been drawn towards warm dark wood tones, which is reflected in my storage pieces, which are all vintage. I also almost always gravitate towards earth tones such as a dusty olive green or the rich blue that shows up in my lighting or books scattered through the apartment. I'm a collector of things that inspire me, evoke feeling, and have a rich history, which is why I love vintage and this space speaks to that part of my personality.
Describe your home's style in 5 words or less: Tranquil, Warm, Earthy, Heirloom, Organic
What is your favorite room and why? My favorite room is my living room, mostly for the way the afternoon light illuminates the room and dances along the walls with the shadows of the trees. There's something special about that time of day when in your past lives of NYC apartments, you had only one window, or faced another high rise! My favorite pieces live in this room: my vintage console, Vintage Mart Stam Chairs, and a crisp white sofa I can sink into with a stack of poetry by my side.
What's the last thing you bought (or found!) for your home? My LC1 Chair! It was a Facebook Marketplace find, but sometimes you can come across a gem through a vintage site or just splurge on a new piece!
Any advice for creating a home you love? Trust what you're drawn to over trends. The objects in your home should reflect the people living in it and make you feel inspired and at peace every day.
This submission's responses and photos were edited for length/size and clarity.