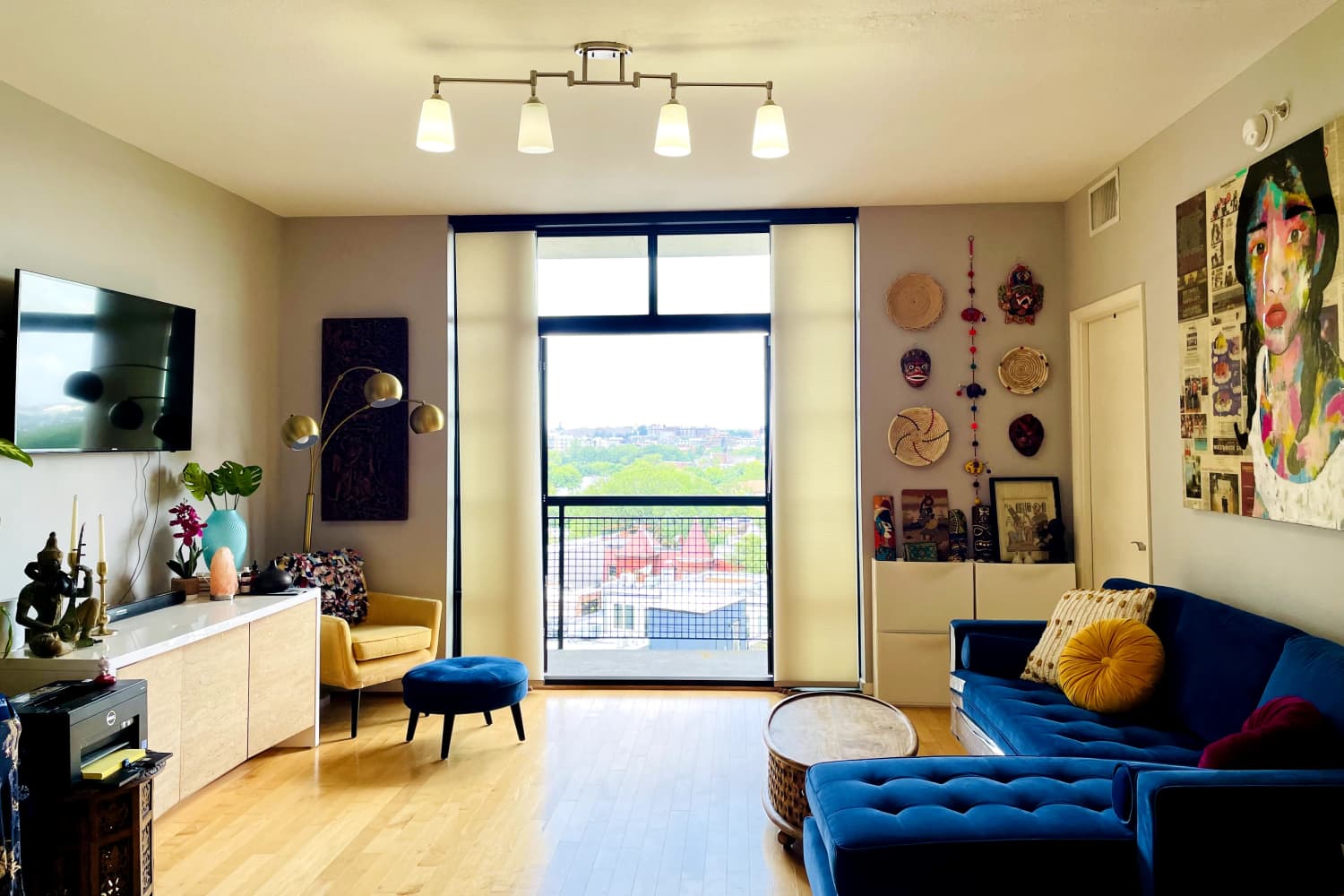 We independently select these products—if you buy from one of our links, we may earn a commission.
Name: Lisa Nho, my partner (Sjafrizal), daughter (Yoshi), and two dogs (Kody and Jack Jack)
Location: Washington, DC
Type of home: Condo
Size: 750 square feet
Years lived in: 1 year and 2 months, renting
Tell us a little (or a lot) about your home and the people who live there: Our home is a cultural melting pot. I'm an international development professional (originally from Toronto, Canada) that has been blessed with opportunities to travel and work around the world. My partner is in the IT profession with a local university. We met on Hinge two years ago at a cocktail bar and hit it off. We recently had a daughter that is Korean-Indonesian-American (what a mouthful!). And of course we can't forget our two fur babies, Kody and Jack Jack, who bless us with their incredible ability to shed all over our apartment (hence why we try to limit the rugs on our floor).
After living for short times as an expat in Kenya and Ecuador, I quickly developed a love for color. Visiting the many markets and seeing the locals dressed in their vibrant traditional attire attracted me towards punches of bright color. My partner also lived abroad in Indonesia and similarly gravitates towards bright colors as it reminds him of days when he spent time studying in a Koranic school outside of Jakarta. Our apartment is the fusion of our life stories coming together and everything we would like our daughter to appreciate as well once she is older. We want her to know the world is a big and beautiful place full of opportunity and learning.
Describe your home's style in 5 words or less: Eclectic, bohemian, and playful with sprinkles of mid-century modern (where I can afford it).
What is your favorite room and why? My favorite room is the living room. It's a mish-mash of urban and bohemian style. My partner has a love for street shoes and has his own dressing area right in the living room! Together with my love for traveling and fiber art, somehow we bring this together. The mixed-media painting of a brightly painted girl on top of newspaper was an amazing and one-of-a-kind find on Facebook Marketplace. A student who was moving to China sold it to us for $35, which we thought was a steal for such a unique statement piece.
What's the last thing you bought (or found!) for your home? The last furniture piece we purchased was the green entryway bench that we use to store seasonal hats, mittens, baby shoes etc. We put one of our colorful rugs we purchased in Marrakech to give the bench a fun and playful feel.
Any advice for creating a home you love? Your home is like a blank canvas that you can use to express who you are. Items that help you remember a key period of your life are worth hanging onto and displaying. They are great conversation pieces, especially if they aren't easily found in your culture/community. Don't be afraid of color. I see a more mainstream trend towards whites, neutrals, and blacks, and though this is a style admirable and unique in itself, color can really help to uplift spirits and add some playful character in our all-too-often routine lives.
This submission's responses and photos were edited for length/size and clarity.