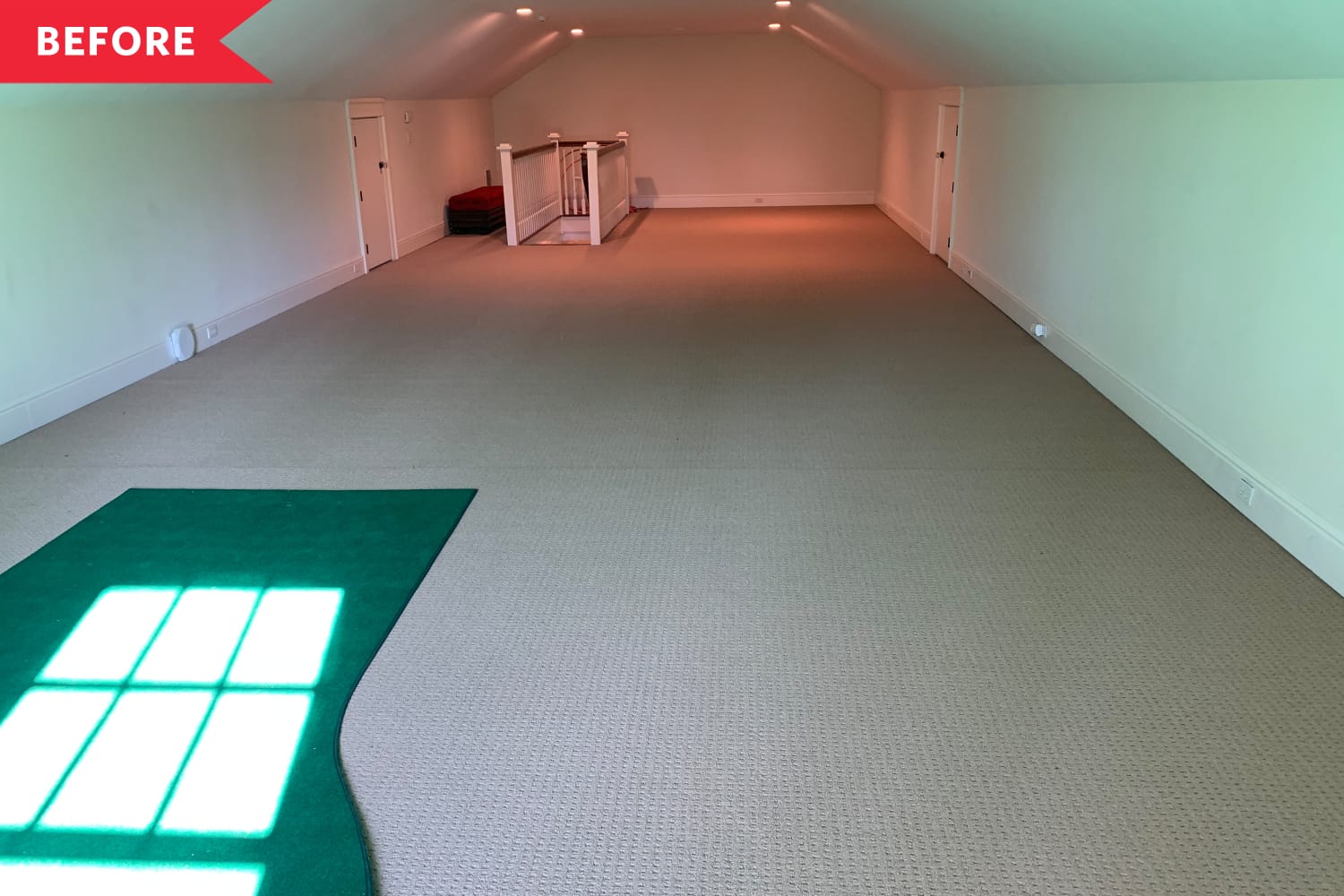 We independently select these products—if you buy from one of our links, we may earn a commission.
The sky's the limit for bonus rooms, if you're lucky enough to have one. Decorating them often calls for an extra dose of creativity, and sometimes that means calling in some reinforcements, namely a pro designer. That's exactly why homeowner Ellen McCue teamed up with Fiona Leonard of Fiona Leonard Interiors on this lounge-like hangout for her two teen sons.
"This was a third floor space with wall to wall carpet, a lone 3D printer, some random shelves, and abandoned Legos," says Leonard of the area before, which just wasn't being used to its full potential. "With all the time spent at home during COVID, my client's teenagers were starting to take over a grown-up hang out space, so we figured why not reinvent this space for them."
With an open staircase leading right into the room, the space boasted ample square footage but had no real delineation of space. So Leonard and McCue decided to create smaller zones within the layout: an area for TV watching, eating, and even putting — yes, as in mini-golf (the family actually had a small putting mat in this room already)! "We decided the space would feel better sectioned off into two spaces," says Leonard. They hired a contractor to build a new wall separating the room into two, with a fun barn door connecting the individual spaces. One side of the floor would serve as a gaming zone with the aforementioned putting green and a foosball table, while the other side would be reserved for Netflix and snacking.
No matter the area, they'd use the same moody, cozy color scheme they zeroed in on to keep everything cohesive: earthy browns and lush greens, with Benjamin Moore's Cushing Green (HC-125) setting the tone on all most of the walls and ceiling, with white for some visual relief and a thick stripe of Benjamin Moore's Yellow Finch (2024-40) adding contrast throughout the space. "Stick to a limited palette to avoid over clutter and visual stimulation," Leonard recommends.
With those colors — and the comfort of the teen boys — in mind, they began furnishing each zone to function optimally. For the TV area, they brought in key anchor pieces, a set of caramel leather lounge chairs and a modular PB Teen sectional in teddy bear-colored faux fur, which fills the space nicely and provides plenty of seating for hangouts.
On the adjacent wall, after school snacking gets lifted to an art form with a simple but well-stocked kitchenette consisting of an open shelf and counter combination and a mini-refrigerator, microwave, and custom base cabinets that feature a pull-out candy drawer. There's even a small live-edge bar setup with stools for sitting. Even if you can't spring for custom cabinetry, you can still use baskets to corral favorite chips and clear canisters for bulk candy, as Leonard did. It's all about keeping everything organized, at the ready, and colorized where you can.
Directly opposite the kitchenette at the other end of the home is that putting green turf, which backs up to a gallery wall full of family photos and artwork. You can order this on Amazon, and all you really need is enough space to roll it out. Across from that is the foosball table, rounding out the gaming zone of the space.
Though the space looks drastically different from its original state, some things did stay the same, namely the wall-to-wall carpeting. "My client decided she didn't want to replace it, so we worked around it," says Leonard of the beige carpeting. "A compromise was to add some tile by the kitchenette." They also layered faux brown-and-cream hide rugs on top to zhuzh it up on the cheap. "In the end, we were both happy we kept the carpet," says Leonard. "Not only is it forgiving, but it also helps with soundproofing."
The project took two months from concept to completion, and now the new and improved bonus room's pretty much the high note of the home, particularly for the kids. "This space has become a cozy retreat for all," says Leonard. After all, you can't go wrong with a candy drawer, beverage fridge, and lots of games, especially when it comes to teens.