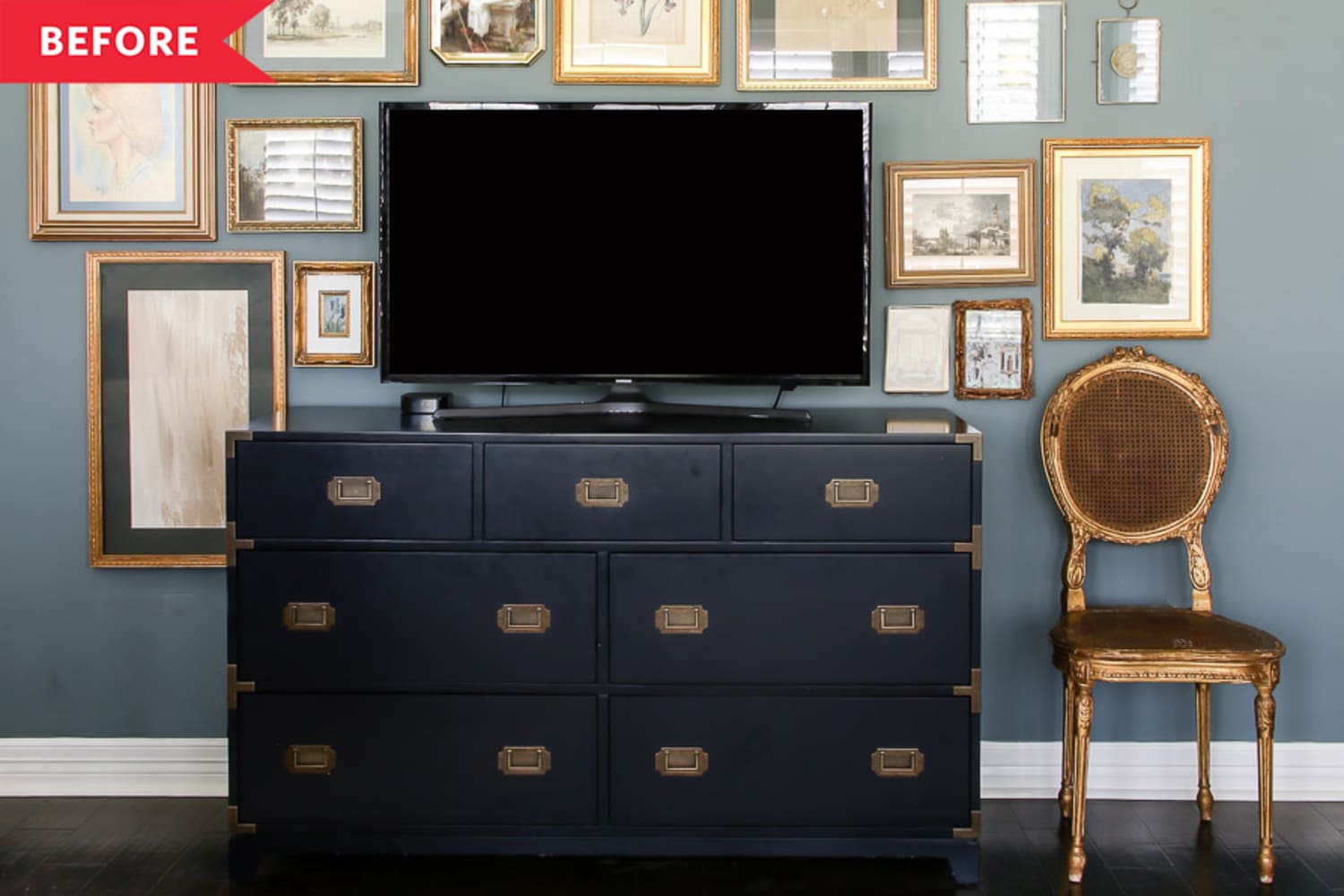 We independently select these products—if you buy from one of our links, we may earn a commission.
In design, televisions can fall under the "can't live with them, can't live without them" category. Even though they're mainstays of modern life, thanks to endless entertainment options, televisions are also routinely ridiculed for their stark appearance. After all, a black box isn't as aesthetically pleasing as the curves of a comfy sofa or the sheen of a glass coffee table. In the midst of those inviting colors and textures, televisions tend to feel like the opposite.
DIYer Jennifer Laura's living room has beautiful blue walls as a classic black campaign-style console table, and when she accented those details with a gold-framed gallery wall, she ran into this familiar problem. "As soon as I finished the gallery wall project, I knew that I needed to upgrade the TV in some way," she says. "It was sticking out like a sore thumb, and really making the gallery wall I had just worked so hard on look like a bummer." Jennifer remembered a similar DIY fellow blogger Cassady Smith undertook for her television, and decided to follow her lead with a few personalized twists.
"We made several changes in our build, the main one being that we hung our frame using nothing but Command strips," she says. Once she measured the size of her television, her husband Kris cut pieces of molding to size using the saw from a miter box (it's perfect for small projects like this, she adds). When the frame was in place, they glued each corner together using E6000, and then clamped the sides to adhere — this took longer than expected, and she recommends finding a faster-drying glue. "Building the frame took about 30 minutes, and I spent another day gluing and bracketing each corner together to dry," Jennifer continues. "The bulk of that time was just waiting for glue to cure so I could do the next corner."
After the glue dried, Jennifer flipped the frame over with the clamps still in place and stapled them together for added support. Next, she painted on Rub 'n Buff in antique gold to the front after a light sanding, and then stuck 20 Command strips on the back. For the final steps, Jenn attached the frame to her television and downloaded art to the screen, allowing the TV to fit right in. "The entire project came in under $50—that includes the miter box we bought for this project because we don't have a miter saw," she notes.
It's a small price to pay to fix a common design conundrum. "I love how the frame makes the TV look like a central piece of art that the rest of the gallery wall is centered around, instead of a big black box," Jennifer says.
Inspired? Submit your own project here.