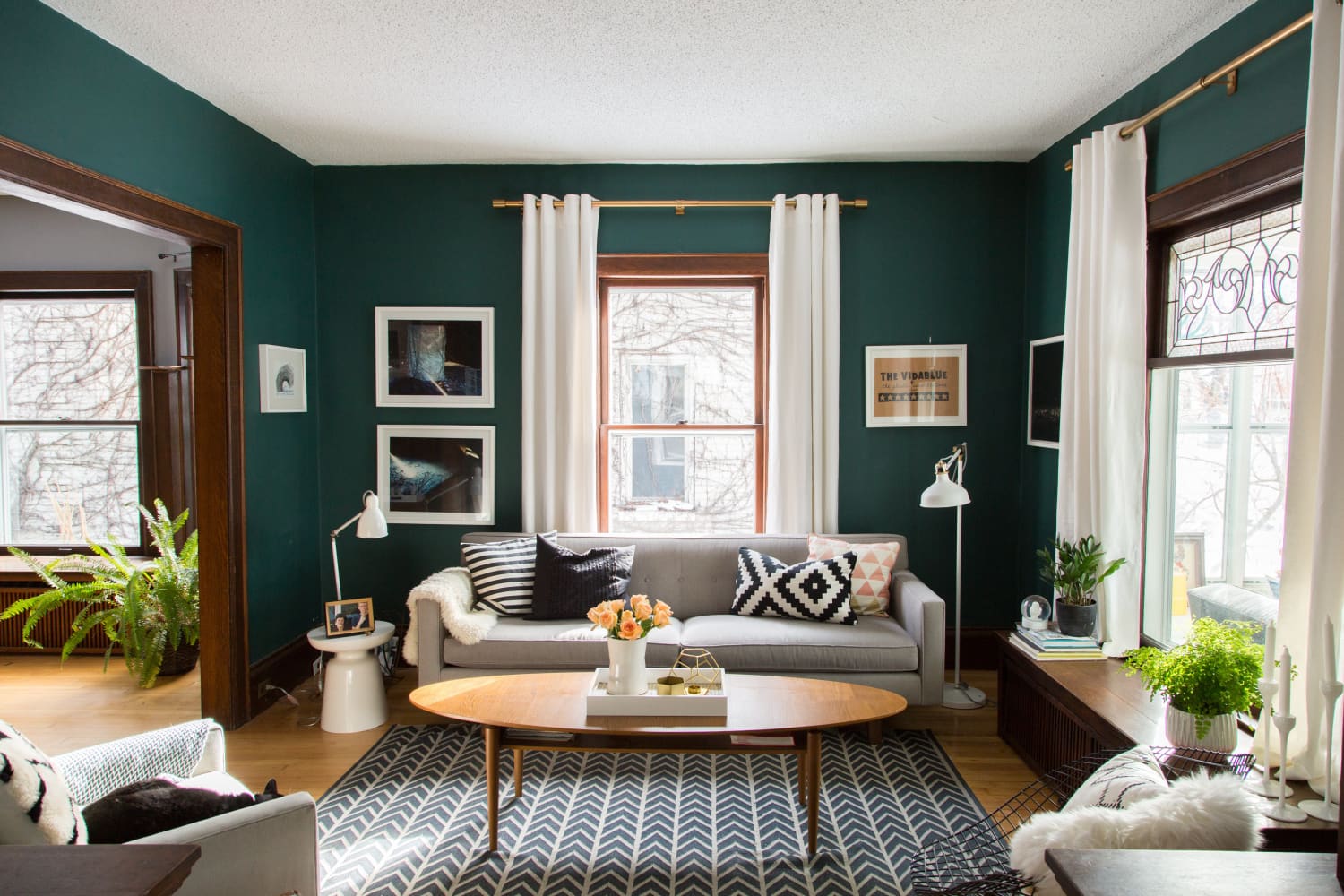 Paint trends might come and go faster than it takes your walls to dry, but an "it" color always has a permanent place in history. In case you didn't get the memo, these ubiquitous hues go a step beyond being ridiculously popular; they manage to freeze a cultural moment in time. I know, it sounds dramatic, but, riddle me this, will you ever be able to look at millennial pink without envisioning the 2010s?
To close out 2021's Color Month with a bang, I'm taking a brief walk down memory lane with the "it" colors of the past 50 years. Keep reading for a crash course in recent color history and ideas on how to incorporate yesteryear's favorite hues into your modern home.
Just like today's color trends, the '70s were all about hues inspired by Mother Nature. "Coming off of the 1969 moon landing and the first ever view of earth from space, the 1970s invited a renewed interest in nature and being outdoors," explains Alessandra Wood, interior design expert and vice president of style at Modsy. "Popular interior colors suggested a connection to the outside world, perhaps grounding dwellers in nature."
While rusty oranges, browns, and yellows were all the rage, no color was as big as avocado green. In fact, many design enthusiasts purchased kitchen appliances that were the same color as guacamole. Wonder why this unlikely hue was so big? One hunch is that it jibed well with the rest of the ultra-groovy palette that came to the fore in the late '60s. Plus, it must have reminded dwellers of being outside in some capacity, too. After all, avocado isn't so far off from grass green, but it's a little lighter and more livable.
Fast-forward to the '80s, when the design world fully embraced a more-is-more approach. Since this decade came with huge economical growth, decorating enthusiasts gravitated toward excess, including splashy pastels that paired nicely with statement-making metallics and neons. "The earthy and drab colors of the '70s gave way to light and airy, luxurious color palettes of the '80s," Wood explains. "The shift in color trends mirrors the new cultural mindset associated with the economic relief and celebration of new wealth during Reaganomics."
In addition to colors like turquoise and hot pink, '80s designers embraced pastel peaches, purples, and pinks, particularly mauve. This pinkish-purple hue, named for the mallow wildflower, appeared everywhere, from bathrooms to bedrooms, on things like window treatments, paint, carpeting, and even furniture. Why mauve? Likely its versatility. Bold yet subdued, this shade is sassy but has an almost neutral appearance when you team it up with creams, taupes, and browns. Mauve is saturated enough to hold its own against neons, too.
Two decades after the height of the avocado green craze, green made a major comeback — only with a darker twist this time around. "I think the forest green trend of the 1990s stems from the want for stability and longevity following the economic boom of the '80s," Wood shares. "Forest green is often associated with Federal designs from the Early American Republic." While the '80s ushered in new money and airier palettes, the color trends of the '90s culturally aligned with classical colors, according to Wood, probably in the hopes that such prosperity might linger.
Of course, forest green wasn't the only hue to make a splash in the '90s. This decade also favored purples, just like the colors you might remember from the sets of shows like "Friends" and "Sabrina the Teenage Witch." These shades aren't quite complements to forest green, but they do share a similar saturation. On the whole, the 1990s definitely was darker and moody even though beiges, terracottas, and Tuscan reds also began creeping into the collective palette.
What better way to welcome a new century than with a fresh pop of color? The early 2000s prompted a big burst of color, with a soft but striking cerulean taking the lead. Contrary to what you maybe learned in "The Devil Wears Prada" movie, Miranda Priestly and her staff did not pick this "it" color. Instead, Pantone selected this shade as their first-ever Color of the Year in 2000. It also played really well with the builder-grade beiges you might remember from the new construction of this decade.
Once the initial Y2K hype wore down, design enthusiasts began to favor a more minimalist aesthetic. While whites, blacks, and beiges all aligned with this vibe, paint company Sherwin-Williams noted a particular interest in gray. "Stainless steel appliances are the norm, and we now opt for gray on our walls rather than beige," the brand wrote on its website of this decade. I'll be the first to admit that out of all the "it" colors, gray isn't the most exciting. It's still around though, meaning it's one "it" shade that has serious staying power, likely due to its neutrality. You still see lots of gray sofas and walls even today.
Of course, no conversation about the past "it" colors would be complete without mentioning millennial pink. Up until fairly recently, the salmon-y rose hue was everywhere — and I mean everywhere. On Instagram? Your old coworking space? Your go-to skincare products? Check, check, and check.
According to Wood, one of the biggest draws for the "it" color was the recent wave of women's empowerment. "Culturally, throughout the 20th century, pink has been heavily gendered as a feminine color," she explains. "In the 2010s, millennial pink challenged the idea that the hue was a gendered color, bringing it to the forefront of universal color trends." Wood notes that, as you look back at the decade, you can see a number of cultural shifts in how society has come to talk about and define notions of gender and sexuality. Stripping pink from its gendered association, the color suggests the more progressive mindset the 2010s began to usher in, and isn't that a beautiful thing?
How to include "it" colors in your home
While "it" colors certainly have a place in design history — and I can't personally wait to see what this current decade brings — design expert Nicole Gibbons argues that super trendy hues don't necessarily have much staying power in the paint world. As the founder of the direct-to-consumer paint company, Clare, she says customers are looking instead for shades that can withstand the test of time. "The colors that were pretty popular 10 years ago are pretty popular now," she explains. "What sells really hasn't changed over the years."
Instead, Gibbons brings that "it" factor to her inventory with clever names such as Summer Friday, Rosé Season, and Matcha Latte. "The goal is to try to develop shades that are going to be universally flattering," Gibbons notes. "We let the color inspire the name and marketing, not the other way around."
While Gibbons is a big proponent of painting your walls a color you love — regardless of what's trending — she says there are plenty of ways to bring a little bit of the past into your home's future. "Incorporate those ["it'"] colors through smaller accents and accessories," she recommends. "It could be a pillow, throw blanket, piece of artwork, or little objects on your coffee table." Best of all? You can update these accessories as a new "it" color emerges if you want, time and time again, particularly if you keep your walls and furnishings fairly neutral.