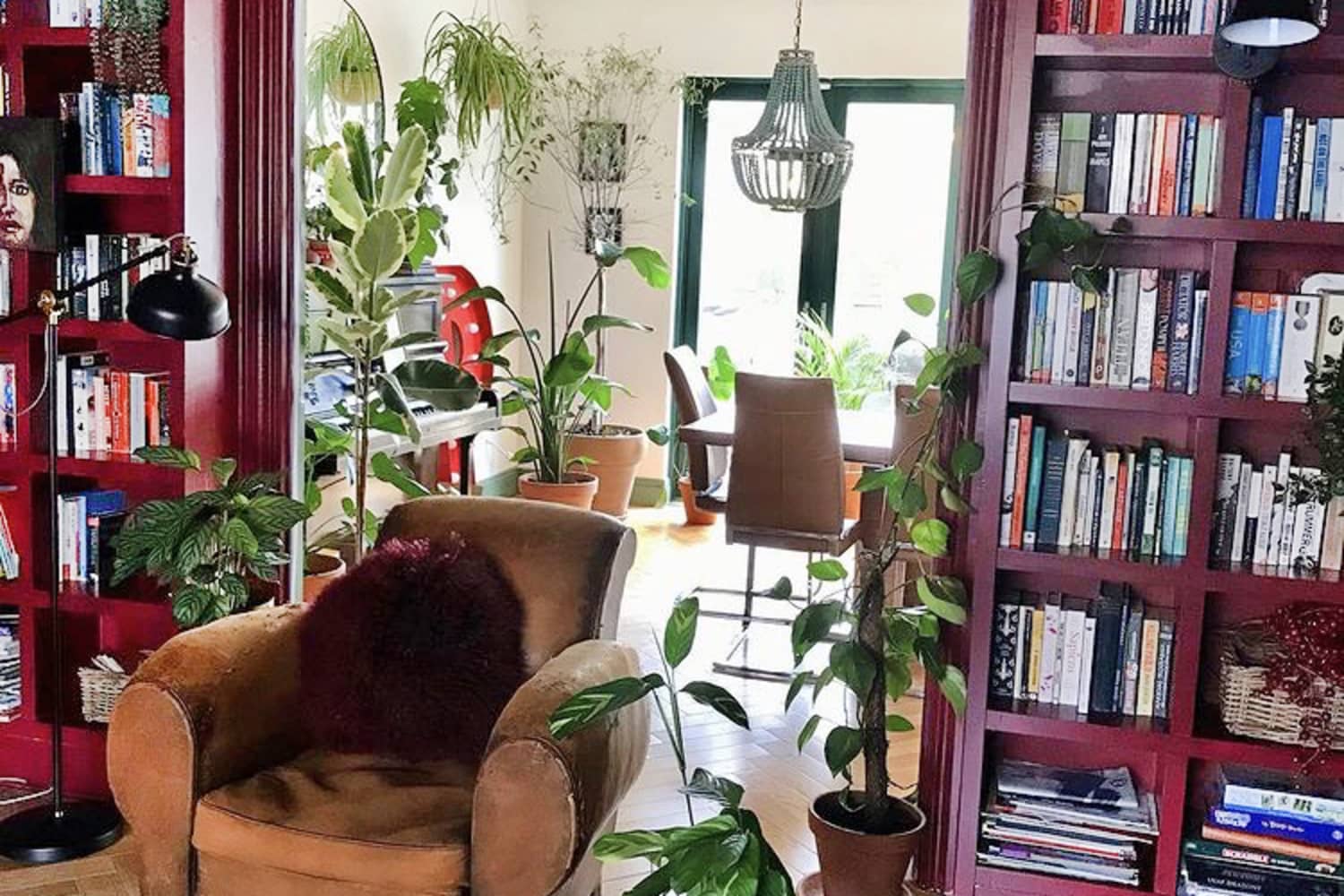 We independently select these products—if you buy from one of our links, we may earn a commission.
Name: Aisling Kelly, my husband Philip Mc Cabe and our three children Donagh, Iarla, and Síofra
Location: Kilkenny City, Ireland
Size: 2500 square feet
Type of Home: Semi-detached, four-bedroom house built in 2005
Years lived in: 6 years, owned
The summer of 2014 was an exceptionally hot summer. I was heavily pregnant with our first child and we had just moved into a new rental house, which I loved. Out of the blue Phil suggested going to see this house. Truthfully I had no interest in going to see it as we had just moved. But Phil convinced me and I went to see it. The house had only ever been rented so it needed a lot of TLC; it was dark and dingy but had oodles of potential. We placed a bid on a Friday and to our complete surprise went "sale agreed" the following Tuesday. Our son was born two weeks later. New baby, new home. We simultaneously became first-time parents and serial renovators. Six years on, we're still renovating and attempting to parent!
I am a primary school teacher who took the scenic route to teaching and enjoys the creative side of life. I set up an Instagram interiors page @saimhin_so while on maternity leave as an experiment. I am hugely inspired by other people's creativity. I have since become immersed in the whole interiors world and it isn't going away. I would love to pursue this passion further, I just haven't figured out how yet.
Apartment Therapy Survey:
My Style: My style is ever evolving. I love blending the old with the new and experimenting with color and scale. I like to clash and play with pattern. Stripes and plants are very prominent within our home. I use texture to add depth and interest. Finding unique one-off pieces brings me great joy.
Inspiration: The smallest little thing can inspire me. Nature, music, photos, films, friends, travel, fashion, Pinterest, and of course, Instagram.
Favorite Element: My favorite spot in our home is sitting on our mustard couch looking through the book shelves and out into the garden. We recently painted the bookshelves a dark burgundy color called "Couture," the same color as the walls, doors, and ceiling. It has added so much to the room; we should have done it years ago. Even though our home is close to a busy road, our garden is peaceful and full of bird song. It is overlooked by a mature beech tree and so the light and shadows adapt and change throughout the day.
Biggest Challenge: My favorite room and also the most challenging room to get right, was our living room. It's been a work in progress and we're still working on it. When we viewed the house there was a double bed in it! It had two sets of double doors in it, creating a natural corridor through the room, which was cold and uninviting. We gradually set about changing it. First we painted the fireplace black using black board paint. We then got the bookshelves made. We painted one set of double doors "Couture" and they then disappeared into the wall. These doors are permanently locked now so the space works better. We removed the other doors as are they were no longer necessary. We removed the old laminate floor and ran parquet throughout the bottom floor. More recently, we painted the ceiling and the bookshelves.
I have trawled the internet looking for one-off unique pieces for this room. I found an amazing pre-loved rug during lockdown. I also sourced a Noguchi-style coffee table for the room. My mother gave us beautiful black and white photographs of my grandparents, which originally came from her family home. The Guatemalan masks I dragged home from my travels through Central America are hanging on the wall. A beautiful painting from local artist Eoghan O'Driscoll also appears in the room, a birthday present from Phil.
Proudest DIY: Of all the DIYs we have done I would have to say I'm most proud of our upcycled kitchen. We had looked into ripping it out and starting again and then I saw an amazing kitchen upcycle on Instagram and was completely inspired. We decided to attempt our own. We first primed all the units and then painted them a dark navy color called "Petrol." We changed the handles to neater brass ones. We got the black laminate counter tops painted white using epoxy resin. We removed the wall-mounted cupboards and replaced them with open shelving. More recently we ran the parquet into the kitchen and we gave the island a mini makeover using wood moldings. It's been a labor of love. Minimum budget, maximum effort, and totally worth it! I'm a firm believer in reusing and recycling where possible.
Biggest Indulgence: I had been looking for a vintage tan leather club chair for an eternity. They are becoming harder and harder to find. Eventually I contacted an old friend, Joy Thorpe, who deals in antiques and all things beautiful. Within a couple of weeks she had sourced the most magnificent 1940s French worn, torn, and wonderful club chair for me. My parents very kindly gave it to me as a gift my fortieth birthday. It's a forever piece and I could not love it more. Much like vintage clothing I like to imagine where it's been and the history associated with it. It's what makes vintage special.
Is there something unique about your home or the way you use it? Our home is an estate house so it's exactly the same as the house next door and the one next door to that. We had nothing to do with the original design but I hope we have managed to create something unique to us on the inside. I think a home should speak to who you are and where you've come from. Many of the books on the shelves are from our own family homes or from a time when we travelled separately or together to wonderful places. There's the un-tunable piano that I gave to Phil as a Christmas present or the fabulous mismatched tea cups Phil's aunt gave to us a wedding present. The mural I painted on my daughter's wall during the first lockdown or the stairs and landing we worked on together. Every lamp, light fitting, wall color, floor covering, cushion, chair, switch, and socket has been considered and thought about. It's still a work in progress but an enjoyable one.
What are your favorite products you have bought for your home and why? The beautiful paintings by Eoghan O'Driscoll or the fabulous print by John Pedder, which Phil's family kindly gave me as a birthday present. The fireside chair we bought in the charity shop and got reupholstered or the headboard we made and stapled together ourselves (to suggest we reupholstered it would be a stretch!) All the unique Irish pottery that adorns our shelves, which were wedding presents from friends and family. The piano (that cost more to get delivered than the piano itself), the Ercol chairs, the old school desk. Most items in our home have a story or narrative that makes them special to us.
Please describe any helpful, inspiring, brilliant, or just plain useful small space maximizing and/or organizing tips you have: We had little to no storage when we moved in, which was a real struggle. By far the best storage solution in this home is the birch ply wardrobe/ shelving unit we got made for the boy's room. It is floor-to-ceiling height and almost four meters wide. It houses all the stuff and makes the room easy to tidy quickly. The boys love it. Together with a gifted carpenter called Nigel we designed it exactly how we wanted it. There are two little cubby holes along the side of it, which are a nice design feature.
What's your absolute best home secret or decorating advice? I'm no expert but I have learned a lot in six years. Be brave. Be patient. Don't compromise. Anything is possible.
This house tour's responses were edited for length and clarity.