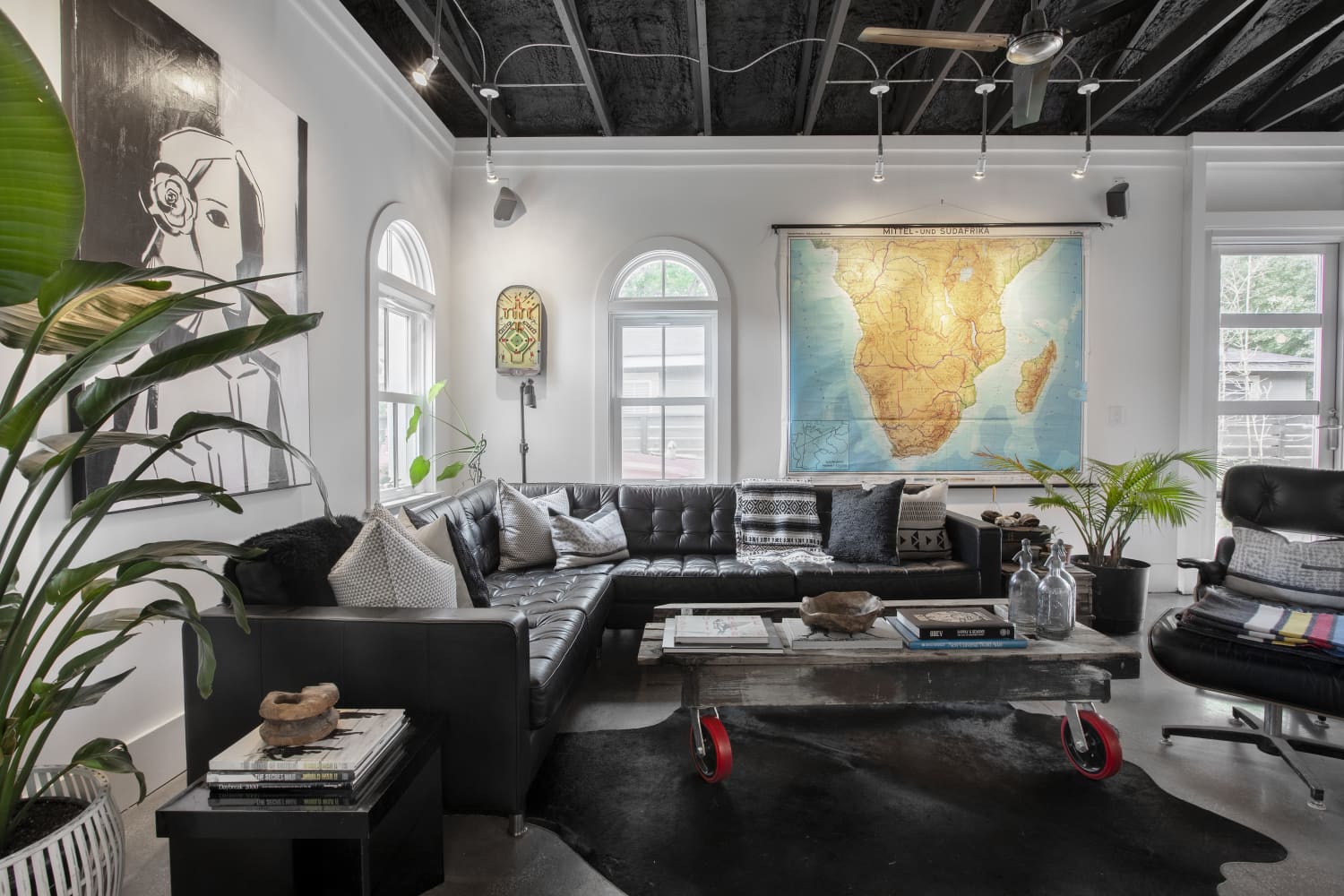 There's no denying the drama, the intrigue, the mystery, and the (potential) ease of designing with black paint, furniture, or decor. No, my love affair with this hue isn't symbolic of the fact that I don't love vibrant colors. In fact, many black furnishings, wallpapers, and decorative accessories can be teamed up with pops of saturated shades to serve as supporting actors to the entire rainbow!
Don't just take my word for it, though. I chatted with NYC-based designer Michael Kramer of Michael Thomas & Co., a total expert at weaving this sometimes polarizing shade into literally every room, for his tips on going bold and dark. Here's how to work black into your home if you haven't already done so.
Choose your shade of black carefully
"There are so many shades of black out there, it could make your head spin," says Kramer. "Not to mention, black reads differently depending on what material it is on." With that in mind, let natural light be your guide in your overall shade selection.
"An iron table leg that's always cast in shadow would read darker than a black fabric left in a sun-bleached window seat," says Kramer. Think about where your black furnishings or paint colors will live, and if it's a shady spot or a dim room, go a little lighter — maybe even with a charcoal gray — to offset black's effect of enveloping darkness. Kramer also suggests you focus on consistency with your product finishes. "For example, if a room contains [mostly] warm tones, choose a warm, soft black versus a cool one," he says. "Stay away from high gloss and opt for a more relaxing satin finish."
"Everything doesn't go with black," says Kramer. "If you're going to use black, either make that the star or use it sparingly." Perhaps the most popular example of a potential clash, at least when it comes to fashion or the home, is mixing black with a deep navy blue or a similar dark hue. This can be done, says Kramer, but it's all about creating balance; you can't go all in with several deep hues unless you really do want a super dark, moody room.
For best results, "if your heart is set on a dark navy blue or royal plum, then minimize your use of black with black iron curtain rods, the legs of a metal table, or the frame of a sculptural chair," recommends Kramer. "If you want to be bold with black, then make all the other colors take a backseat, and pair it with a warm off-white or soft taupe."
Intimidated by this all-or-nothing approach? Simple accessories may be your safest bet to bring in black without disrupting the color scheme already at play in your room. "Accents in black create a graphic element for the eye to bounce around," says Kramer. "Just use them sparingly and not bunched in one place."
To bring black into a room, Kramer says you may not need black furniture, decor, or design elements at all. "It's no secret that lighting is everything," Kramer reiterates. "Remember that shadows and dimly-lit corners can introduce black to a room just as powerfully as a can of paint."
Kramer encourages his clients to "play with light and shadows" to introduce areas of black into a space in an "unconventional way." Some examples of this include window coverings that cast interesting black geometric shadows along the floor or a woven chandelier that will provide the same effect on a ceiling. If you want your room to look like a moody Dutch painting, this tip's definitely one to explore.
Introduce black textural pieces
"High-textured black elements will catch the light differently and create more visual interest than a flat black accent wall," says Kramer. "Opt for black mohair, long-haired Mongolian lamb, scraped iron, textured porcelain, or even charred wood."
It sounds counterintuitive, but Kramer warms that black can also show imperfections or stains in certain finishes and materials. Keep this in mind if you're a bit of a clean freak. By varying the textures of your black furnishings, you won't have to rely solely on smooth, polished finishes that will have you reaching for the feather duster and bottle of Windex.
If you find you can't paint your walls black because you don't get enough natural light — or you can't afford to buy an all-new sleek black console, for example — you can still get a lot of decorative bang out of strategic smaller black furnishings. Kramer particularly loves incorporating black into windows, both in terms of window hardware and trim. "Nothing is more satisfying than a crisp black line breaking up the softness of drapery," he says, noting that black curtain rods always feel timeless in a room and can play well with other metal finishes. "White windows are beautiful, but if your view is really impressive, choose a black window that will frame the view and not distract like white does."
Other items that ofter easy pops of black? Ottomans and accent tables. "I am literally obsessed with tiny tables and tiny ottomans [in black]," says Kramer. "And a black floor lamp and classic chandelier really bring a room together."