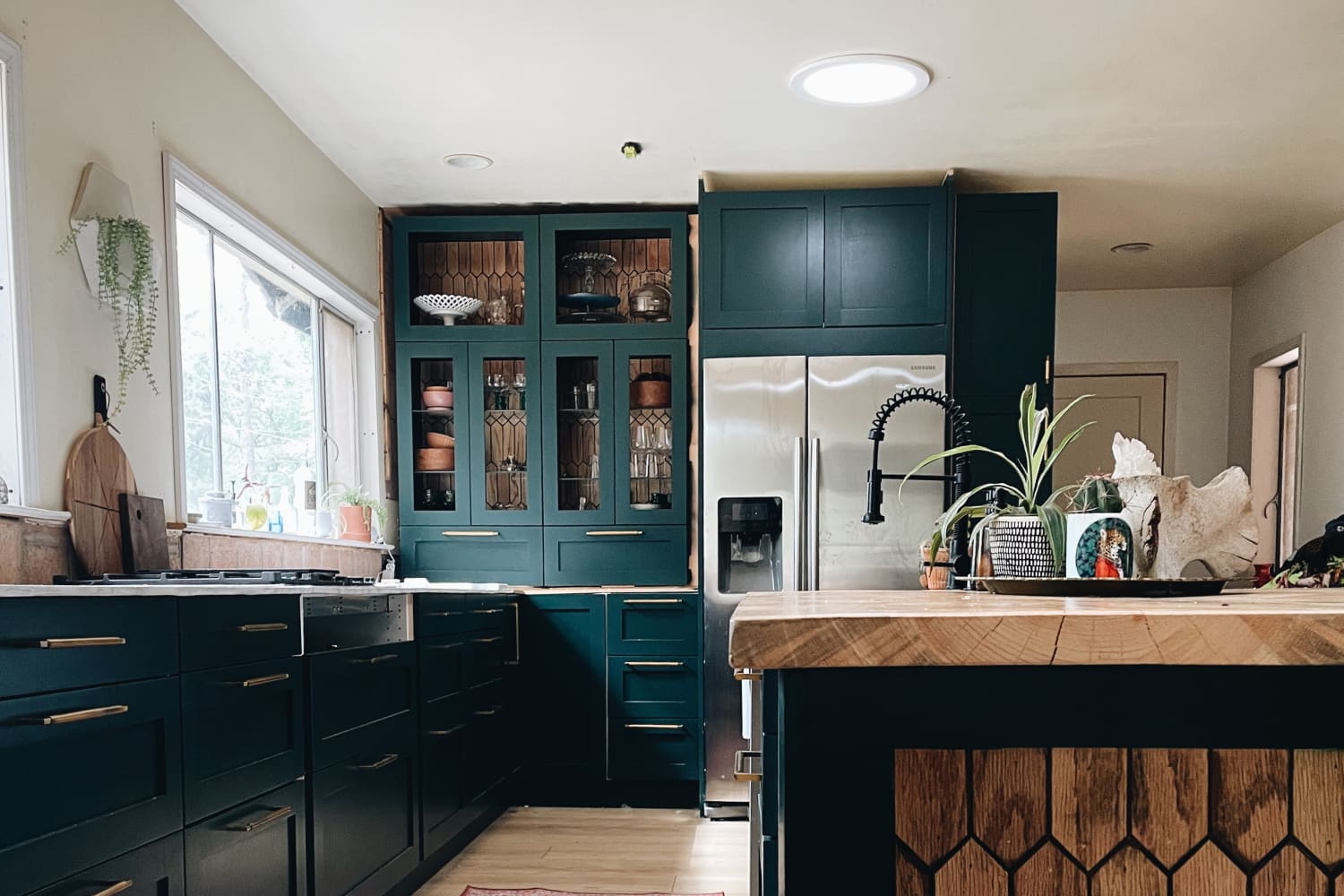 We independently select these products—if you buy from one of our links, we may earn a commission.
Name: Glenn and Nicole Wright, our two daughters (8 & 10). And the farmly: 1 dog, 3 cats, 1 horse, 3 goats, 2 ducks, 20 chickens, 2 pigs, 3 squirrels, 1 sulcata tortoise, 1 Pineapple conure, and a fish
Location: Penn Valley, California
Size: 2300 square feet
Type of Home: House
Years lived in: 4 years, owned
Four years ago, it took me halfway down a long dirt driveway to realize I was home. My husband and I had been on the hunt for a home we could make our own, raise our girls, and maybe get a few animals. What we found was a 1955 cinderblock ranch house on 5.6 acres that had a year-round creek, bridge entry to the house, and a barn and pastures just calling for some farm animals.
The house itself was original to the 1950s with wood panel walls, linoleum floors, and aluminum windows, but it also had wide open spaces and a ton of potential. The day we got the keys I wasted no time jumping into projects to personalize the house to fit my style and our family's needs. For the past four years we have tackled one room at a time with custom builds, crazy ideas, and vintage finds. The only projects we hired out for were electrical and plumbing, other than that I have touched every inch of this house with the help of my husband.
What sold us on this house was not the house itself; as you drive up the driveway you cross an old wood bridge over a creek in the front yard! I instantly thought of all the amazing memories we could make with our girls watching them grow up in a home that allows them to get outside and have fun while also learning about the responsibilities of caring for animals.
I have been a creator of things since a very young age and love any opportunity to come up with a wild idea followed by the ability to make it happen. I have dabbled in many areas of design, including jewelry design, retail design, and event design, but my journey led me to be a part of an amazing product design team for HoneyBook. I became a user experience researcher six years ago and love that I have the opportunity to help design a tool that allows creative entrepreneurs to manage their entire business seamlessly.
That being said, my home is my creative outlet that allows me to get my hands dirty, play with tools, learn new skills, and share ideas with others. I love, love, love building things and have always prided myself on the fact that my tool collection is larger than most of the men I know and that I can essentially navigate any Home Depot with my eyes closed.
Apartment Therapy Survey:
My Style: I have tried pinpointing this for quite some time but if I had to use one word, it would be eclectic. I love what I love and sometimes I don't have a reason for why that is. I would say that 80 percent of the furniture and decor in my house is either thrifted or I have built them from thrifted items. Thrifted pieces have stories: there are the original stories which I may or may not know, and then the story of how I acquired them. I am drawn to color even when I try to stay neutral. I am a sucker for anything green or rust. Also, there is no such thing as too many plants!
Inspiration: I often find inspiration from the pieces I bring into my house. I typically start a project with a general idea, but from the initial plan to the final reveal there are always changes, depending on the materials I find or a special antique element. Our dining room is a great example of this; it wasn't until I found a vintage phone booth in the perfect green that I was able to really make a plan for the space. The table is the only piece in the dining room that did not come from a thrift store or estate sale, and that's because I made it. The best part about allowing the pieces to be the inspiration is you never know how it's going to end up until you're done because you find the pieces all at different times to then bring them together in one space.
Favorite Element: The best part of our home is that I really have two different worlds to design in. Not only have I been able to design special spaces inside our home, I have had the opportunity to create some magical spaces outside. Being that I have not traveled in the last year and worked from home a majority of that time, it was important to me to have places outside to entertain the girls and spend time with family and friends. I designed and built two areas along our creek to achieve this. We started with a beach area to hang out, watch the girls swim, and catch crawdads in the creek. We also just finished a campground area that includes a 16' tent for family campouts and that doubles as a place for family and friends to come stay when they visit us.
My favorite element inside our house is the kitchen, which I am nearing the finish line for what has been a two year remodel project. The kitchen is HUGE as it was essentially a wide open space when we started. I built an 11' island before removing all of the original cabinets and putting in new ones with custom fronts I painted myself. The kitchen is really the heart of the house and I am thrilled with how it has all come together even though it has been a very long process.
Biggest Challenge: Our entire house is made of cinder block. Mind you we live in California so this is not at all common and definitely adds an element of challenge. Anytime we go to do electrical work it is always a question of where they ran the electrical originally. We are also in the process of doing all new windows and doors and because the house is cinderblock we have to work within the openings we have and are not able to trim out anything on the outside. The good side of cinder block though is that it is a more fire-safe material, which is very top of mind for us since we are in a high fire zone in Northern California.
Proudest DIY: My proudest DIY is really my entire living room. I spent several weeks last fall redoing our entire living room, which included building custom desks for my girls, built-ins to hide our litter box and dog food, retiling our fireplace, and installing new flooring throughout. I learned so much through the various projects in that space and gained so much confidence.
Biggest Indulgence: I am a huge thrifter and I love a good deal, but I did just recently splurge on one thing that I have been waiting two years for. Our countertops! Our kitchen island is massive slabs of pine, which I love for the natural element it brings to the room. When I did the original design for the space I planned for quartz countertops, but when I walked into the showroom I was surrounded by stunning natural stones and made the decision to get Mount Blanc Quartzite counters for the coffee bar and cabinets along the main wall. They definitely cost a bit more but I could not be happier with them. They have these natural veins and colors that lend so well to the rest of the house and I love that they are truly unique to my house.
Is there something unique about your home or the way you use it? Everything I build or design for our home must be animal- and kid-friendly. Our bathroom often doubles as a vet clinic and there are times I have left a door open only to find chickens eating out of the dog food bowl. I keep these things in mind when choosing elements for the house, such as flooring. We recently redid all of our floors and chose to go with a luxury vinyl floor that is not only durable but waterproof. I want a home that is both well designed and comfortable for our lifestyle.
What are your favorite products you have bought for your home and why? I don't often buy new furniture but I recently discovered CleverMade and they have the best folding tamarack chairs. I love the design of them and not only are they comfortable but they fold up making it easy for me to move around to different outdoor spaces and to store in the winter months.
Finally, what's your absolute best home secret or decorating advice? My advice is to go into your design with an open mind; you may find an element during the process that changes the whole plan, go with it! If you have a ReStore near you visit it often. They are a treasure trove of secondhand building materials and supplies, so I often find things there I would never get from a thrift store or estate sale. You can find amazing deals on tile, furniture, and building supplies. Recently I picked up three boxes full of old parquet flooring for $30. I brought them home and took them apart to add to the back of our kitchen cabinets and the ends of our island. They are now a very special moment in our kitchen and it only cost me $30!
This house tour's responses were edited for length and clarity.