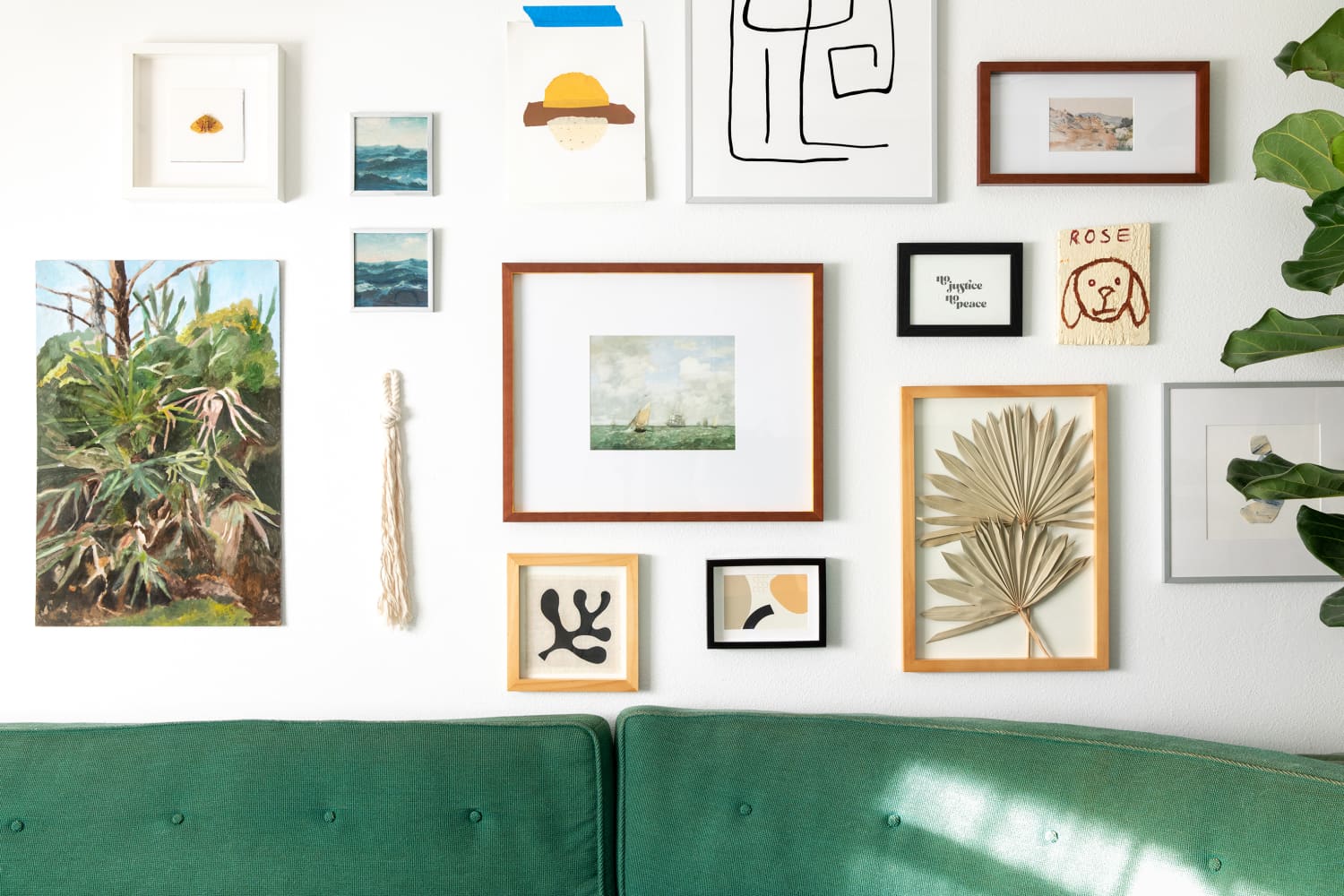 Paint is one of the easiest and most affordable ways to change the look of your home. And here's a secret: You don't even have to purchase a whole gallon or even a quart of your chosen paint color to make a transformation at home. For many projects, a sample size container — just 8 ounces, and often less than $5 — will do the trick.
Small DIYs are the perfect way to try out a new color, or to give your home a refresh in an afternoon, or to use up the last of your leftovers from other projects you've taken on around your home. Take inspiration from these eight projects, which use a small amount of paint to make a major impact.
Kelly of Studio DIY recently transitioned her son's colorful nursery into a big kid's room, and part of the transformation was this rainbow bookshelf wall. The shelves put favorite books on display and double as wall art. For a more toned-down take, try using just one color in various shades for an ombré effect, or select a few colors that go together for a more curated palette.
Fake the Look of Wallpaper
Wallpaper is one of the easiest ways to add drama, but it can be costly and messy. Instead, put that sample can of paint towards a patterned statement wall. Laura of A Beautiful Mess cleverly printed multiple copies of her eye stencil on individual sheets so she could adjust the layout around her bathroom fixtures before painting.
Designer Ashley Gilbreath gave the bathroom in her Camellia Cottage project an extra special touch by painting the trim around the window and medicine cabinet an unexpected rich green-blue. The color references the tones in the wallpaper, and gives the whole room an elevated look. Try this in your home by bringing your favorite pattern (whether from wallpaper or textile) to the hardware store for a perfect color match — you'll only need to buy a tiny pot of paint to pull it off.
Using all the leftover paint from different home projects can actually create a piece that will naturally echo the colors throughout your home. Mandi of A Beautiful Mess demonstrates a few methods she used for the easy abstract piece above. If you're looking to go even further with your art, This Is Artify goes more in depth behind abstract style techniques.
Add a Mural to an Empty Wall
You'll need a few sample cans for this project, but it perfectly demonstrates the creative freedom sample sizes give. Mandi of Vintage Revivals wanted to create a mural for her daughter's room, so she worked with Colleen Elizabeth to create a large-scale paint by numbers. Buying each of the colors as full gallons could have made Mandi par down her selection, whereas by using sample cans, she could lean into a full color palette without blowing her budget.
Love the look of custom tiles but not their price tag? Brittni of Paper & Stitch has the project for you. Using house paint (and a polyurethane seal), she transformed basic peel and stick tiles to look like trendy cement tiles. She also notes that all the supplies came in at under $1 per square foot. With just a sample size can of paint, you can create a renter-friendly backsplash.
Give a Small Piece of Furniture a Fresh Color
DIYer Lara Bezzina is a creative whose style is bold, colorful, and eclectic — but her off-the-rack IKEA shoe cabinet? Not so much. To bring the boring basic up to her standards, Lara used the same paint left over from her hallway beadboard makeover and added new handles to give her HEMNES a fresh spin. This project is a not only a great way to use up leftovers, but you could easily pull it off with a small can of sample paint, too.
Sometimes just a pop of color is needed. Here, the bright yellow paint on the inner rim of this picture frame coordinates with another piece on the gallery wall. Another idea for adding some oomph to art you already have: Paint an accent shape behind your art to highlight the frame.