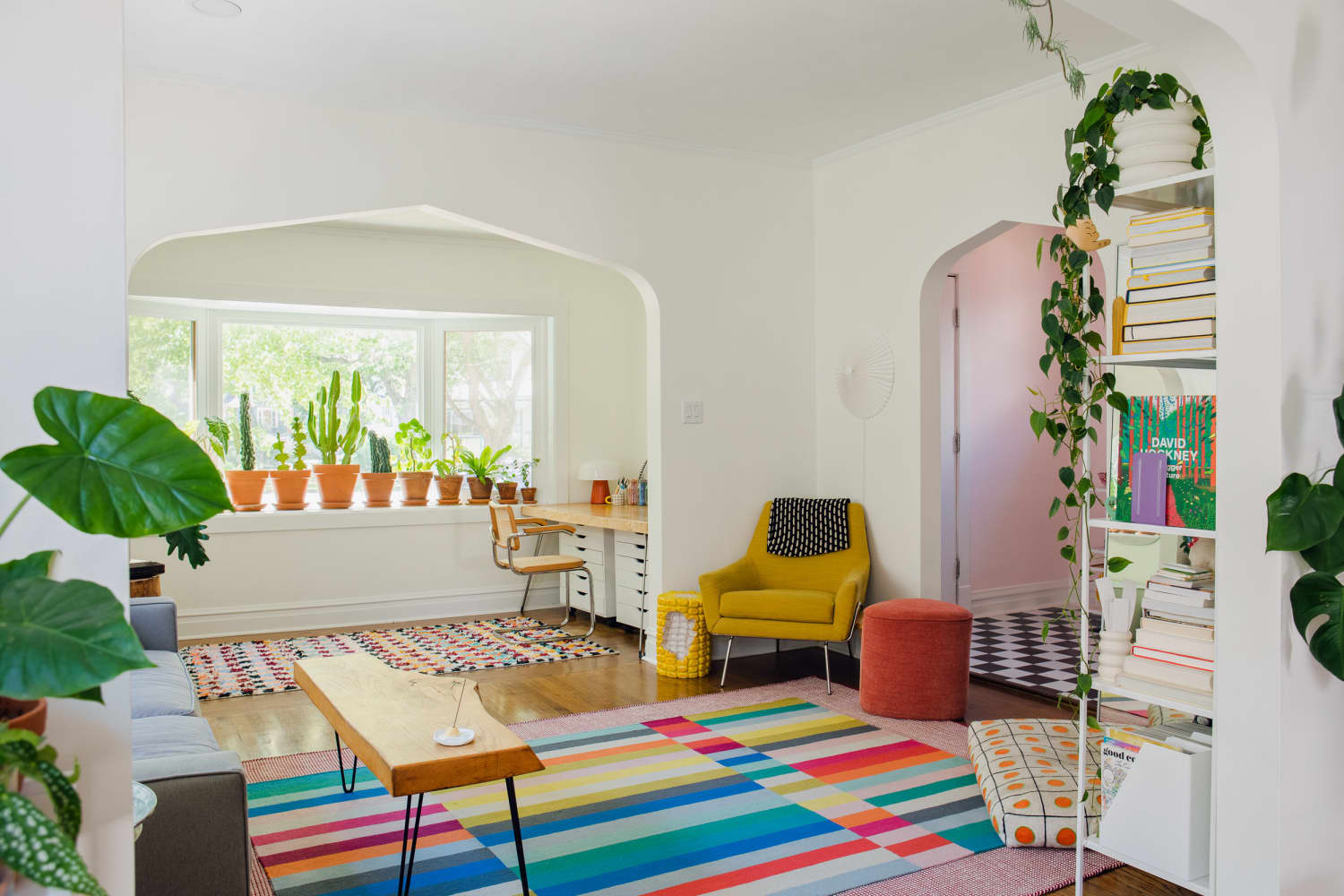 We independently select these products—if you buy from one of our links, we may earn a commission.
When you think about furniture, the biggest buys typically include seating, rugs, and tables. But sometimes, it's the smaller pieces that you can truly get creative with and raise to new decorative heights. Take the home of Sara Wenokur, for example. An artist and floral designer, Wenokur lives with her partner, Garrett, in a 1910 worker's cottage in Chicago they purchased six months ago. The couple certainly lucked out with tons of space, with their main floor at 1200 square feet and their basement adding an additional 900 square feet to their total living area.
A large bonus space like a basement has great storage and entertaining potential. While Wenokur and her partner still have other design plans for their basement, they've already removed all the carpet and styled the area with a comfy gray sleeper sofa for hanging out with friends when the weather gets cold. You know what caught my eye, though? That sofa "end table" they used in their basement — which really isn't an end table at all. It's a shoe rack!
This is a fun, genius decorating idea that you can pull off in a bonus space or otherwise. The sleek and stylish Open Spaces steel entryway rack Wenokur used is basically the same width and height as the sectional, making it almost look custom-made for the space. The design of the wide, flat shelves may be ideal for storing shoes, but it's equally great for setting down a drink, snack, or a catchall bowl at the end of your couch. The metal material is also super easy to clean and versatile, which is why it works so well as end table for a basement or rec room; these spaces are ones you really live in. The handle on this guy gives it extra mobility in case you want to reconfigure your space on a whim, too.
Rarely do you get this much space for your stuff on or in an end table either, and I love how Wenokur brought in a trio of boxes to add closed storage to the mix, too. These pieces work well for hiding remotes and other odds and ends, making it easy to tidy up when company visits. Come to think of it, because they opted to skip a coffee table in this setup completely (at least for now), having a larger, three-tier table like this gives them the surface area they're missing. A regular, teeny-tiny end table probably just wouldn't do.
Wenokur and her partner are loving their basement, and the shoe-rack-turned-end-table is just one of many fun things happening here. They purchased a TV for the first time in about ten years and a karaoke machine. "Eventually, we'll get it outfitted with a proper Chicago basement bar," says Wenokur. Until then, I'll just be over here admiring this creative use of a shoe rack.