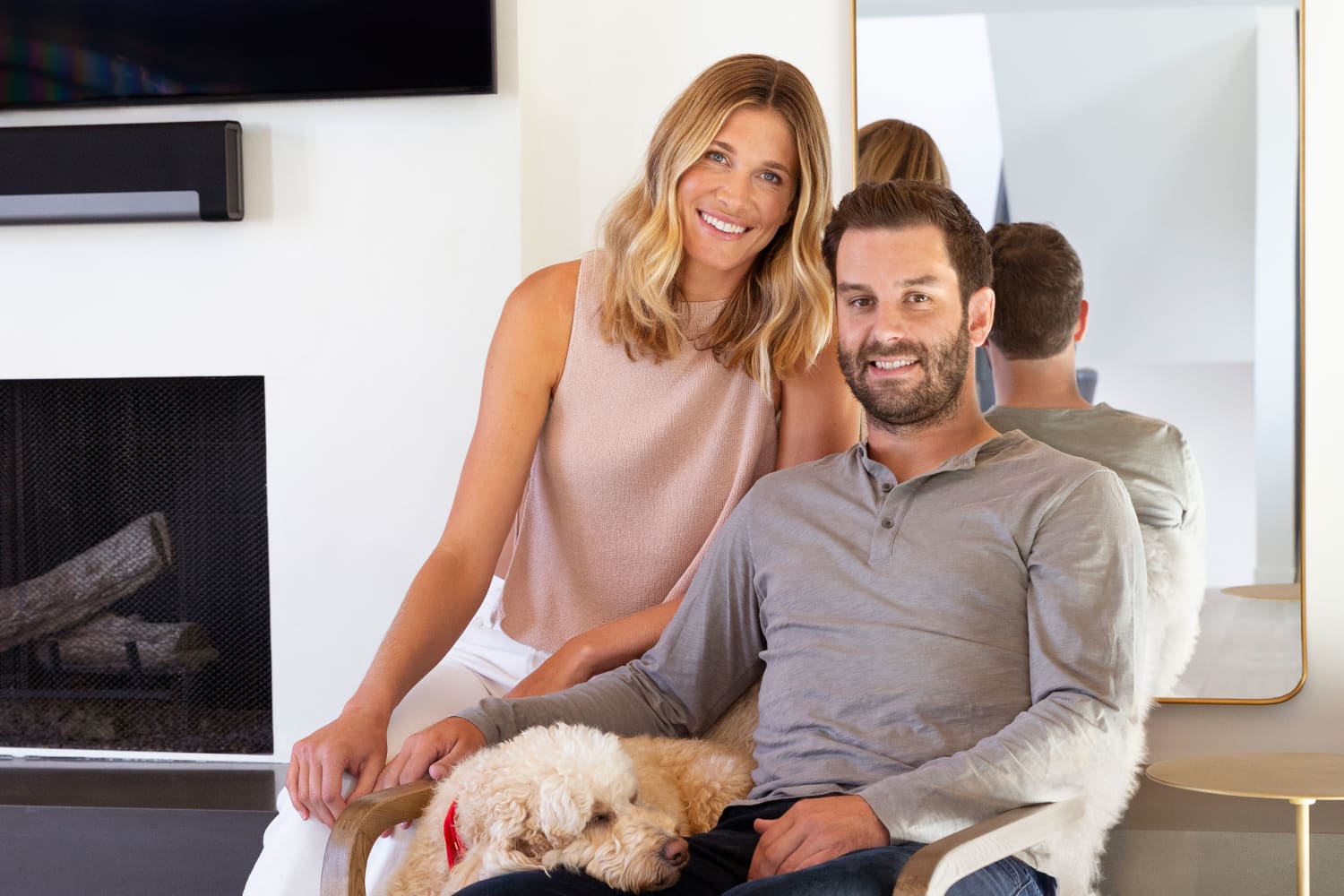 She may be dominating beach volleyball matches for Team USA in Tokyo, but olympian Alix Klineman likes to lounge in her extra-long bathtub in her time off.
The volleyball star lives in sun-drenched Hermosa Beach, California, with her fiancé, retired NHL pro Teddy Purcell, and the couple recently showed off their digs for Architectural Digest. Klineman moved into the contemporary home after helping Purcell renovate the three-bed, three-bath space.
The couple turned to interior design duo Lori Teacher and Monique Blum of Lo + Mo Design to cultivate a home that fit the lives of two extremely active people who love to enjoy their downtime. Like most pro athletes, Klineman fuels her body in the kitchen, and knew creating a functional kitchen "was a really huge focus." They filled the room with dark-colored cabinetry and white marbleized countertops, as well as a separate bar area next to the kitchen, since Klineman wanted the space to have room for "everyone to coexist without stepping on each other's toes."
"I was adamant about having a wine fridge and a little bar that's not in the kitchen," Purcell said. "We love to entertain, but I don't want to be in Alix and her friends' space when they're cooking. So I like to hang out in the bar and the small island, play tunes, and watch."
Now, it's where the couple winds down at the end of the day by making homemade pasta and risotto. The couple's office is also a highlight, since it's filled with memories of their athletic accomplishments. Of course, Klineman is hoping to add a Gold medal to the regalia.
The Restoration Hardware-furnished living room is also a cozy gathering space, where Purcell watches hockey games on TV along with the couple's dog, Vedder. The sunny spot features an oversized white sectional couch, bright white walls, and a wood ceiling that creates a cohesive space along with the hardwood floors. An oversized television hangs over the fireplace, and tropical-inspired art hangs throughout.
Klineman also cites the couple's bathroom in their bedroom suite as one of her favorite places in the home. Equipped with heated floors, a Japanese toilet, and a steam shower, it also had to have one important feature: An extra-long tub for Klineman to soak her six-foot-five body after grueling workouts and days on the court.
"We got one that I would be able to fit in and have my legs straight, which people take for granted," said Klineman.
Now that the home is complete, it was only fitting that Purcell popped the question on their rooftop deck in June.
"We're overjoyed with how the house turned out," said Klineman. "It's the perfect blend of who we are and our personalities and where we're at in life right now."