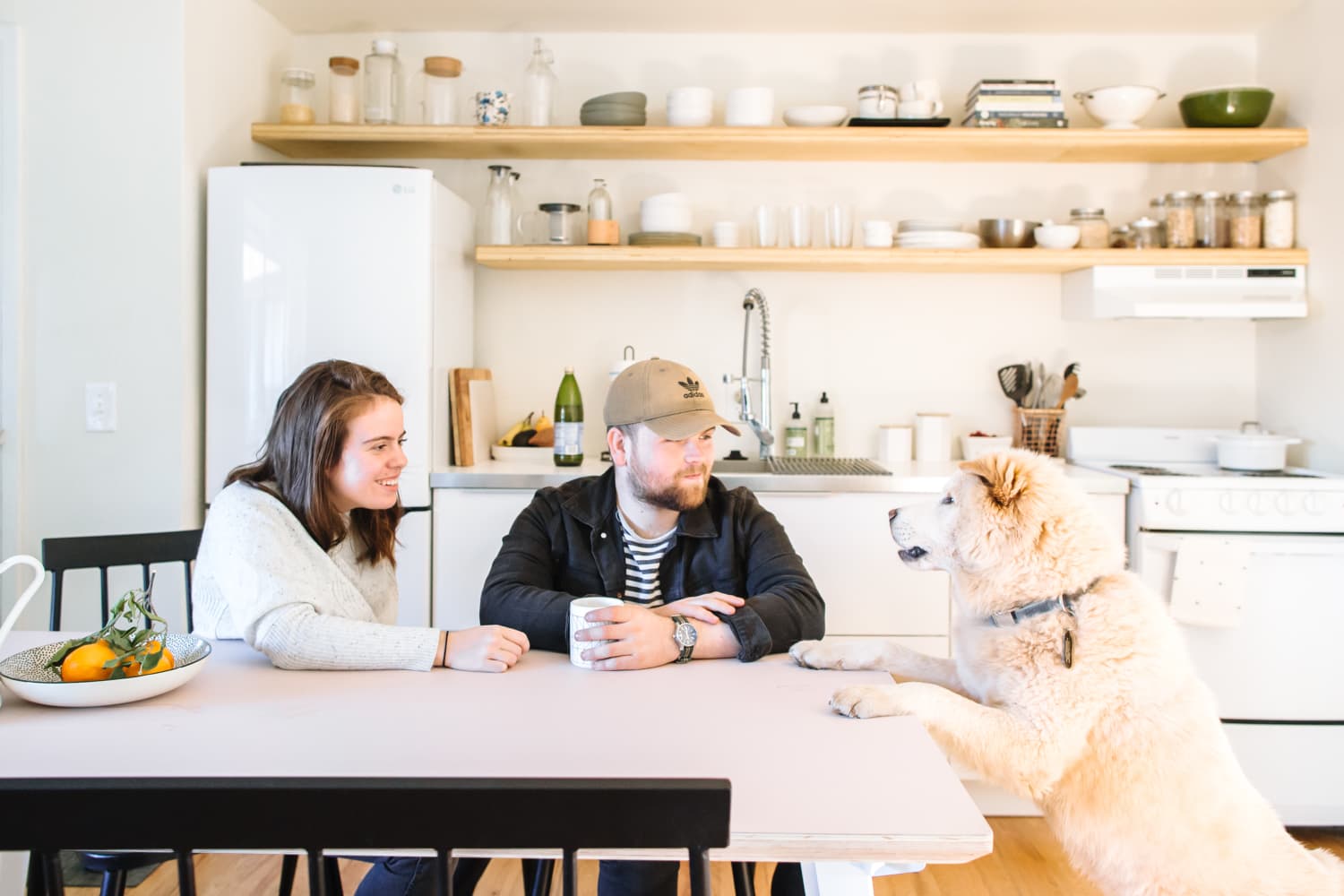 We independently select these products—if you buy from one of our links, we may earn a commission.
Pet owners know the struggle of finding their dog or cat's fur everywhere — the couch, their clothes, and somehow, even the car. They also know that cleaning up pet hair is no easy task, and it can often require a myriad of tools and sprays and quite a bit of elbow grease. Enter: the Evriholder FURemover Compact Pet Hair Remover Broom. This handy gadget expertly tackles pet hair on just about any surface — plus, it doubles as a tile scrubber, shower squeegee, window cleaner, and much more. We've praised this larger version before, which Amazon reviewers can't get enough of, and with 45,000 5-star ratings on Amazon, you know that the compact model is totally worth the hype. For just $14.66, you can stay on top of your pets' shedding and make your home (and especially your kitchen) a hair-free zone.
The FURemover Compact Pet Hair Remover Broom's 100 percent natural rubber bristles extract pet hair from the depths of even the plushest of carpets, and they work just as well on hardwood, tile, linoleum, and area rugs. Say goodbye to sending fur flying everywhere with your straw broom — the FURemover's bristles act like a magnet to attract dog and cat hair for efficient and tidy cleaning. Unlike metal alternatives, the rubber material won't scratch your floors or damage your carpet.
Other helpful features include the telescopic broom handle, which lets you adjust the height from around three feet to five feet and collapses to just 20 inches for easy, compact storage. The broom is also super easy to clean: When you're done cleaning, simply rinse the head to get rid of lingering pet hair, and then sanitize with soapy water.
Nearly 9,000 five-star reviews specifically laud the product's efficiency in sweeping up pesky pet hair. One happy customer raves, "I bought this broom 2 years ago and it is still going strong! I have 4 large breed dogs and we have fur – EVERYWHERE! This works so so good! I am always amazed at what this picks up even after I just ran the vacuum." She also advises that, "if you remove the head from the handle you can use the head to go in all the crevices along baseboards where fur gets trapped on the carpets" for an extra-thorough clean. Score!
But despite the name, this broom isn't just for animal owners and pet-related messes. The built-in squeegee edge mops up spills on tile, concrete, hardwood, and even your outdoor deck. (You can also use it to clean your windows, shower, and windshield.) In another stellar review, a non-pet-owner says they initially purchased this product because, "My partner and I both have very thick, long hair, and our carpet was starting to look pretty gross because of it (despite our consistent vacuuming efforts)." After using the Furemover, their problem was solved.
Let's face it, no one wants pet hair in the kitchen — or anywhere else, for that matter. And whether you've got a menagerie of dogs and cats or are simply looking for a handy cleaning tool to use around the house, this workhorse does it all for under $15!