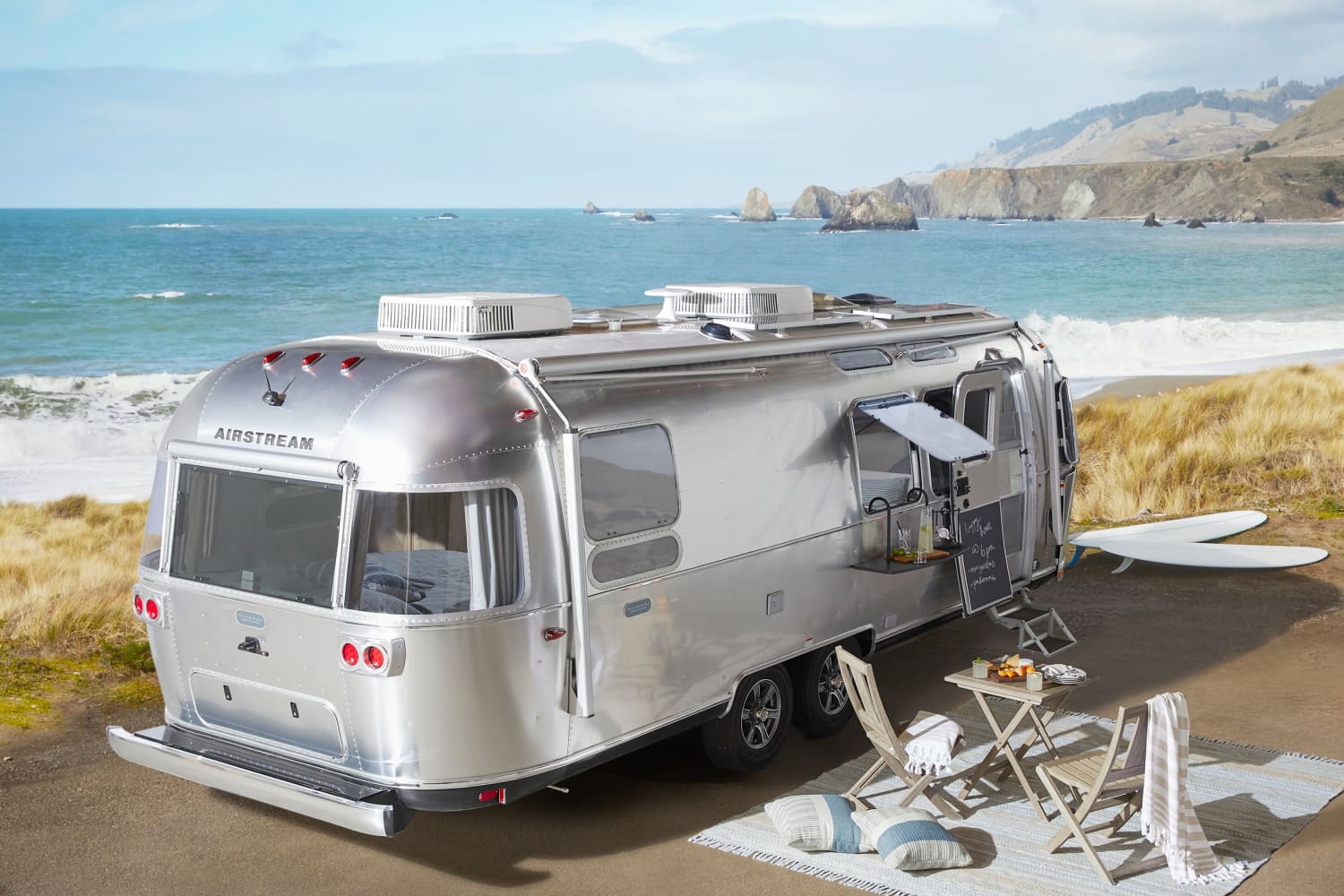 Forget crowded rest stops and leg cramps; now you can experience a summer road trip in style. The iconic RV company and decor retailer have officially teamed up to create the Airstream x Pottery Barn Travel Trailer, a 28-foot trailer equipped with all the classic travel features of an Airstream (on-board kitchen, bathroom, and sleeping and relaxing areas) along with the hardware, soft goods, fixtures, and touches inspired by Pottery Barn's best-selling collections.
According to a release, the travel trailer was created to function in the modern era, "where work, play, life and learning blend at home and on the road." That means luxe features like custom-made, ultra-soft seating and a sofa inspired by Pottery Barn's Big Sur Collection, and unique features like a hidden airline-style table in the arm and to window coverings made with oatmeal linen Emery Curtain fabric. A galley kitchen features a solid oak wood dinette table and a matte-black pull-down kitchen faucet, stainless steel apron sink, and a walnut cutter board that covers the sink for easy meal prep.
Naturally, the trailer's private bathroom is a real highlight for anyone who's spent some time on the road. With a round vessel sink and matte-black faucet, it's complemented by wall sconces, which pretty much means it's nicer than the one in your first apartment. The space is also equipped with plenty of storage, including plenty of space under the bed and overhead lockers with headboard paneling. Throughout the space, there's wall sconces to create that classic Pottery Barn ambiance.
The trailer also plays up the outdoor space, so you can soak up the sun any time you decide to pull over. There's an outdoor hanging table attached to the trailer's exterior, as well as an exterior awning and accessory kit. That's equipped with a 16-piece Mason Stoneware Dinnerware Set, an Indio Outdoor Folding Table and Armchair Set, a doormat, and other fun features.
If you're wondering how many members of your squad you can load up the trailer with, it comfortably sleeps up to five people. The twin or queen-size bed options come with Pottery Barn bedding too, of course.
The creation comes in response from consumers who wanted a travel-friendly space that embraces all the cozy features of home, said Pottery Barn President Marta Benson.
"We were able to build on the comfort of home that Pottery Barn is known for while fueling the sense of adventure and the idea that home is wherever our customers are," said Benson.
The 28-foot dream on wheels will cost you $145,000. For more information, visit www.airstream.com.