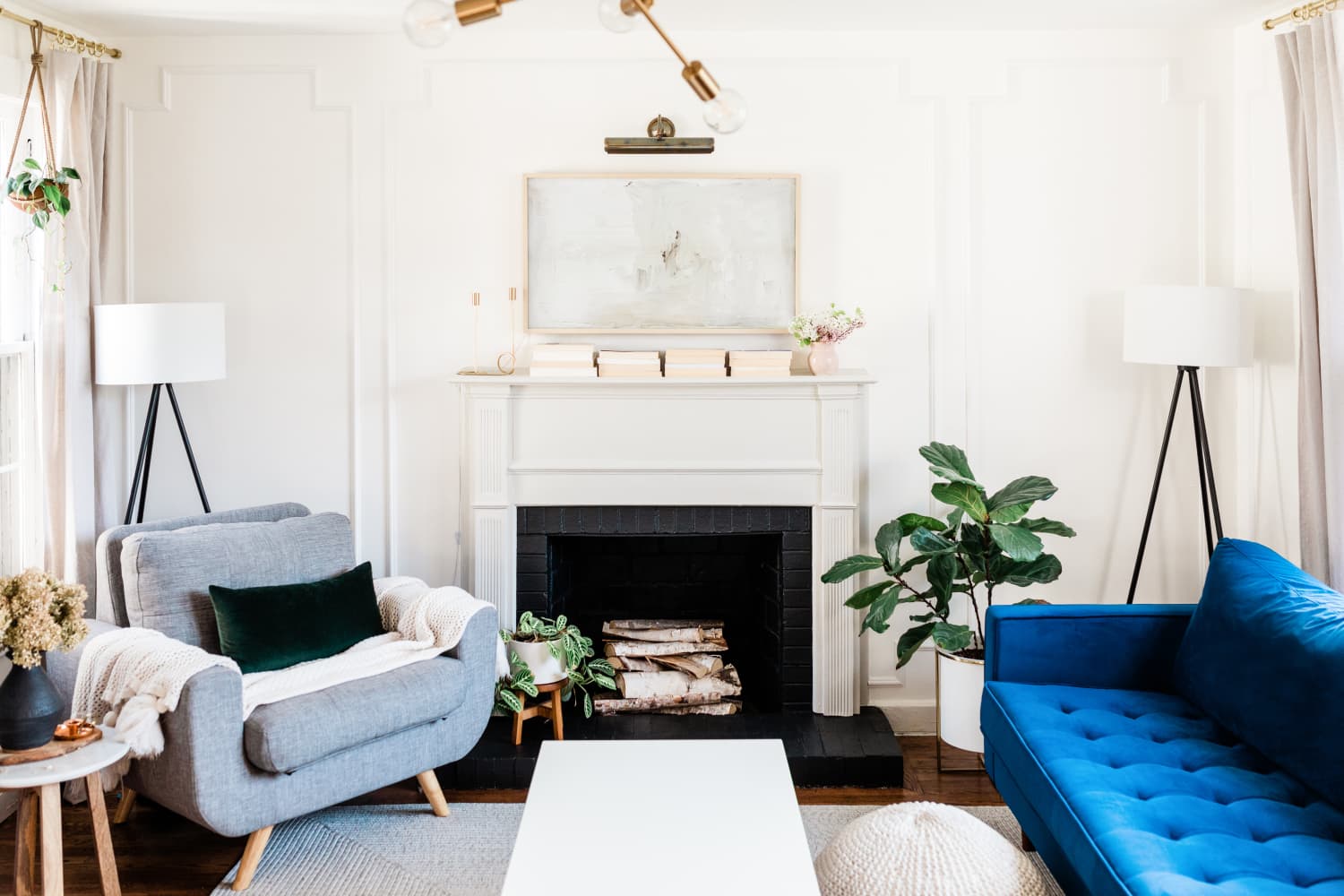 Name: Amilia James and her dog, Charlie
Location: Knoxville, Tennessee
Size: 960 square feet
Type of home: Single-family home
Years lived in: Two, owned
Amilia James' Knoxville, Tennessee, house (aka the Rose Door Home) has always given her positive vibes, including when she first visited it a little over two years ago. "I remember seeing my house listing in the morning while I was at work," she recalls. "I texted my realtor, and a few hours later we were at the house. I spent about five minutes in the home before deciding to put in an offer — I just had a good feeling about it! That evening, my offer was accepted."
Over the past 16 months, James — who is a licensed clinical social worker and professional photographer — has spent way more time in her home than she probably anticipated during that first viewing. In addition to working from the dining room, she's used the time to dive into an assortment of colorful and functional DIY projects, from building an emerald green window seat to painting a "mini mural."
As a therapist, James explains,"I spend most of my days sitting with other people who are struggling. It's a real honor to get to do the work that I do, and there are times when it can feel really hard. It's important for me to have a space that feels cozy and comforting. It's also been so helpful to have a creative outlet through doing home projects. There are few things more satisfying than a great before and after picture and to feel the pride that I made it happen myself!"
Apartment Therapy Survey:
My Style: I've been inspired by 1940s home design, which is a little mid-century, a little traditional, and a little art deco. I love mixing traditional design, like wall molding, with mid-century furniture and bold wallpaper. The longer I've lived here, the more comfortable I've become taking design risks, like adding pink tile in the kitchen, painting scallops around my doorways, and building an emerald green window seat. My home is over 80 years old and definitely has its imperfections. Embracing my home's quirks has allowed me to let go of some of my perfectionism. Things change and warp and age, and it's absolutely OK.
Favorite Element: The first thing I noticed when I saw my home the first time was how many windows it has! The house still has the original wooden windows and so many of them. My house is light and bright year-round. My other favorite thing has to be my pink doors. Painting my doors pink was the very first project I did before I had even moved in.
Biggest Challenge: The back entryway of my home, the one I use most often, also serves as the laundry room. When I moved in, the entryway wasn't set up for a stacking washer/dryer so I had them awkwardly side by side. There was no space to put my shoes or coat when I walked in the door, and doing laundry was not easy. I decided that I wanted a stackable unit, which required cutting a new dryer vent in the side of the house. I also wanted to increase storage, and so I built an enclosure around the washer and dryer with shelving. This was my first big build project, and I am so proud of how it turned out! The entryway is now super functional. I store my shoes, cleaning supplies, and Charlie's supplies in baskets, which are both cute and functional.
Proudest DIY: I think I'm most proud of my laundry room custom built-in DIY. This was the first build I'd ever done, and I learned so much. I finished the laundry room right as the pandemic started, which kicked off a year of me being stuck in my house and doing every kind of DIY imaginable. I've built my own dining room table, built a custom window seat, painted a mini mural, added molding to the walls, installed a new bathroom vanity, and the list goes on and on. Tackling that laundry build gave me the skills and confidence I needed to dive into more DIY projects.
Biggest Indulgence: I invested quite a bit of money in my outdoor patio seating and fence. This was hands down the best money I have ever spent. During COVID, I wasn't able to hang out with my friends inside, and we spent so many hours together on the patio with my dog, Charlie, running around in the yard. This past year was really hard on my mental health. I was living alone, isolated, and pouring a lot of emotional energy into supporting my therapy clients. Having my yard was invaluable in supporting my mental health, and I will be forever grateful for that space. This year, I've built several raised beds and have dreams of a luscious garden with climbing roses and cut flowers.
Do you work out of your home? If so, how do you make WFH work for you? Last March, I transitioned from working in the office to working from home in the course of one weekend! I very quickly had to set up a work space in my dining room. I ended up building myself a new dining room table, designing a gallery wall, building a window seat, and adding wallpaper. It was quite the room transformation! It ended up being a really great space to work in. I just recently transitioned back to working in the office several days a week, and I'm thinking about what changes I want to make to reclaim my home from my impromptu office setup. Life transitions can be hard, and sometimes it's helpful to think if there's a way to make changes in your environment that help support you as things change around you.
How does your home help you feel healthy (in whatever way that means for you)? I'm a therapist, and so I spend most of my days sitting with other people who are struggling. It's a real honor to get to do the work that I do, and there are times when it can feel really hard. It's important for me to have a space that feels cozy and comforting. It's also been so helpful to have a creative outlet through doing home projects. There are few things more satisfying than a great before and after picture and to feel the pride that I made it happen myself!
How does your home help bring you joy? This past year, I haven't been able to host many people in my home because of COVID. I am so excited to be able to host friends in my home again! It brings me joy to create a space that feels comfortable and welcoming for others. I never want my home to feel "too perfect" that other people can't come in and make themselves comfortable. I'm also strategizing how to make my home more functional for hosting, like buying some additional seating (and plates!).
How have you set up your home for self-care? One of my greatest forms of self-care is reading, and my home is certainly set up for lots of cozy reading spots! Whether I'm curled up on the couch with Charlie, taking a bath, or in my big, comfy outdoor chair, I can escape to fictional worlds.
What are your favorite products you have bought for your home and why? I will forever be obsessed with this little Bluetooth radio. I play music all the time, and it's just too cute! I also love the vintage pieces I have in my home. My grandparents bought me my vintage mid-century credenza the first time they came and visited me at a local shop, and I couldn't love it more.
Please describe any helpful, inspiring, brilliant, or just plain useful small space maximizing and/or organizing tips you have: Like many old homes, my house does not have a lot of storage or closet space. I've learned to take advantage of vertical space for storage — for example: building shelving around the washer dryer, adding floating shelves in the kitchen and bathroom, and adding shelves in closets. I've also learned to take advantage of any time you can get furniture pieces that also double as storage. You wouldn't know it, but I have an air mattress stored in my beautiful vintage credenza in my living room!
Finally, what's your absolute best home secret or decorating advice? Do what makes you happy! We spend far too much time in our homes to not love the spaces we live in. As someone who has moved around a lot, it took a little while for my home to feel like mine. I hesitated to personalize a lot of my spaces because I was worried that I would move in a couple years. But no matter how much time I have left in this home, I will never regret the time, energy, and money I have put in to make it mine.
This house tour's responses were edited for length and clarity.
Apartment Therapy's Healthy Home Issue was written and edited independently by the Apartment Therapy editorial team and generously underwritten by Dyson.