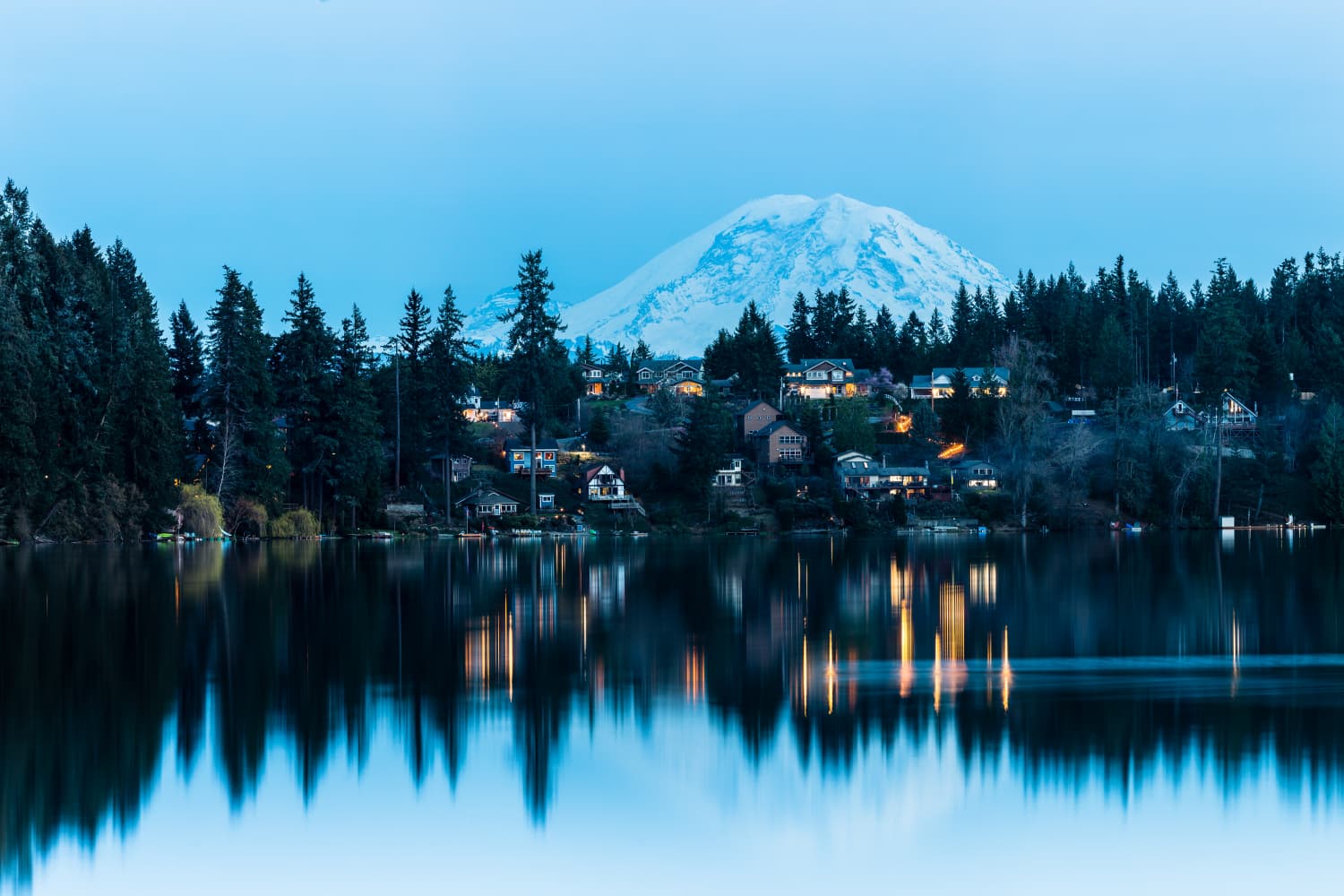 "It took 28 offers for us to buy a house in Seattle," a Reddit user shared in a recent post. "They will have to bury me in this house. I'm never leaving."
That experience is actually common in the hot Seattle real estate market, so many home shoppers are looking to the suburbs to score a better deal. Though the median home value in Seattle is $863,058 and the median monthly rent is $1,595, there are still nearby suburbs with homes for under $600,000. Here are five affordable suburbs of Seattle to consider packing up for.
Median home value: $556,979
Median monthly rent: $1,275
Home to airplane manufacturer Boeing, you'll have plenty of career opportunities in this waterfront community 30 minutes north of Seattle. Everett has a charming downtown complete with a dreamy historic theater. A $3 ferry ride gets you to Jetty Island, the longest stretch of sandy beach in Puget Sound. Breweries, restaurants, and distilleries also abound here.
Median home value: $593,722
Median monthly rent: $1,410
Thanks to a new light rail station that will connect Mountlake Terrace to Seattle, this affordable suburb is worth a look. Seattle real estate agent Jia Tang recommends Mountlake Terrace to commuters because I-5 gets you to Seattle in 15 minutes. In addition, restaurants, cafes, and parks make Mountlake Terrace a popular (but not too popular) place to live.
Median home value: $815,365
Median monthly rent: Unavailable
If you're the outdoorsy type, Duvall is the suburb for you. Tang says Duvall offers many hiking, biking, and trail running spots. More rural than the other options on this list, Duvall offers quieter living, charming local shops, and a 35-minute drive to Seattle. There aren't many rentals in Duvall, so this area is best for buyers.
Median home value: $795,218
Median monthly rent: $1,473
Tang recommends this waterfront town for its mix of urban and suburban living. Spend the day in Edmonds exploring the farmers market and local beaches, or drive 20 minutes south to Seattle for big-city amenities. "Edmonds is affordable, very safe, and there are good schools," she says. "A lot of people come here to retire because there are lots of condos with water views."
Median home value: $654,202
Median monthly rent: $1,778
Maple Valley is a growing commuter town 30 miles southeast of Seattle, where new subdivisions, communities, and local businesses pop up frequently. "It's a great place to raise a family because housing is still relatively affordable, and there's land for new construction," Tang says.
You'll have access to all the nature you can handle. Take a sunny stroll through Lake Wilderness Arboretum or hike the Maple Valley Gnome Trail (yes, really) with the kids. It's also an easy seven-minute drive to Tiger Mountain State Forest, a beloved 13,745-acre hiking destination with hiking trails, camping spots, and classic Pacific Northwest scenery.
Competition is stiff right now, but hang in there. Seattle real estate agent Katie Melton tells her clients that aiming for the suburbs allows more room to compete. "It will happen," she says. "A lot of factors are working against you in this market, so it's not you." She recommends not getting too emotionally invested in a home until you sign a contract. "I also remind clients that they will be successful in their search," she adds. "I've never had a client not get a house."