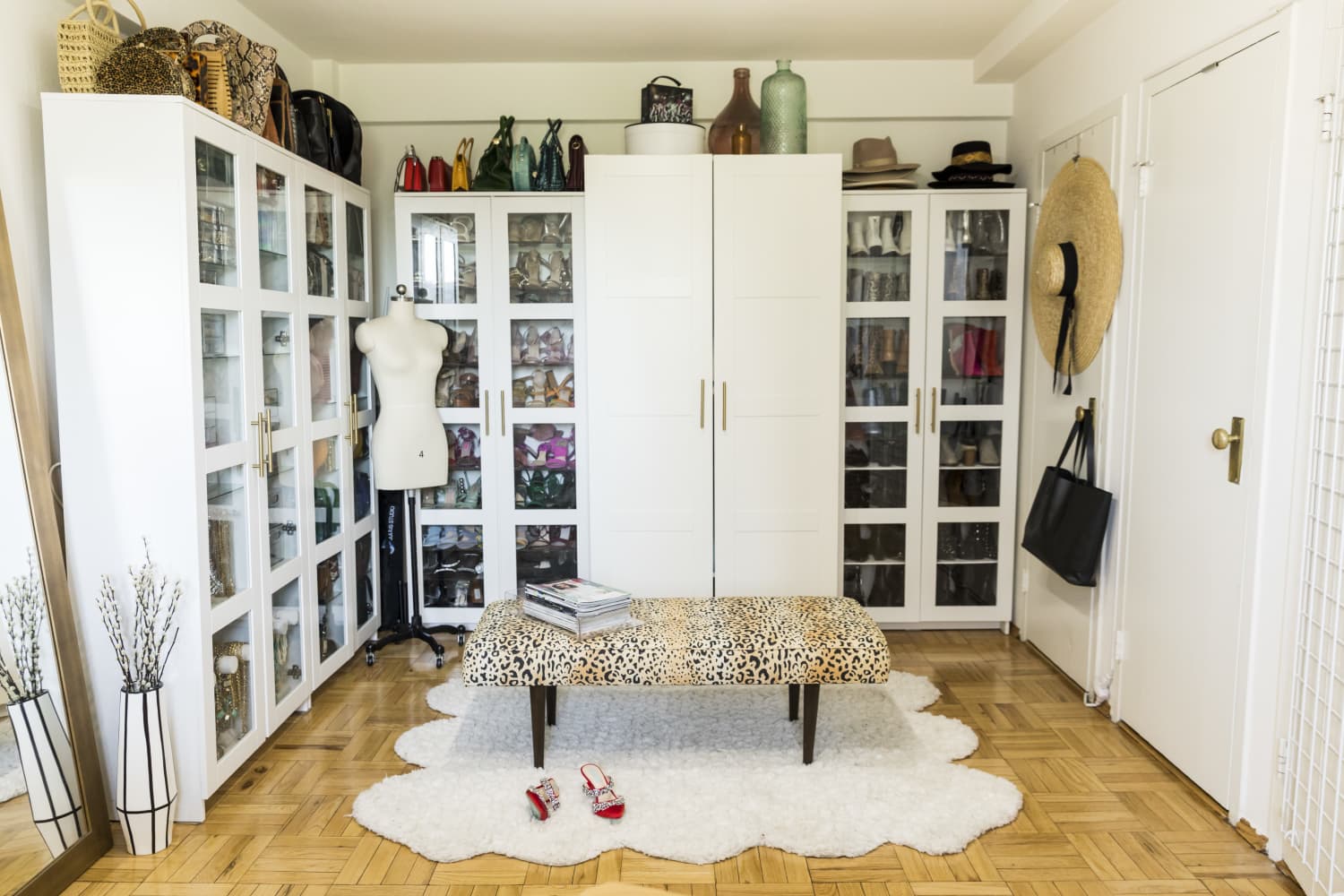 We independently select these products—if you buy from one of our links, we may earn a commission.
Lopez used a PAX wardrobe with BERGSBO doors tricked out with brass pulls from Amazon and something a little more unexpected: four BRIMNES glass-door cabinets that you might recognize from the dining and living room pages of IKEA's catalog. "I have a lot of clothes and accessories as a stylist and influencer," she says. "So I needed ample space to showcase everything and have it stay organized." You might not think to use a china cabinet in your closet or bedroom, but these typically glass-front pieces can actually be perfect for shoe, bag, and jewelry storage in particular. Not only do the four BRIMNES allow Lopez to put her pieces on full display with easy access, but this kind of a cabinet can be cheaper and just as functional as something that's labeled or designated as a "wardrobe," particularly at IKEA.
Want even more details on creating a walk-in like this from scratch? These six easy tips will help you further transform an empty room, corner, or larger walk-in closet into the bespoke wardrobe of your dreams.
Sometimes, the simplest changes can make the biggest impact. An easy change you can make to immediately elevate your wardrobe or china cabinet closet is switching out the pulls. Amazon sells cheap, stylish dresser knobs that you can easily install yourself. Unlike dressers, the cabinets you'd use in a dressing area or closet tend to have two doors, meaning you only need two pulls. You may want to opt for longer pulls to act more like handles. That kind of silhouette will offer more function and style.
Utilize more than one wall
One thing that makes wardrobes and walk-in closets feel so fancy is being able to step into them. Even if you don't have an entire room to transform, utilizing more than one wall and taking advantage of a corner can make your design feel more distinct and intentional, particularly if you're creating a dressing area in part of your bedroom like Lopez did.
Work the top of your cabinetry
Custom wardrobes are built to fit perfectly in your space and typically stretch all the way up to the ceiling. With ready-made pieces like ones from IKEA, different product heights typically aren't offered. So in this case, you gotta work with what you've got. That being said, the top of your cabinets can offer an additional option for storage and visually close that awkward gap near the ceiling. Taking advantage of this space continues to draw the eye up, even when the cabinet stops, making the space look full and finished.
Create a focal point with a different cabinet
As if a full wall of beautiful cabinetry with shiny glass doors isn't enough, try adding a little bit of closed storage like Lopez did with the PAX. You may think that every cabinet you use should be the same style, width, and color, but one similar but using slightly different pieces can really make a statement. It can also offer some visual relief if you feel like shiny glass, for example, is a little too repetitive. Your statement cabinet can even be a little deeper or wider than the other cabinets to give your "custom closet" a little more variety.
Whether you're decking out your existing closet or transforming a room into a wardrobe, lighting sometimes feels like an afterthought —but investing in a few LED closet lights can work wonders for your wardrobe. You can get the ones that you have to manually turn on, remote-operated models, or the motion sensor lights that come on as soon as you open the door. Whatever you choose, putting lights in your cabinets adds more function and a fancy, techy touch to your wardrobe, too.