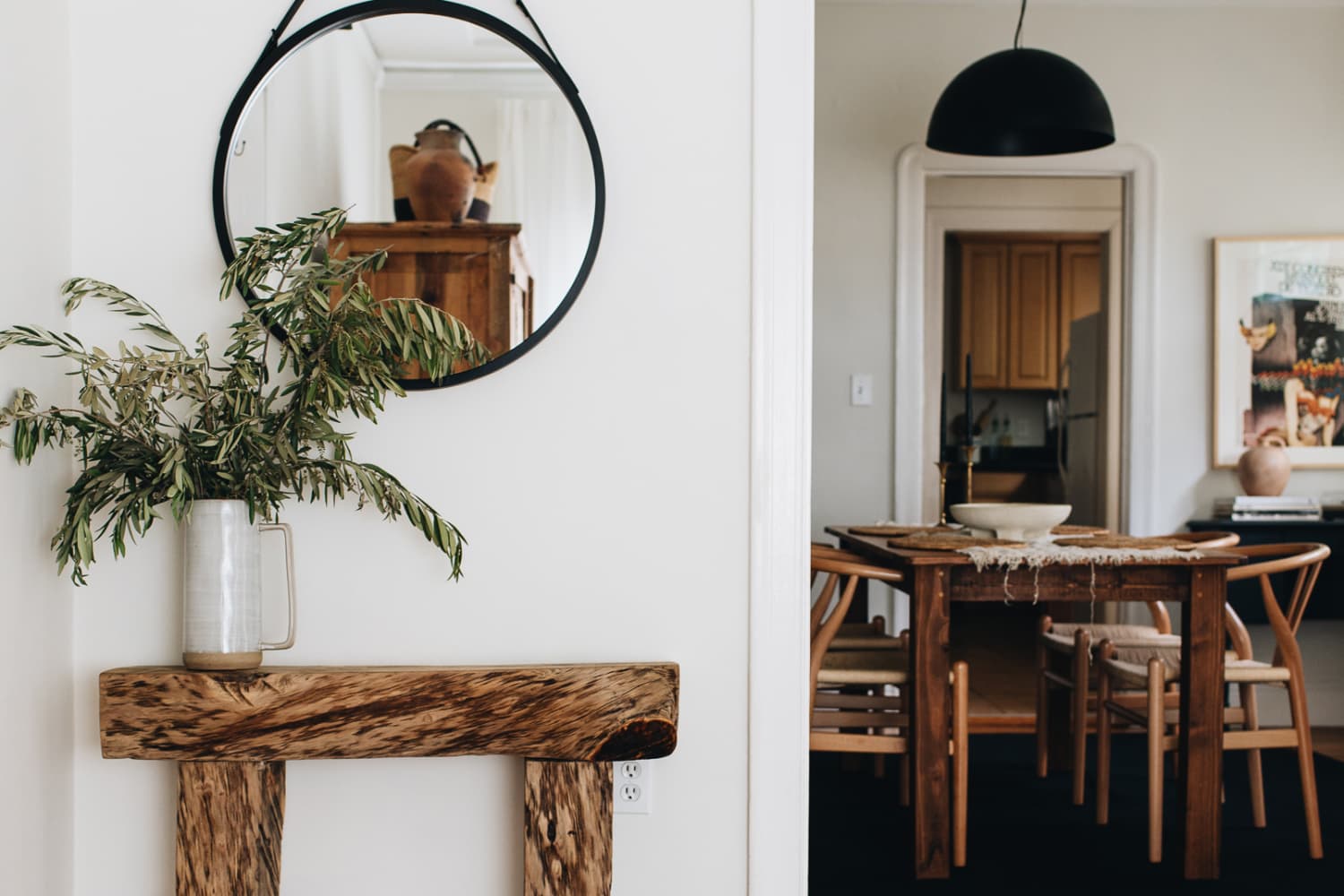 We independently select these products—if you buy from one of our links, we may earn a commission.
Name: Sequoia Del Hoyo, partner, Jason, and 4-year-old son, Joaquin
Location: Oakland, California
Type of home: Apartment
Size: 1,000 square feet
Years lived in: 9 months, renting
Tell us a little (or a lot) about your home and the people who live there: I moved into this little Oakland apartment by the lake in the middle of the pandemic, needing a fresh start. My partner, Jason, and my son, Joaquin, are each here about half-time, so the space also needs to serve as a warm landing pad for us all.
We love to run around and play in the apartment, so everything has to be durable and/or washable! I own a restaurant and a Mediterranean lifestyle company, and Jason is a landscape designer. We love to move things in the apartment around, bounce ideas off of each other, and make art together. One of our favorite rituals is piling up in bed in the morning and drinking tea together as the sun comes up.
I am Catalan-American, my partner is Japanese-American. Our home is inspired by the architecture of Barcelona and the Japanese concept of wabi sabi. We love earth tones, texture, patina, natural grain, and all things that get better with age.
Describe your home's style in 5 words or less: Mostly thrifted California Mediterranean casual
What is your favorite room and why? My favorite room is the dining room. We are a household that loves to cook and eat, so we usually spend our mornings and evenings sitting around the farm table. Plus it's where the record player is. We purposely placed the record player near the table so that as we take our time with meals we can listen to music!
What's the last thing you bought (or found!) for your home? Technically we didn't buy it or find it, but the last thing we brought into our home is the beautiful entryway table that Jason made. He's a skilled arborist and planed the wood himself from a tree he cut down. My favorite part is the big knot in the wood that sits in the corner.
Any advice for creating a home you love? This last year has been a total rebirth for me and a lot of that has been letting go. Let go of things that you have been carrying around with you or storing that no longer serve you. Then find the pieces you really really love, and build your space around them. I love to incorporate vintage pieces whenever possible, not only because it's eco-friendly but because you know that they can stand up to the test of time.
Don't rush! Wait until you find the perfect piece, and enjoy the process. You have a lifetime to build it and it won't happen overnight. It also helps if your home is mostly creams and neutrals like ours, to play with textures and layers building interest. But mostly, make it yours, and do what feels good to YOU.
This submission's responses and photos were edited for length/size and clarity.