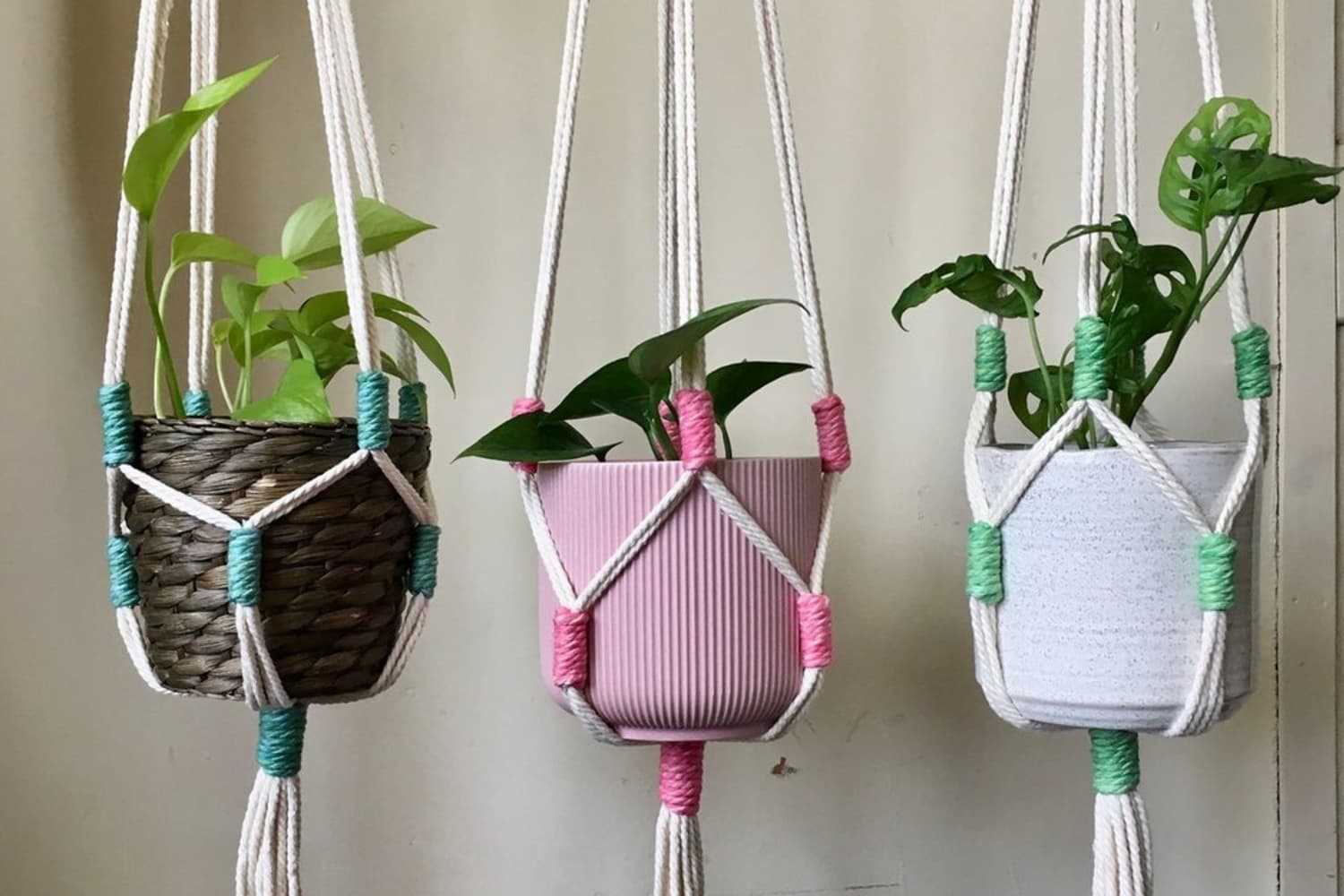 We independently select these products—if you buy from one of our links, we may earn a commission.
Whether you're pulling out your bottle dye, powder, or experimenting with natural dyes like avocado pits or flowers, dyeing is a fantastic way to change up your home's vibe without having to buy anything new.
Re-using items you already own in a new way is not only a great way to save money, but it also uses your creative skills — playing with dyes can be an artful and fun process! I recently dyed my white pillowcases and duvet cover a shade of blush to go with my new bedroom color palette, and now anytime I look at something, I think, "Could I dye that?" (If you've ever tie-dyed a shirt or a pair of socks, you know the feeling I'm talking about.)
All dyes work a little differently, says Helena Kim, brand manager at Rit and an expert at dyeing. But a good all-purpose dye can cover a lot of bases — and Rit's DyeMore for Synthetics line can even cover even plastic items like sunglasses and buttons.
If you're wanting to delve even further into the no-buy zone and go with the botanical dyeing route, artist Madeleine Provost (@mad_provost) says that when looking for inspiration or dye sources, they're likely all around you.
"Get curious about what grows in your environment. There are lots of plants growing, even in an urban city like NYC — they might even be considered weeds — that you can use to refresh a loved garment or bedding linens," she says.
Not everything will create a color that is pretty, concentrated, and has staying power, but some good bets include avocado pits (pink), black beans (blue), red cabbage (purple), yellow onion skins (yellowy orange), and turmeric (yellow).
Regardless of the dye or method you use, there are a lot of things you likely already have that are totally dye-able if you want to create a fresh new look. Here are 11 smart ideas to get you started.
The process is similar to dyeing a garment: Create a dye bath, soak for 10 minutes to an hour (depending on the color you want to achieve), rinse, wash, and voila!
Wooden Vases, Candle Holders, and Beads
Dyed wood is stunning and can offer a more interesting finish than paint. However, all wood is not created equal. Rit writes in their how-to that pine and wicker will absorb their dye easily, while other less-absorbent woods like oak and cherry might take a few coats.
Kids' Blocks and Other Toys
Jason Brown of Wood Rock Blocks uses food coloring dye on wooden blocks for easy, brightly colored kids' toys that are also nontoxic.
"You can use regular grocery store bought food coloring, and I also used food coloring gel that can be bought at Michael's," says Brown. But he offers a word of warning: "Always wear gloves!"
OK, this one I did not see coming. But if you've taken up the increasingly popular pandemic hobby of roller skating, yes, you can dye your roller skate wheels. Just follow Tiffany of Skating + Sewing's lead. To get her picture-perfect wheels, she used synthetic material-friendly dye and followed its instructions.
Even if you don't roller skate, let this inspire you to try dyeing any porous plastic items that need a new life — maybe a desk organizer, a phone case, or — like Kim suggests — sunglasses or buttons.
Again, the options are limitless when it comes to working with dyes, and any kids you have in your life will love this tie-dye tent.
This process is a little more involved, as you'll need to tie-dye it by section, but once you've got the hang of tie-dyeing, the process is enjoyable.
Macrame artist Emily (@stringsonsticks) adds some fun color pops to her hanging planters through dyeing. She advises beginning dyers to not take it too seriously — just play.
"The first time you dye, it's hard to know what color you'll get because all materials absorb it differently, so don't be discouraged if it's different than you expected," she says.
Dip dyeing candles is a great way to exercise your creativity and give some life to any plain cylindrical candles you have lying around. If you've got a slow cooker, you're in business. See the whole process here.
Fiber artist Bridget (@bridgetcetera) creates beautiful tapestries and art using her avocado dyed yarn. Yes, avocado — as in avocado toast — can create these beautiful colors.
"When dying with avocado seeds and skins, expect it to take a long time," says Bridget. "Put it on low heat, let it soak for a few hours, turn the stove back off for a few hours and repeat. Do this for a minimum of three days."
Madeleine Provost (@mad_provost) dyed silk with natural dyes to create this stunning artwork collection. You can make something similar using scrap fabric stretched over an old canvas for display.
If it's your first time working with natural or botanical dyes, Provost says to not be intimidated.
"There is no right and wrong with natural dyes, so enjoy the process!" she says. "Some of my favorite things I've made have been 'mistakes.' It's such a beautiful craft that continues to teach me all the time."