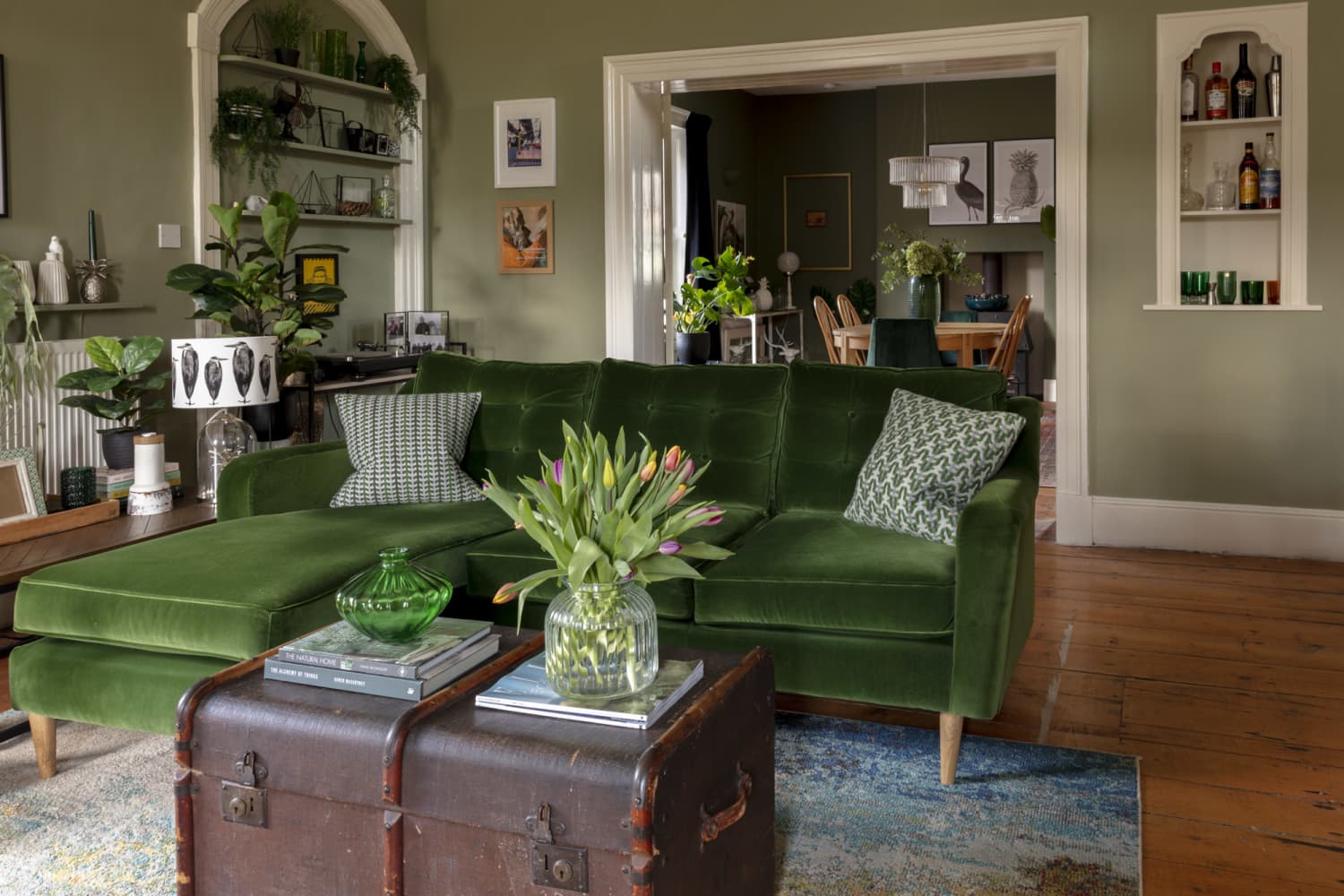 We independently select these products—if you buy from one of our links, we may earn a commission.
Name: Sharon Lomas, Garry Lomas, Max the Cocker Spaniel
Location: Cumbria, United Kingdom
Size: 2000 square feet
Type of Home: Four-bedroom Victorian Detached Rectory
Years lived in: 14 months, renting
Our home is a Victorian rectory, which was originally built for a brewery owner in 1861, the old brewery mill is still nearby and his initials are carved in the stone above the door. I have always loved Victorian architecture and our home is full of original period features such as high ceilings, original timber floors, sash windows with shutters, and a sandstone fireplace. It's really a dream come true to live in a house like this where the sense of history is tangible. We discovered this village by chance while on holiday and fell in love.
We are in a secluded area of a national park, which means we have all the benefits of the breathtaking landscape yet without hordes of tourists. What we love most about the area is having mountains, lakes, and moorlands on our doorstep, and we are only 20 miles from the coast and we can see Scotland on the horizon. We moved here because of our love of nature and the landscape. My husband Garry is a landscape and wildlife photographer and I am a biophilic interior designer, so living so close to nature has always been our dream and inspires our work.
Apartment Therapy Survey:
My Style: I would say my style is maximalist; I love color and pattern. I am particularly obsessed with the color green and have a love affair with plants.
Inspiration: I love nature; being cocooned by the landscape is very important to me, which is why we chose to live in this area. The whole region has an atmosphere like no other place I've lived. Having such a close connection to nature makes me happy, nourishes my well-being, and this is my inspiration.
I have reflected this love of nature in my home, using the principles and patterns of biophilic design to create a restorative and nurturing interior. I took my inspiration for my mostly green color palette from the natural spaces I love and filled my spaces with plants. Living with plants is very soothing to me and I love to nurture them and watch them grow. Every texture I use is natural (wood, linen, sheepskin, cotton, velvet, silk) and I use representations of nature in patterns for textiles and artworks. I like every view in my home to connect to nature either directly or indirectly. I have created a home to reflect my love of green landscapes and woodlands, which is where I feel at my most calm and centered when in nature.
Favorite Element: My favorite room is the sitting room, which opens to the dining room. It's on a south to west position and has five windows across the whole space, which brings so much natural light. The rooms have high ceilings, thick stone walls, original floor boards, sash windows, and a sandstone fireplace. The sitting room is where I retreat to after a busy day and the calming greens make this a very restorative space. It's painted in Cley by Fenwick & Tilbrook, which is the perfect backdrop for my vintage furniture pieces.
Biggest Challenge: My biggest challenge is living in rented accommodation and not being able to change some elements of my home that I would like to if I owned it. The kitchen and bathroom for example are not to my taste but I am lucky I am allowed to decorate. I am always thrilled by just how transformative paint can be to a space; paint and decorating with plants has been a way to disguise the areas of my home I would like to change.
Proudest DIY: As someone who is terrified of heights, my proudest moment was painting the sitting room walls. I know this is quite a simple job for many but I really hate being up a ladder and our ceilings are really high. To have managed to complete this job (no decorators available during the early days of the pandemic when we moved in) was a huge achievement for me. And I managed to get good straight lines without the use of tape! The money I saved on having a tradesman was put to good use and paid for the chandelier in the dining room.
Biggest Indulgence: My biggest indulgence has to be my handcrafted green velvet sofa by Living Room UK and it was totally worth it. Most of my furniture is vintage and junk shop finds but a sofa is a real investment. I know I will have it forever, it's so beautifully made, the velvet is so luxurious and it's the most comfortable piece of furniture I have ever owned.
Is there something unique about your home or the way you use it? There is nothing really unique in the way we live in our home, rather the home itself is unique. One of the many period features is a large half landing on the staircase, which has a huge picture window. The east-facing window brings in beautiful soft morning light so I've made the space into an indoor garden, which my plants love.
What are your favorite products you have bought for your home and why? The latest addition (and current favorite) to my home is a nature-inspired botanical wall mural in my bedroom. The design is called Sovana by Les Dominotiers and it fills one wall with green trees.
Not only does it make a dramatic statement in the room but also connects the space to nature through its design and color. I wanted to create a nature-inspired haven to relax in. I sometimes go into this room and just sit and look at it; it makes me smile so much.
Please describe any helpful, inspiring, brilliant, or just plain useful small space maximizing and/or organizing tips you have: Before living in this house I have always lived in homes that were tight on space with little storage so one thing I have learned is that what I own must fit the storage I have. This means regular decluttering. When I have a pile of stuff I think I want to keep but don't really have room for, I put it in a box, then if I haven't used anything out of that box in 6-12 months I send it to the charity shop
What most people get wrong about using color in their home: I think many people are afraid of color and when they use it can be a bit half-hearted. Especially wall colors. It's only paint; if you don't like it is easy to rectify but I believe if you try being bolder you will surprise yourself.
What are the biggest tricks/secrets to using color in decor? For me the biggest secret to color is finding the ones that you make you feel something, that you have a connection to. Don't go for a trend because it's the color of the year, find a space or place that makes you feel happy and calm (for me it's out in woodlands) and take your inspiration for a color palette for your home from that place. This is how I develop design concepts for my clients.
What's your favorite wall paint color of all time: That's easy, it would have to be "Cley" by British paint company Fenwick & Tilbrook. It's a wonderful mid-tone green and I think its tone works perfectly with vintage furniture. Fenwick & Tilbrook paints have so much depth of color and are absolutely beautiful to work with. I love this color so much I have it in my sitting room, kitchen, study, and cloakroom!
What's your absolute best home secret or decorating advice? My advice would be don't be a slave to fashions or trends and follow your heart. If you fill your home with things that you love and connect to, they don't date or fall out of fashion. I design my spaces with colors, textures, and pieces which make me smile every time I look at them. I have a passion for vintage pieces and for me these make my home unique; I love the sense of history they bring as well as being a sustainable way to furnish my home.
This house tour's responses were edited for length and clarity.