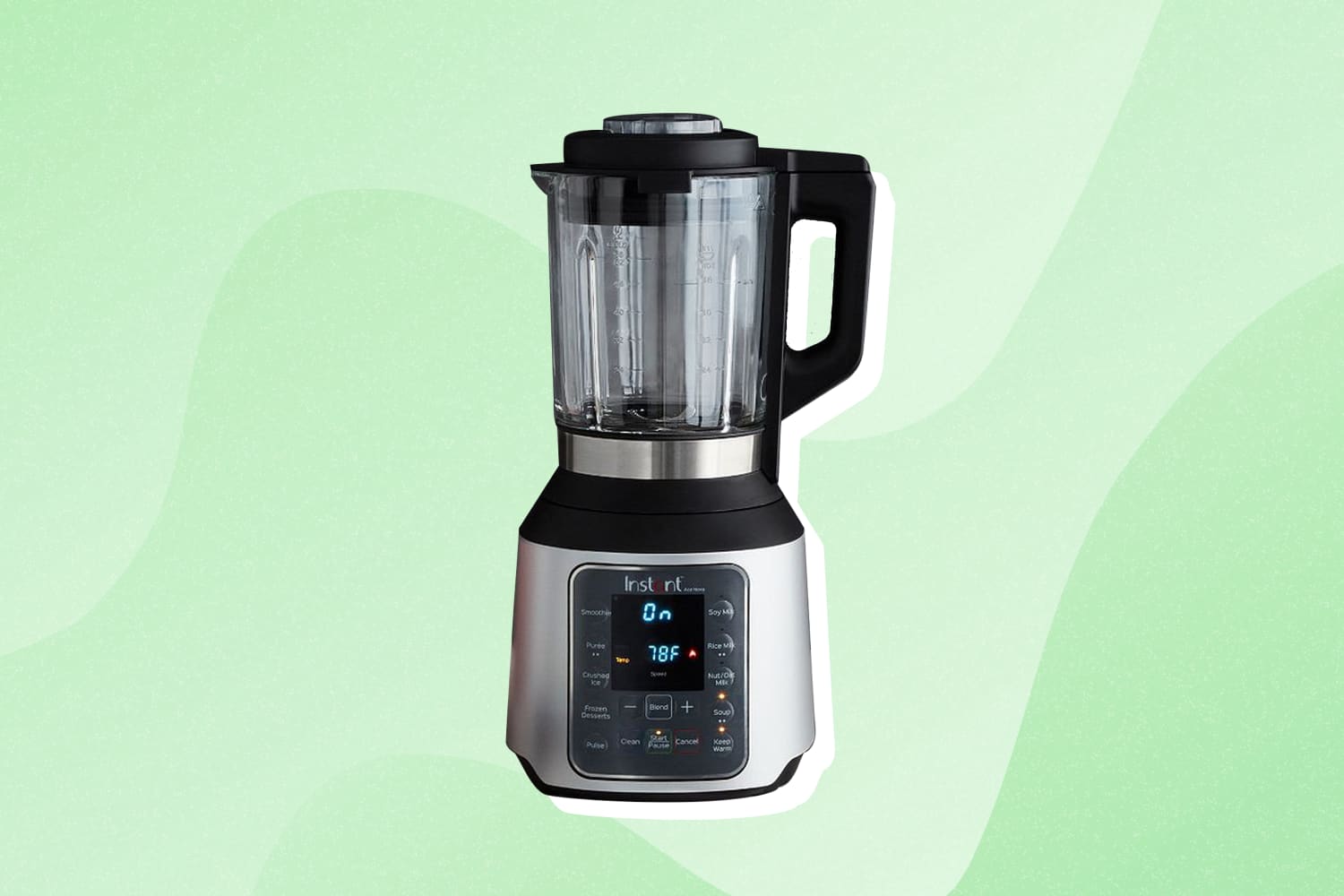 We independently select these products—if you buy from one of our links, we may earn a commission.
In the middle of the summer, there's nothing more refreshing than a fruity smoothie or a yummy glass of frosé. If you want to try your hand at making some yourself (and avoid spending $18 for a single frozen drink at that rooftop bar), then you're in luck: The Instant Ace Nova Blender is on sale right now for 50 percent off. Not only does this blender boast the high quality of all of Instant Home's products, it's got the bells and whistles of a fancy blender at a fraction of the price — it's currently retailing at just $59.99 (normally $119.99)!
This versatile blender comes with nine pre-programmed settings: smoothies, purée, crushed ice, frozen desserts, soy milk, rice milk, nut milk and oat milk, chunky or creamy soups, and keep warm. Basically, you can use it for pretty much anything — reviewers report loving it for whipping up potato soup, baby food, applesauce, frozen cocktails, hot chocolate… the list goes on. Plus, the blender has 10 manual speed settings for extra control.
The Instant Ace Nova Blender comes with eight stainless-steel blades that will quickly and thoroughly chop and grind your ingredients, whether they're hot or cold. You can fit up to 56 ounces — about eight small smoothies — into the heat-resistant glass pitcher, making the blender a great tool for food prep or serving a crowd.
The handy keep-warm setting keeps your meal hot and fresh, while the pulse setting can chop through tough frozen foods. Other unique features include the digital screen, which displays the temperature inside the pitcher as it changes, and the built-in safety measures, including overheat protection, auto-off, BPA/PFOA/PTFE-free material, and more.
One of the best parts about this product is how easy it is to clean. The self-cleaning program allows for hands-free wash-up — just pour in some water and a few drops of dish soap and press "clean" — and the blender comes with a brush for scrubbing and spot-cleaning. The brush can be conveniently stowed inside the dishwasher-safe tamper, which also features a concealed measuring cup. According to one happy customer, the tamper comes in handy when making ice cream and smoothies with frozen fruit, saying, "You just press the pause button, use the tamper, and then restart when you are done and the countdown continues where you left off." As an added bonus, the blender also comes with a lint-free strainer bag for nut milks and other homemade liquids.
The price of this incredibly versatile blender is currently slashed to just $59.99 — aka the price of three restaurant glasses of frosé, plus tax. So whether you're wanting to whip up some smoothies and sorbets for summer or looking ahead towards warm, wintery soups, snag this multitalented blender on sale while you can!