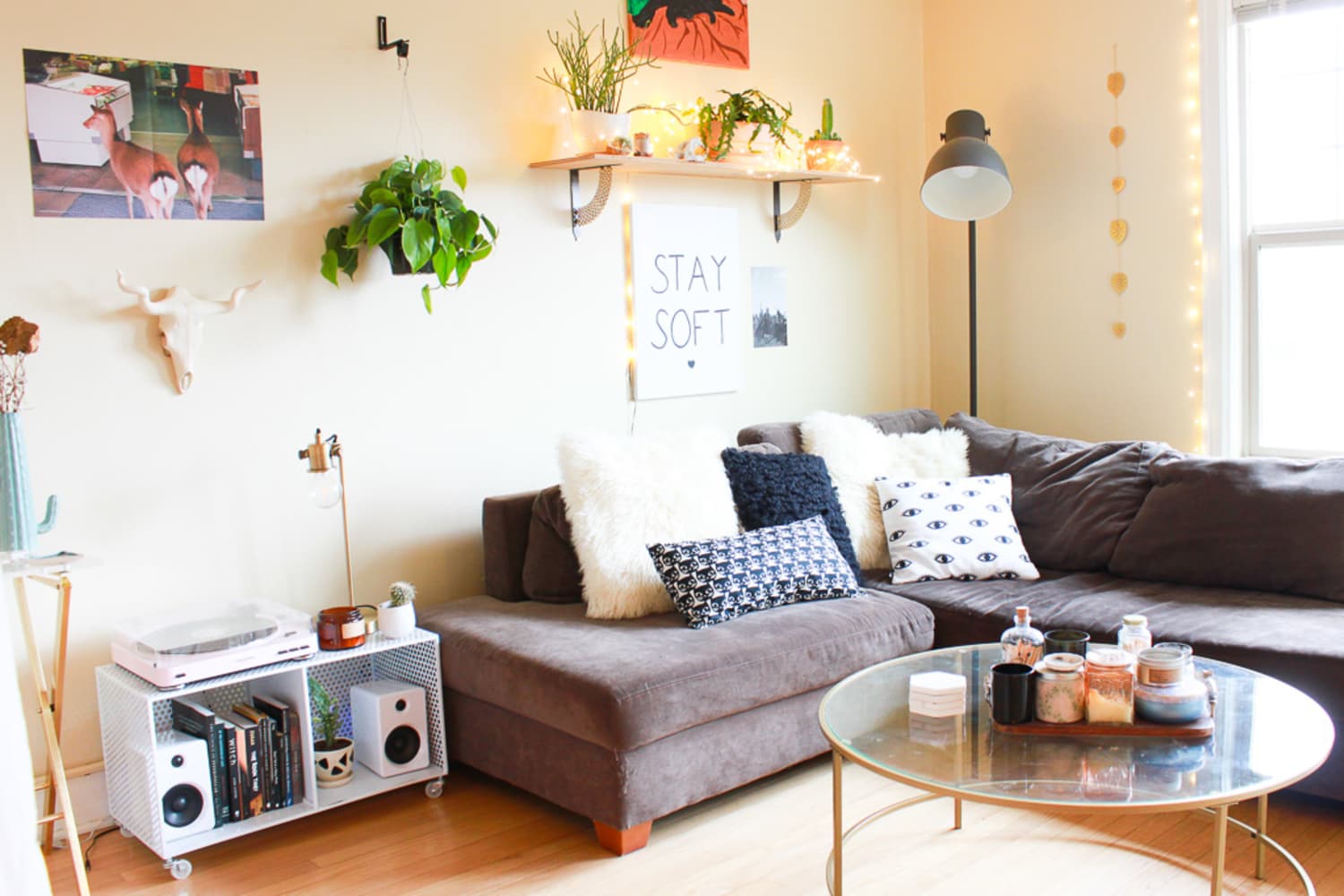 Before Tori Saylor was diagnosed with multiple sclerosis, she didn't put much thought into her apartment. She had just two plates, two forks, and two spoons in the kitchen; her bed sat on a collapsible frame without a headboard. Tori describes her pre-illness living style as "bare bones bachelor pad" without pictures, decor, or even chairs — but after she became sick two years ago, her apartment became something other than just the place she slept at night.
Post-diagnosis, Saylor's reprioritized. Aesthetically pleasing objects like her "gorgeous dusty blue couch" help her feel better about being at home, and anything that makes her life a little bit more pleasurable (like her coffee frother) or a little easier (like her shower chair) have value. Yet it was the latter detail that took a while for her to accept: Heat can be a trigger for her symptoms, and if she took a hot shower while standing, she would get so tired afterwards that she needed a nap. At first, her pride stood in the way of purchasing the chair, and she had to work through complicated ideas about disability and assistance.
"Once you give up this stigma related to aids, your life gets so much better," Saylor said. "I don't dread taking showers anymore. I can enjoy hot showers."
Not all of the changes have been strictly practical. Next to her coffee machine, Saylor has a sign that says, "I like my coffee hot, just like I like my wife." The sign makes her laugh and that's its entire purpose. "Everyday joy is a little bit harder to find," she said. "So I'm a lot more purposeful about creating little moments of joy that I can experience at home that I used to experience out in the world."
She's far from the only one. Due in large part to the stay-at-home orders and other safety precautions during the coronavirus pandemic, homes were suddenly more than just homes — they became where people ate, slept, played, worked, and rested. This isn't a novel concept, however: Many chronically ill people have been living like this before the pandemic and will continue to do so long after the last of the lockdowns are a memory.
Chronic illness — which medical experts define as a disease that persists for 3 months or more and cannot be prevented by vaccines or cured by medication — necessitates figuring out a way to make your home a comfortable, safe place to spend so much of your time. It's estimated that six in 10 American adults live with a chronic disease, and as Professor Katie Lorig, Dr.P.H. said in an interview with the Kaiser Family Foundation, the tasks of the chronically ill are three-fold: they have to deal with the medical management of their disease; they have to adjust to the reality of what they can do while sick; and they have to deal with the emotional impact of their disease. Each journey through chronic illness is unique. Some chronically ill people have to adjust their work schedule to accommodate a flare-up of their symptoms. Others try to choose furniture that will offer comfort in the midst of pain.
Colleen Koncilja, a therapist who works with people with chronic illness, says "comfort and ease go hand in hand. When we are comfortable, we tend to not struggle as much and we can preserve our energy." But setting up a home to be comfortable takes work, and a lot of trial and error, and a focus of Koncilja's work is identifying and implementing ways to make life easier, more accessible, less exhausting, and less painful. "If a person spends a lot of time in their bedroom due to their illness, we will work on ways to bring the things they value into that room," she says. That can take the shape of practical objects like medication, water, and snacks. It can also mean framing pictures the person wants to see or having their room painted a color they love.
Part of that ease for Saylor comes in living by herself. She relishes that freedom, so much so that she doesn't think she'll ever choose to live with a roommate again unless circumstances force her. "As chronically ill people, we are always attempting to make ourselves more manageable," she said. "We're always attempting… to be around other people in a way that's more comfortable for them. And home for me is the place where I don't have to do any of that." Living alone, she says, means she can sit in a yoga pose during a conference call because her multiple sclerosis is making her overheat — without anyone watching.
It can also be affirming for chronically ill people who live with others to be able to handle their own needs. LA Knight, who is disabled and chronically ill, keeps a grabber-reacher tool next to their bed so they're able to reach things, rather than call on their husband or two life partners to help. Her bedroom is set up to support their life, much of which she spends in bed. She installed a mini fridge in her room because she can't walk to the kitchen, and floating shelves around their bed to keep their medicine close. They have a space heater in case their illness leaves them shivering cold in the middle of a heat wave, as well as a moon-lamp because too much light can lead to sensory overload. She also keeps clothes folded in a basket next to her bed for easy access, all of which add up to ease of living and peace of mind.
"I became a lot less stressed when I finally had things organized so I could reach stuff," Knight said. "Now I'm able to be a bit more independent and I can get more of my responsibilities taken care of."
People who are chronically ill are often fatigued, Koncilja says, and have to preserve their energy as much as possible. Convenience and ease can be an important influence in setting up a home. Samantha*, who has Crohn's disease, set up her space to optimize her limited energy. "I put things around my house that are going to make sure I can use my energy in a smart way," she said. "Those are always things that people online are like 'this is so lazy, why would people do this,' but these are the things disabled people count on. Things that people think of as a luxury, to a disabled person might be a must-have."
Being able to access and afford services or items that help ease or avoid pain can be a lifeline for chronically ill people trying to manage their energy levels, keep up with their home, and be autonomous. In Samantha's case, that's her robot vacuum. For other chronically ill people, it may be a cleaning or laundry service. Samantha also utilizes auto-deliveries for everything from razors to toothbrush replacements, and especially heating pads which she relies on to ease her symptoms.
"All of being chronically ill is this game of how much energy you can save up for things you want," she said. And by having her toiletries delivered to her house, she saves the energy of a trip to the drugstore.
Beyond the practical struggles of chronic illness, there are the emotional needs that are thrown into stark contrast when facing so much time at home. Samantha lights candles to lift her spirits, and has turned to hobbies she can enjoy from home like writing, cooking, and reading tarot. She also has two cats who she says have been integral in terms of emotional support through the experience of being an immuno-suppressed person living by herself during a pandemic. "Having other living beings in the house to snuggle with and hang out with has been huge," she said.
When the pandemic hit and people sheltered in place at home, many able-bodied people turned to the coping mechanisms that chronically ill people already knew well. Many people invested in their spaces — some for the first time ever — and optimized their work stations, kitchens, living room setups and more for heavier traffic and to accommodate multiple facets of life.
"I think naturally what many people did during [the pandemic] was to make their home comfortable because we all spent so much time there," Koncilja said, adding that she encourages her clients to ensure their home space makes them feel safe, cared for, and confident. And while able-bodied people might take for granted that their home space is structured in a way that fits their lives, the pandemic might have been the first time that they couldn't assume the same for the outside world.
During that time, Samantha watched as other people, the vast majority of them able-bodied, griped online about how difficult it was to be home all the time. She began to resent the implication that experiencing so much of life from home, as she does, was some sort of punishment. "That's a lot of disabled people's whole world and whole life, and I didn't have all these think pieces on how hard it was when I did it," she said.
Though restrictions around the pandemic are lifting, many chronically ill people are still living, working, and resting within their homes. As Koncilja notes, that can be especially helpful after a turbulent time. "When a person has a chronic illness, often they may not feel so safe in their body so we work on creating as safe of an outside world as possible," she said. "Any sense of power, control, choice, soothing, and joy is welcomed when you are someone who is struggling with a chronic illness."
There's no one secret to living with a chronic illness and creating a home that works around your body instead of against it, but Samantha says she's figured out how to enjoy her life as a sick person. "That feels radical," she says. "I've figured out how to be a person who gets joy out of the things that I'm able to do."
*Last name has been omitted for anonymity.