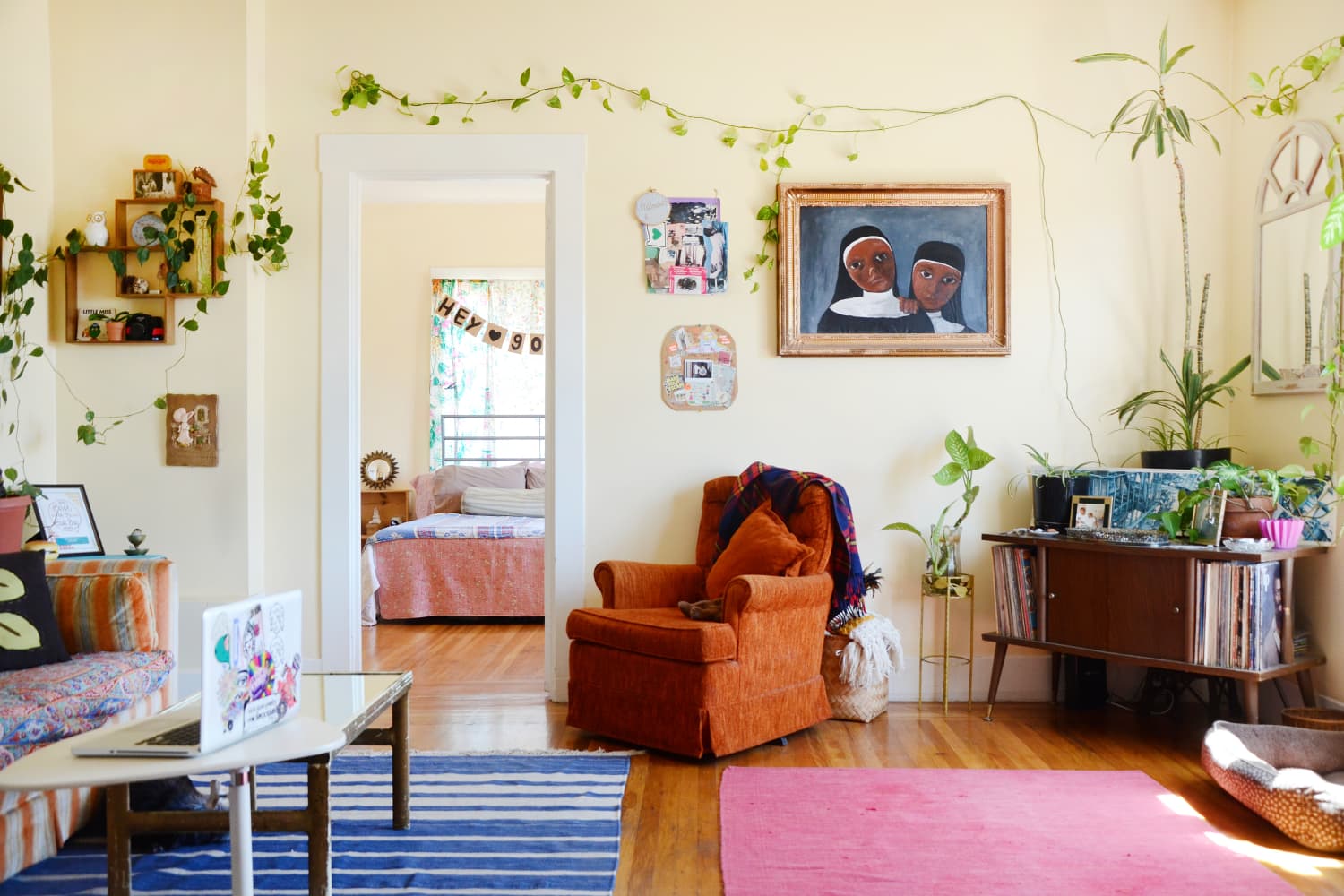 Everyone gets this when it comes to picking out clothes: Certain colors are hard to maintain if your goal is to keep things looking crisp and clean. And there are other colors that just look… dingy, even when the garment is spotless. The same rule, as you might expect, applies to your walls. While you might absolutely love a paint color on a swatch, how that color looks on your wall — and how it holds up over time — may not measure up to your expectations. At worst, your color choice might even look dingy.
Preventing a "dirty-looking" room, then, starts with choosing the right color — and employing a few other strategies once the walls are actually painted. Whether you're moving into a new home and starting from scratch or want to re-do a space in your existing home, here's everything you need to know about steering clear of grubby vibes.
Are there any paint colors that tend to always look dirty?
If you've ever lived in an apartment complex, you've probably seen the color nicknamed "Builder's Beige," the go-to neutral that's often strategically used by builders. "To save time and money, builders will paint all the interior walls and ceilings with flat, watered-down 'beige' paint in an effort to create a blank canvas for the new owner and to cover up any tell-tale evidence of the previous tenant," says Trina Rogers, co-owner of Five Star Painting of Temple, Texas, a Neighborly company.
While organic tones are a great choice for creating a neutral palette, many of these hues tend toward a more dingy appearance, simply because it's trying to match the color of mess. "Think about the color of dirt — browns, mustard yellow, and warm beige — and it's no shocker the resulting aesthetic can feel a tad dirty," says Heather Goerzen, lead designer at Havenly.
If you want to harness beige's camouflaging powers while still keeping things bright, instead of a brownish beige, Goerzen suggests aiming for a fresh and modern iteration of that tired beige, like sand or cafe au lait, or embrace richness and depth with a cognac or camel. And for a calming earth tone that maintains soul and tone, she recommends opting for a sage or moody green.
Is white crisp and clean, or is it easy to sully? Does it depend on the undertones?
If beige automatically looks muddy, you might think white is its clean counterpart — but that hue can look dirty, too. "I find white walls, often paired with wood floors, work beautifully for almost every design style, whether the calm backdrop for an all neutral space filled with texture, or a clean canvas for a more vibrant and bold color scheme," says Goerzen. "That said, there are literally thousands of shades of white, and a crisp and clean aesthetic always depends on the undertones."
Prime example: Super warm whites (think lots of yellow or brown undertones) have a tendency to feel lackluster and drab pretty quickly. Keep things light and bright with a more versatile neutral color, like Benjamin Moore's Simply White. Or for those who really crave a sense of warmth on their walls, Sherwin Williams' White Flour is a safe bet with just a subtle touch of sandy hue.
At the paint store, Rogers suggests comparing the paint swatch to a piece of pure-white copy paper to determine whether your choice has yellow undertones. "The paint chip may look like it is just plain old white, until you put it next to that white sheet of paper, that is when you may see that the paint chip actually has yellow, blue, green, or even pink undertones," she says.
Another thought to keep in mind: Even if you choose the right tones, it'll be more work to maintain that crisp, clean appearance. "Life, and a toddler with a crayon, happens, and white will definitely show that more," says Rogers.
Do "clean" colors" vary from room to room or feature to feature?
Yes: Since every space is different, Goerzen says it's important to be mindful of natural light when you're selecting "clean colors." Hues with warm undertones (yellows, reds, and browns) are going to read darker, and perhaps dingier, in areas without ample daylight. In those rooms, stick to lighter and brighter neutrals, or feel free to embrace a dark color, but do so with a bold audacity, like a deep navy, emerald green, or slate black. "But please, stay away from the bored medium grays and beiges," she says. "Without any light reflecting on the walls, they are going to feel exponentially more muddy and sad."
Be strategic, too, in choosing complementary colors. "Beiges, cream colors, or warm off-whites can look great for walls but don't typically look good on baseboards for most homes," says Rogers. "Those colors will look especially dingy next to crisp white walls, giving your baseboards a dirty appearance." Since trim runs throughout the entire home, you want to keep it consistent and stick with something that will work in any room. Her favorite recommendations for trim color are either Sherwin-Williams' Pure White or Extra White. "Pure White has just a tiny touch of gray in it to give the white a softness that is flexible enough to work with most color schemes," she says. "Extra White is a brighter, cleaner white with the slightest hint of blue that works best for that crisp all white look or for bright, vivid color schemes."
Does this advice apply to non-painted surfaces like tile?
Anything yellow, tan, or brown will always look aged faster whether it's paint or tile, says Ariel Richardson, founder and lead designer of ASR Design Studio in San Diego — and even more so if the tile is paired with an already-dingy color. For example, Rogers says a tile backsplash with warm earth-tones and browns will look off next to pure white cabinets or walls. "Warm woods and muted tones look best with off-whites or creams, while white marble counters look best with pure whites or cool grays," she says.
Does paint sheen or quality matter when it comes to cleaning?
According to Richardson, when you're thinking about other rooms and spaces (for example, baseboards) the finish matters just as much as the color — primarily for function. In general, the glossier the paint, the easier it'll be to keep clean, but that absolutely doesn't mean you should choose gloss for every space.
For example, in bathrooms, Richardson says you'll want to use an eggshell or semi-gloss that can withstand heat and moisture.
White flat (or matte) paint is great for hiding imperfections on drywall, but it's not so great for cleaning, and collects smudges easily — that's why Rogers suggests it only for ceilings and low-traffic areas of the home.
Goerzen recommends eggshell finish with a soft luster for living rooms and dining rooms to allow light to bounce about the space (and to hide fingerprints). For high traffic areas, like kitchens and bathrooms, a satin might be more appropriate to increase the durability factor as it's relatively easy to clean.
Gloss and semi-gloss are the most durable and due to their high shine, Rogers says, but they are best reserved for trim, doors, and kitchen cabinets. "These are the areas in the home that can really take a beating and the gloss paint sheens handle it well and cleans up easily," she says.
Paint quality matters, too. "Purchasing a higher quality paint really is worth it in the long run — not only for the better coverage results you get at application but also for ease of cleaning and maintenance," Rogers says. "A less expensive paint may actually end up rubbing off of your walls during cleaning."