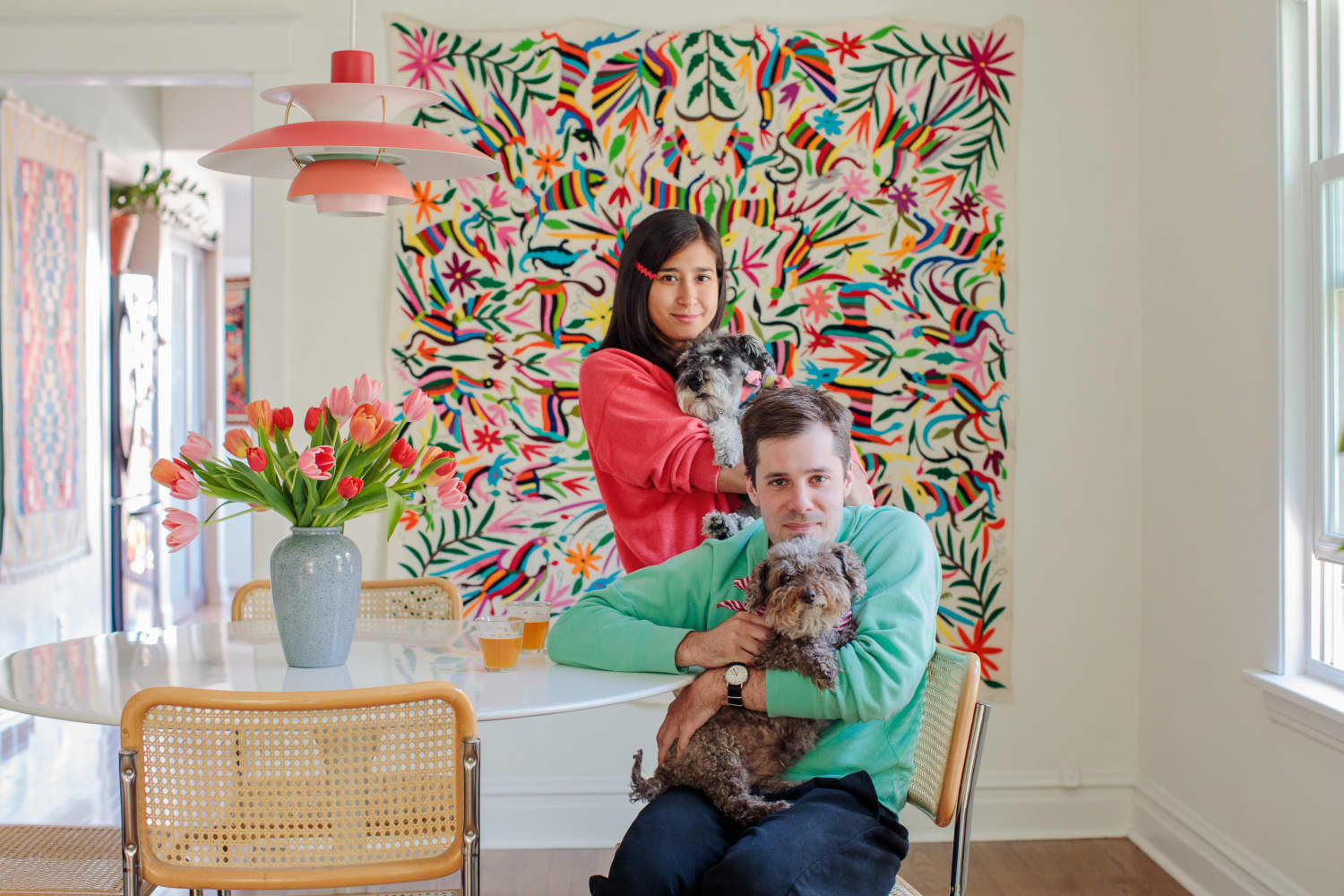 We independently select these products—if you buy from one of our links, we may earn a commission.
Name: Sara Wenokur, Garrett Jones, and Helma (poodle) and Kramer (schnauzer)
Location: Chicago, Illinois
Size: 1200 square feet on the main floor and about 900 square feet in the basement
Type of Home: 1910 Worker's Cottage
Time lived in: 6 months, owned
Sara Wenokur, an artist and floral designer, and her partner, musician and software developer Garrett Jones, had been hunting on and off for a house for the past few years. With their apartment lease expiring, they ramped up their hunt in late 2020. "Our search was mainly constrained by our budget and our proximity to public transit. This really narrowed down our search and we ended up focusing on the northwest and southwest sides. Finding a house in our old neighborhood was not going to happen. Because it was the end of the season, we thought we'd have to wait until the spring for more homes to enter the market (as they usually do…) but we fortunately decided to check out a few houses (six) and the last house we looked at is our new house!" explains Sara.
Built in 1910, the couple's house is what's known as a "classic Chicago worker's cottage" and they describe it as being located on a street lined with trees. "It has so much subtle character: plaster walls, archways, original flooring (in most rooms) and diffused sunlight." A large size, their main floor features 1200 square feet, but there's also a big basement that's 900 square feet. And another huge bonus is their huge backyard that they both adore.
"In the short warmer months we have in Chicago, it's the perfect size for us to garden, hang with friends, and for our two dogs to run around," the couple exclaims. "When not outside, Garrett is a musician, specifically a drummer, so he's excited to finally have a drum set again (its been about 10 years). He also likes to spend time reading in the hammock or working on a new recipe. Sara spends her time in the front room drawing, pressing flowers, tending to her plant babies, or working on a new craft project. We are both homebodies and are incredibly grateful to find a place that we love so much."
Apartment Therapy Survey:
My Style: Eclectic, Colorful, Cozy
Inspiration: Color and patterns! Sara went to school with a focus on textile design and is naturally drawn to bold and colorful prints. We both love looking at old issues of home magazines (Architectural Digest/Better Homes and Gardens). Folk art from all over the world. Going on walks around our neighborhood gives us everyday inspiration for our front and backyards.
Favorite Element: Our backyard! We spend most of our time outside (when the weather is nice) drinking coffee in the morning, eating dinner in the warmer evenings, and swinging on our hammocks with our dogs. We built raised beds in our last apartment and planted vegetables, flowers, and herbs and it's been so nice to have our own garden. We're still both very new to gardening and we made a lot of mistakes this year, but we're already planning our garden for next year (where we'll make new mistakes). We have plans for a cut-flower garden, which Sara wants to use for a neighborhood flower stand.
We also love having a basement — we know we'll be spending a lot of time down there with our friends once it's too hot or too cold to hang outside. We've got a TV for the first time in about ten years and we also got a karaoke machine. Eventually we'll get it outfitted with a proper Chicago basement bar.
What is your favorite thing about your home? From an object to a room to a paint color to a window view. The front bay window lets in so much natural sunlight, and since it's west facing, the light is diffused most of the day but really lights up the main rooms in the evening. Our last apartment was south facing, and while sunny all day, we had to be careful about what plants we could place in the front window. The lighting, in general, is perfect in our new home. Just having a more permanent space to display things we've found on our travels really makes this feel like our home. We also love the ledge that hides the French drain system in the basement — it's become a great way to store things off the floor — books, lamps, games, and in-progress art projects like Sara's flower mirrors.
Biggest Challenge: In general, finding a home within our budget was not easy and the competition for our price range is very high. Finding a home in our price range, at the perfect time, and close to public transit was definitely the biggest challenge. After we moved in, trying to utilize our bedroom space was most challenging; these older worker cottages/bungalows have very small bedrooms (and bathrooms) and thats why we don't currently have a door solution for our bedroom. We ended up making a small floating side table to save floor space, kept the decor pretty minimal, and we have future plans for a pocket door. In the future, we would love to turn the attic into our main bedroom.
Proudest DIY: Removing all the carpet from our basement and bedrooms! Also painting all of the walls in the house. When we first got the house, we were still living in our apartment for a month and Sara would come over and spend the whole day painting — we saved so much money.
Biggest Indulgence: Indoor plants and flowers for our backyard/deck, installed a new window in our living room, and we updated the electrical throughout the home — including installing switches and lights in the bedrooms, which were never wired up.
Is there something unique about your home or the way you use it? The front room with the bay windows looked so awkward when we first saw the house but we ended up using it as a small studio where Sara draws and stores most of her artwork / supplies. Eventually we would love to turn our detached garage into an art /music studio.
What are your favorite products you have bought for your home and why? Our Roomba — our dogs love to track in stuff from outside and it's so nice pushing a button and letting the Roomba do its thing!
Please describe any helpful, inspiring, brilliant, or just plain useful small space maximizing and/or organizing tips you have: Mirrors! It might look like we're narcissists by the amount of them we have in our house, but they really add dimension and make smaller spaces look so much larger and brighter.
Finally, what's your absolute best home secret or decorating advice? ETSY! During quarantine Sara would spend hours just browsing different shops to fill her antiquing fix. We have found so many treasures for our home by looking on there. Also don't be afraid to shop kid's sections at stores if you are looking for something colorful and fun (and usually cheaper).
This house tour's responses were edited for length and clarity.