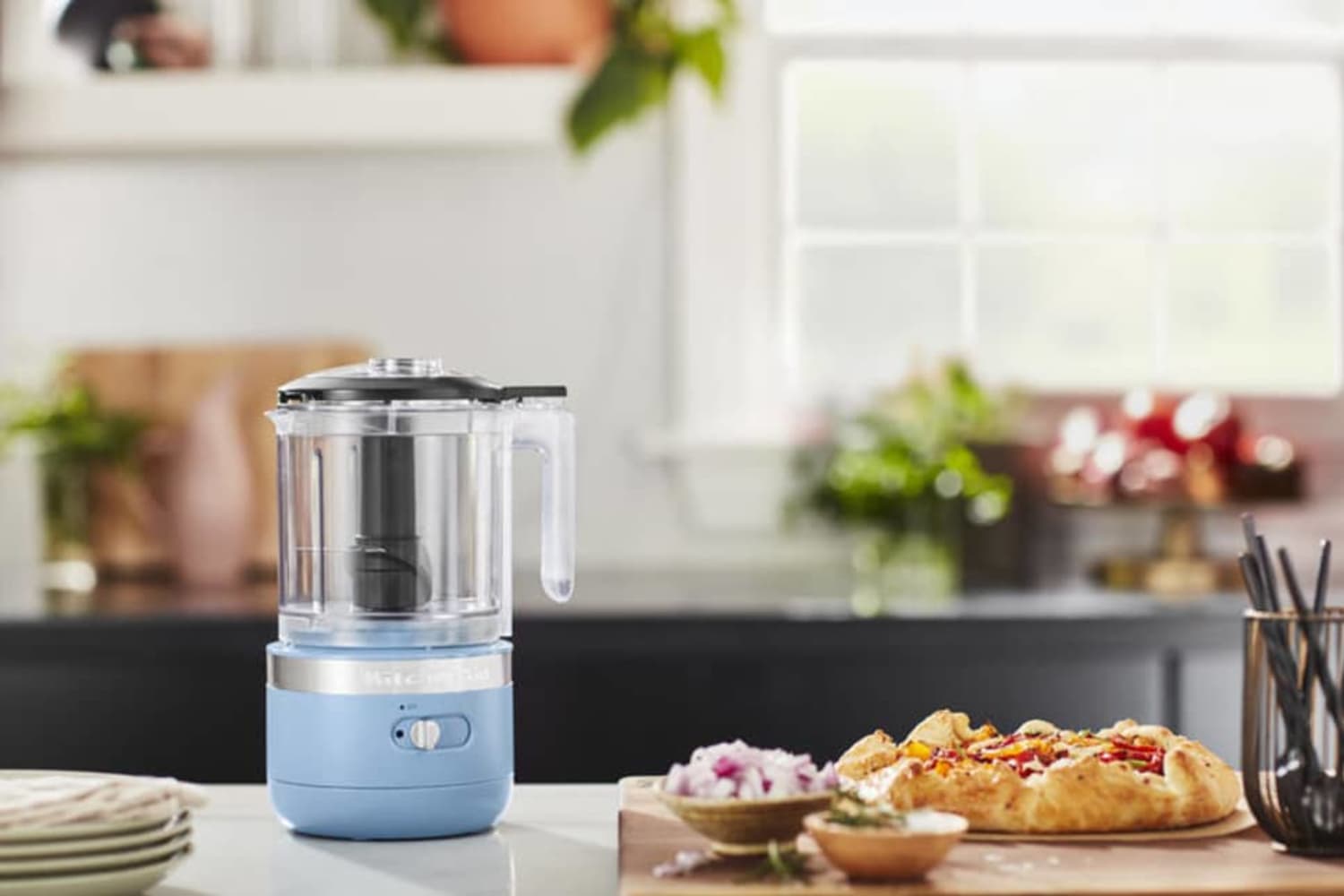 We independently select these products—if you buy from one of our links, we may earn a commission.
A good food processor makes your life in the kitchen so much easier. It lets you prep and freeze ingredients ahead of time, helps get dinner on the table more quickly, and gives your chopping arm a break. What's better than a good food processor, you ask? A high-quality food processor that's also super affordable! Right now, Amazon is offering 30 percent off of the uber-portable KitchenAid 5-Cup Cordless Chopper — a great tool for summer entertaining and all of your usual cooking — in Blue Velvet and Onyx Black. Head on over to Amazon ASAP, because you won't want to miss out on your chance to snag this jack-of-all-trades for just $69.99 (normally $99.99).
Whether you need to chop, slice, puree, or dice, this KitchenAid food chopper does it all. You can make anything from chunky guacamole to smooth hummus to cookie dough in its BPA-free work bowl, and the machine has two different speed settings to use depending on what you're making. The multi-purpose stainless steel blade can slice through just about anything, and the whisk accessory is the perfect tool to help you whip up a delicious meringue. Both of these parts are dishwasher-safe for easy cleanup, and the bowl is the right size to store both accessories in when the chopper isn't in use.
The cordless nature of this chopper lets you use the appliance wherever is most convenient. As one happy customer commented, "All l can say is: AWESOME! l'm an elderly disabled person and l just love love love the super convenience of the cordless feature. Being in a wheelchair makes it inconvenient to use electric kitchen appliances on a high countertop. The cordless feature allows me to do chopping or whipping on MY level." And since it's so portable, it's a useful tool for hosting summer gatherings. You can bring it out to the porch or the patio and whip up a fresh salsa or a dip while simultaneously entertaining your guests.
The chopper is powered by a rechargeable lithium ion battery, which delivers optimal runtime and performance. A quick charge takes just 10 minutes — it's strong enough to chop 11 onions — and a full charge takes about two hours, giving the chopper enough juice to chop up to 40 onions. When it's time for a recharge, the helpful battery indicator light will turn on, so you're never left in the lurch. The chopper is part of KitchenAid's line of cordless kitchen tools, which also includes a handheld blender and a hand mixer.
As an added bonus, this versatile food chopper saves you counter space and money, too. Since it does so many types of things, there's no need to buy and store a myriad of small kitchen appliances — just consider it your favorite sous chef. And, because it's cordless, there's no chance of getting the cable tangled around counter clutter.
The Blue Velvet colorway adds a lovely pop of vibrance to your kitchen, while the Onyx Black matches just about any color scheme. As one Amazon reviewer remarked, "This chopper is just dandy," and we'd have to agree. For 30 percent off right now, you can purchase this jack-of-all-trades appliance and make meal prepping and entertaining so much easier.