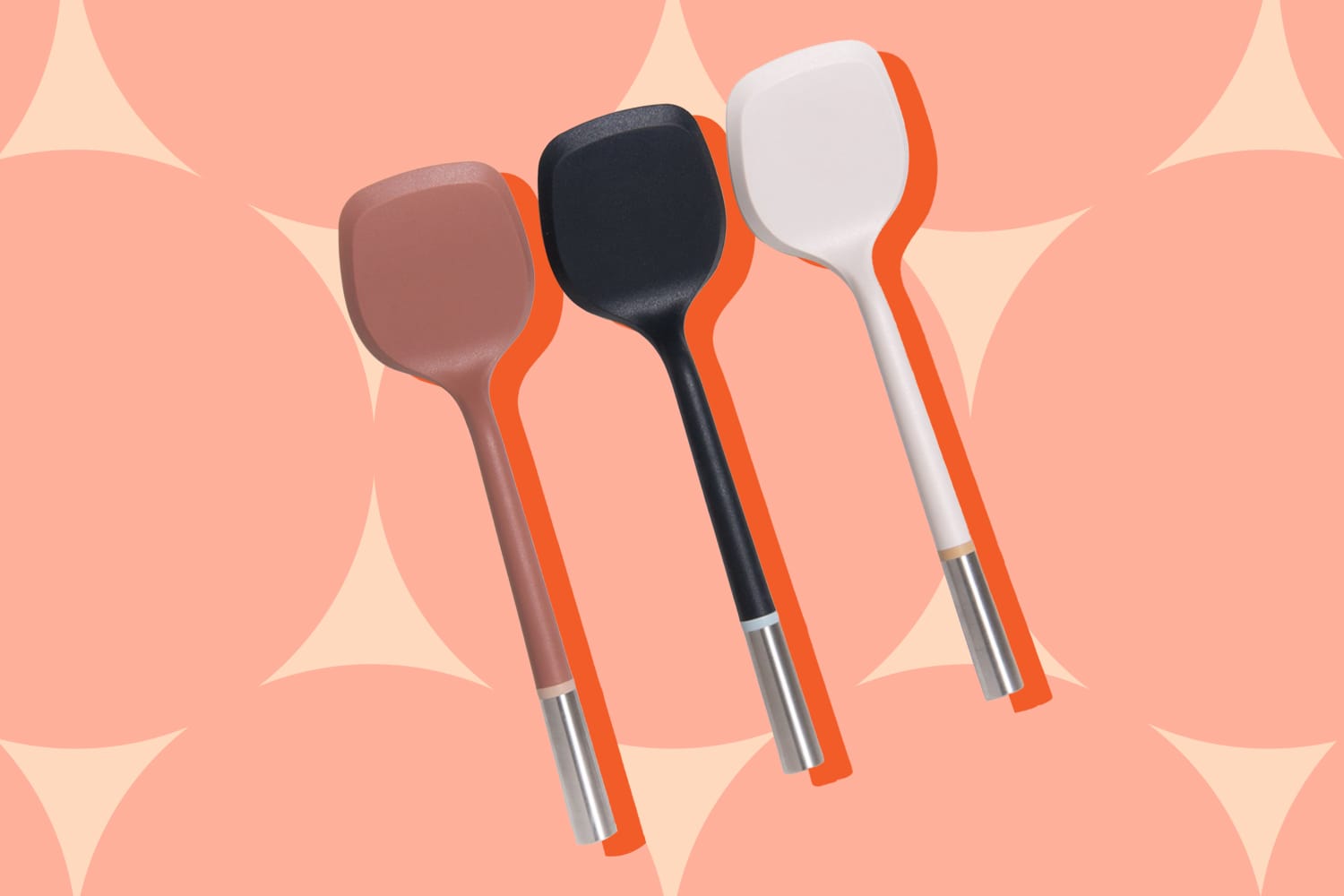 We independently select these products—if you buy from one of our links, we may earn a commission.
I seem to have spatulas in spades. In fact, one might come into my kitchen and say I have too many. I've filled one entire utensil crock just with spatulas. I have metal and nonstick-safe fish spatulas, mini spatulas, and jar spatulas. And guess what? I really do use them all. Depending on what I'm making, sometimes I'll have a few different ones out during one cooking session. I even just added one more spatula to my collection: Material's The Soft-Edge Turner.
What's so special about this spatula? First of all, thank you for asking! Material's Turner is made from BPA-free silicone and has a reinforced nylon core. This means it's bendy, but not too flexible, so it'll still stand up to the weight of burgers, chicken thighs, or steak. It's nonstick-safe, dishwasher-friendly, heat-resistant to 450°F, and stain-resistant. The latter is important, as it comes in pretty, soothing colors like an orange-red Terra Rosa, dark Blue Grey, and off-white Oyster. (A slick of tomato sauce or a spattering of spices won't ruin its good looks!)
Its rounded, smooth handle, which fits oh-so-comfortably in hand, is also a big boon — especially because some of my other spatulas have wooden handles that have become worn and slightly scratchy. All this and I still haven't even gotten to my favorite feature of this spatula: its curved edges, which so easily fit into the corners of pans, skillets, and baking sheets, allowing you to easily flip, fold, and get every last bit of food.
I've used the Material Turner to flip pancakes and chicken thighs, turn meatballs, and lift crispy, delicate-edged fried eggs onto toast. It does have a thicker, less nimble head compared to a fish spatula. So, I still prefer the latter for tasks that require finesse, like flipping a piece of crispy-skinned fish. However, The Soft-Edge Turner is so good, in so many other ways, I find myself reach for it again and again.
Note: In the past, the spatula has sold out in just 12 days, which is pretty impressive for, well, a spatula. So obviously I'm not the only one who loves it, and you should get it when you see it!
Do you have a spatula you love? Tell us about it in the comments!